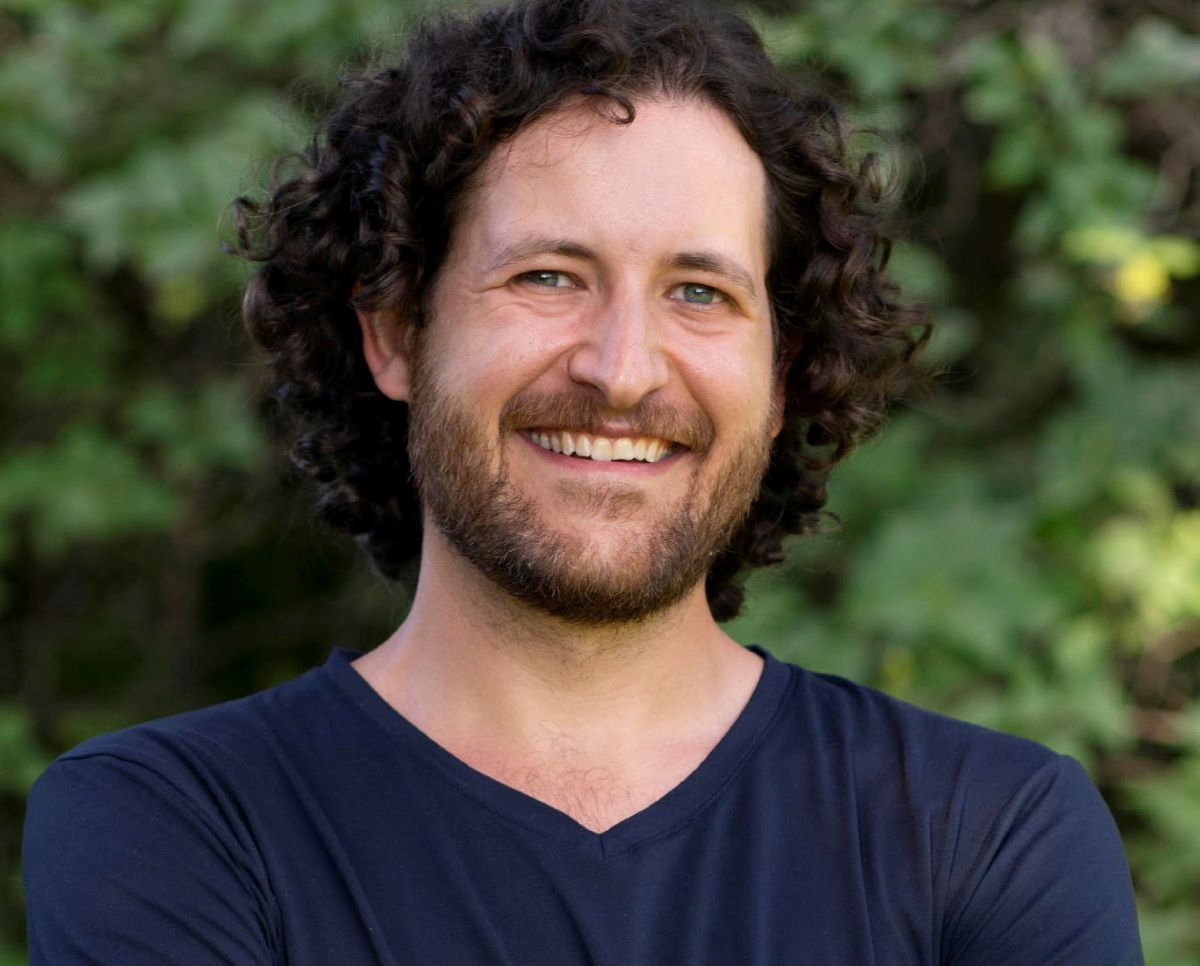 About this series: Lighting the Way With … is a periodic series in which we shine a light on Lawrence University alumni. Today we catch up with Tom Coben '12, a motion graphics artist whose work in the past week has been viewed more than 5 million times.
Story by Ed Berthiaume / Communications
Nearly a decade after leaving Lawrence University with a growing portfolio of 3D graphics and other visual effects, Tom Coben '12 has gone viral.
Well, his creative skills have gone viral, if not his name.
A freelance motion graphics and visual effects artist in the Twin Cities, Coben hooked up earlier this month with the creative team of ABC's Jimmy Kimmel Live! They were looking for an artist who could animate statues dancing and singing for a video they were making to mark the end of the Trump presidency.
Coben delivered 14 shots of statues, monuments, and paintings that became the heart of the video – the Statue of Liberty, the faces on Mt. Rushmore, the statue of Martin Luther King Jr., among them – all in full celebration mode. Jimmy Kimmel, the host of the late-night talk show, posted the video late last week, and it quickly bounced around social media, racking up more than 5 million views on YouTube in the first four days.
See the Jimmy Kimmel video here.
"I sent a sample video of the Statue of Liberty dancing as a proof-of-concept on spec and they hired me for the bit," Coben said. "We used a type of motion-capture technique where they filmed an actor with facial tracking markers and I used that information to apply the facial motions to the different sculptures and paintings."
From there, he watched the final product roll out, and the social media shares and video views quickly grow, all in the days following the Jan. 20 inauguration of President Joe Biden.
Between social media and TV views, it's the widest his work has been seen. But Coben said he did have one other brush with the power of the internet when Will Smith shared on his Instagram account an animation Coben made of a robot bowling. That got him a ton of exposure and some new freelance work, which is always a good thing.
"But this Kimmel video is definitely the most amount of attention any of my work has had," he said.
It started at Lawrence
Coben first got a taste for motion graphics and 3D visual effects while studying at Lawrence.
An environmental studies major, Coben developed an interest in animation and 3D artistry. Lawrence's Film Studies program was launching just as Coben was graduating. He was able to put together a self-directed film/animation-related minor.
"One of my favorite experiences at Lawrence was during the summer after my sophomore year when I got the opportunity to travel to the Philippines for five weeks with my advisor, (Associate Professor of Biology) Jodi Sedlock," Coben said. "She knew I was interested in film production and asked if I would come and produce a short documentary about cave-roosting bat species and conservation of cave ecosystems on the island of Siquijor. Besides just being rad as hell, that experience helped me get a job the following summer at the Smithsonian National Zoo making promotional videos for their YouTube channel, filming the different exhibits."
Then during his senior year, Coben took an intermediate sculpture class with Rob Neilson, the Frederick R. Layton Professor of Studio Art and professor of art, and was given the green light to focus on using 3D software to create digital sculptures that he would incorporate into footage taken around campus.
It got wonderfully weird. There was a supersized octopus clinging to the cupola atop Main Hall. And snow goons waging a battle on the snow-covered campus green.
Neilson said he recalls Coben taking to heart the prompt he gave to the class at the outset of the term: "Construct a sculptural piece in any medium you choose that somehow closes — or exists within — the gap between art and life and addresses sculpture as a 'thing' in all its 'objectness'." Coben chose to use 3D modeling and video, and Neilson said he was all in.
"My approach to teaching art has always been: Sculpture can be anything we, the students and I, collaboratively decide it is," Neilson said. "While I certainly love to 'make things;' to me sculpture is more about ideas than objects. Indeed, this is the fundamental beauty of sculpture; its ability to carry and convey meaning through material — even if the material is bits and bytes in a computer. Otherwise, it's just an object."
Coben took that approach and ran with it. He's still running with it.
"After I graduated, I used some of those animations along with some other personal work to put together a reel, which got me my first few freelance jobs out of college," Coben said. "After that I worked at a small video production company for about three years before deciding to get back into freelance animation, which I have been doing for the past five years."
Much of his work is with local clients in the Minneapolis-St. Paul market, doing 3D product renderings, motion graphics for commercials and online marketing videos, and visual effects for music videos.
He's also designing custom 3D-printed sculptures, selling them on Etsy under the name Tomforgery3D.
"They're based on the classics but I've screwed with them to make them more absurd," he said.
It might not draw the 5 million views of a Kimmel video, but it's interesting, challenging, and creative work, Coben said.
"I had a lot of very cool opportunities at Lawrence and I can honestly say that I don't think I'd be doing what I am doing today if my professors hadn't given me the ability to pursue my interests with as much freedom as they did," he said.
Ed Berthiaume is director of public information at Lawrence University. Email: ed.c.berthiaume@lawrence.edu