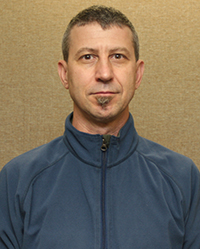 APPLETON, Wis. — Michael Hall has been selected as the new full-time head coach of the Lawrence University fencing teams, Director of Athletics Christyn Abaray announced today.
"During his interview, watching him interact with the student-athletes proved to be the most impressive," Abaray said. "His ability to adapt his teaching and coaching style for multiple skill levels, while also imprinting his expectations for all in such a short span of time was an illustration of the coach we need for our fencing programs. I look forward to watching these programs develop and grow under his leadership."
Hall has more than 20 years of coaching experience and comes to Lawrence from Austin, Texas, where he was coaching the University of Texas Fencing Club and serving as a club coach at the Texas Fencing Academy.
"I'm really excited to be selected as the first full-time fencing coach for the program. I'd like to thank Christyn and the administration for giving me this opportunity," Hall said.
"When I first visited here, I discovered a real excitement for fencing among the student-athletes and the university population. I was impressed by how much individual effort they put into the sport."
Hall has prior college coaching experience after serving as an assistant coach at the United States Air Force Academy in 2013 and 2014. Hall, a 1986 graduate of the University of Texas where he competed on the fencing team, also has served as a club coach at the Austin Fencers Club.
"I look forward to working with our student-athletes to help them develop their passion for the sport as well as life skills. Athletics is about taking the lessons you learn in your sport and applying them to the rest of your life," Hall said. "Even though fencing is an individual sport, you still are a member of a team, and you have to rely on your team to help you through the difficult spots. Fencing, like life, is a team sport."
Hall replaces Steve Amich, who stepped down after more than two decades with the program as head coach, assistant coach and armorer.
The Vikings put together a solid campaign in 2015-16 with the men taking fourth place and the women fifth in the Midwest Fencing Conference. Freshman Nathan Schlesinger qualified for the NCAA Championships in foil to become the first Lawrence fencer to go the national meet since 2001.