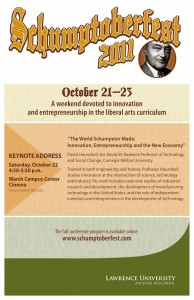 Historian David Hounshell from Carnegie Mellon University will be on campus this weekend to deliver a talk, "The World Schumpeter Made: Innovation, Entrepreneurship, and the New Economy."  Professor Hounshell has deep knowledge of the U.S. innovation system, and the talk will touch on who funds R&D and why it matters. If you would like to see him in action, here is a talk he gave at the Kaufman Foundation last year: "Innovation and the Growth of the American Economy."
Professor Hounshell is a pretty good source for this type of insight. He literally wrote the book on the  genesis and evolution of the U.S. industrial system with From the American System to Mass Production, 1800-1932.  Murray Rothbard himself had this to say about Hounshell's influence:
Until recent years, the history of technology used to be written, and taught, for its own sake and almost completely isolated from economic and social history…
This tiresome tradition came to a sudden end with the arrival of the fascinating and crucially important work of David A. Hounshell, From the American System to Mass Production, 1800-1932, which created a new paradigm dominating the field of American technological history.  Hounshell's achievement was to integrate technological with economic and social history, and bring us, for the first time, a genuine history of the development of mass production.  Thus, for example, in his pioneering history of the bicycle industry of the 1890s, Hounshell showed that the bicycle was, in two ways, a critical prelude to the invention and development of the automobile because, (1) the bicycle taught consumers the possibility and the joy of individual mobile transportation (in contrast to the mass transportation between fixed points essential to the railroad; and (2) it taught bicycle makers the technology of the wheel, the tire, and the axle. It is no accident that the first automobiles were made in bicycle shops.*
In addition to the opus on mass production, Professor Hounshell is also steeped in studying industrial research and development, including a definitive piece on DuPont:  Science and Corporate Strategy: Dupont R&D, 1902-1980.  This work chronicles corporate strategy and innovation, and has been described as "one of the most comprehensive business history books ever written."
Of course, he continues to keep busy, and his talk Saturday will incorporate some of his current work on the evolution of industrial innovation.  I am looking forward to hearing what he has to say.
Professor Hounshell's talk is at 4:30 in the Warsh Campus Cinema.  We hope to see you there.