Chicago painter Karen Lebergott's "The Last Ten Years" will be one of two shows in the latest exhibition opening Monday, March 29 at Lawrence University's Wriston Art Center galleries.  Lebergott's work will featured in the Hoffmaster and Kohler galleries. "Art Out of Conflict," featuring works from the Wriston's permanent collection, will be shown in the Leech gallery.
Lebergott delivers the opening lecture of the  exhibition Friday, April 2 at 6 p.m.  A reception with the artist follows her address.  The exhibition runs through May 9.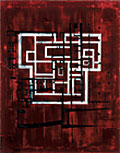 Lebergott's work explores the parallels between the processes of mapping and mark-making, the practice of applying pencil strokes and paint to a surface.  She uses obscured layers of paint, thick-stenciled patterns and pentimenti – alterations in a painting showing how the artist changed his or her mind in process about the composition – to layer form and color as a record of the decision-making of each piece of art.  Tactile and rich in color, her works demand an archeology-like approach on the part of her viewers.
An associate professor of art at Lake Forest College, Lebergott specializes in 20th– and 21st-century art as well as art in Chicago.  Her work has been exhibited at national and international galleries in Chicago, New York City and Berlin, Germany.
"Art Out of Conflict," showcases work that express and portray a variety of the conditions leading to World War II.  The social and political unrest that accompanied Hitler's rise to power played a significant role in influencing the development of a new bold, expressive style that emerged.
Wriston Art Center hours are Tuesday-Friday from 10 a.m. – 4 p.m., Saturday-Sunday from noon – 4 p.m. The gallery is closed on Mondays.  For more information, call 920-832-6621 or visit http://www.lawrence.edu/news/wriston/.
-30-