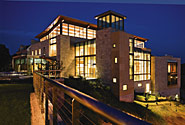 The accolades for Lawrence University's Warch Campus Center continue to roll in.
The most recent honor comes courtesy of the Association of College Unions International (ACUI ), which presented KSS Architects one of its 2010 Facility Design Awards of Excellence March 15 in New York City for its work on the Warch Campus Center.
The ACUI award recognizes excellence in design of college unions as well as other student-centered campus buildings.  Winners are selected on the basis of the facilities' appearance as well as the process used to arrive at the building's design and how the new or renovated facility affected the campus.
Nearly 20 years in the making, the $35 million, 107,000-square-foot Warch Campus Center opened last September.  It was awarded LEED-certified Gold status in November by the U.S. Green Building Council.
Greg Griffin, director of the Warch Campus Center, said the building "has greatly enhanced the overall experience" on campus.  With beautiful views of the adjacent Fox River, the building features several outdoor decks and patios, dining options on three of its four levels, student programming space, 24-hour student lounges and a 134-seat cinema with surround sound and state-of-the-art projection.
KSS Architects partner Pamela Lucas Rew said enhancing the campus experience was the goal of the project.
"We set out to create a project that would fulfill Lawrence's mission and long-term and day-to-day expectations," said Rew.  "From this, we developed architectural goals to knit together the campus, the site and the adjacent river into a building that communicates these ideas as well as serves the institution's functional needs.  The ACUI Facility Design Award is about more than design.  It shows us that our client loves their building."
The Warch Campus Center has been recognized previously with Appleton Downtown, Inc.'s Dreamers and Doers Award, a Top Project designation by Wisconsin Builder magazine and a Concrete Design Award from the Wisconsin Ready Mixed Concrete Association.  It was named winner in the 2009 "Best New Construction" category in FOX CITIES Magazine's annual "Great Spaces Great Places" contest.
Other buildings cited by the ACUI for design excellence were the Student Success Center, Southern Illinois University–Edwardsville; Interactive Learning Center, Boise State University; The Commons, Bates College; Smith Campus Center, Pomona College; and the Joe Crowley Student Union, University of Nevada–Reno.