Rob Neilson, associate professor of art at Lawrence University, has been named the college's Frederick R. Layton Professor of Art. Appointments to endowed professorships recognize academic distinction through teaching excellence and/or scholarly achievement.
A member of the Lawrence art department since 2003, Neilson is a sculptor who specializes in public art and how that art engages the public and becomes part of their lives.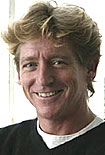 Working with metals, plastic, rubber and other exotic materials, Neilson has been awarded commissions for site-specific installations St. Elizabeth Hospital in Appleton, the cities of Charlotte, N.C., and Los Angeles, Calif., and the Long Beach Transit Authority. His foam and rubber sculpture, "Two-Head Trojan Ducky" was selected in 2004 for display at Chicago's 10th Annual Navy Pier Walk exhibition.
One of his most recent commissions involved a series of 54 cast iron masks based on digitally scanned faces of local residents Neilson created for the Los Angeles Country Metropolitan Transit Authority. The four-foot-tall masks were affixed to the canopy of one of the L.A. county light rail stations. They were formally dedicated last November.
"Rob Neilson is an enormously creative artist and a wonderful teacher," said Provost and Dean of the Faculty David Burrows. "His large-scale works have attracted national interest and praise for their unusual style and use of novel ideas. Rob is able to see the world in new and exciting ways, and his work reflects that vision. As a teacher he works many long hours and inspires his students to accomplish things they never thought possible."
Neilson earned a bachelor of fine arts degree at the College for Creative Studies in Detroit and a master of fine arts degree in sculpture at the University of North Carolina.
The Layton Professorship was established in 1983 in part from a trust established by the assets of the Layton School of Art and Design as well as funds raised by Lawrence.Originally designed to bring distinguished artists to campus for multiple year stays, the endowed chair now supports a permanent position in the art department.