Lawrence University Professor of Anthropology Peter Peregrine has been elected a Fellow of the prestigious American Association for the Advancement of Science.
Election as an AAAS Fellow recognizes "meritorious efforts to advance science or its applications" and is an honor bestowed on AAAS members by their peers.  Peregrine was cited for his "research and theoretical contributions to American and Old World archaeology."
Peregrine is just the second Lawrence anthropologist elected an AAAS Fellow, joining professor emeritus Ron Mason, who taught at Lawrence from 1961-95.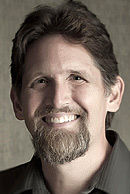 "This is an amazing honor. I see it as the second highest honor an anthropologist can receive, right behind election to the National Academy of Sciences," said Peregrine. The people who elected me are the most respected scholars in my discipline and the fact they think enough of my work to have me join them as a Fellow is both humbling and inspiring."
The AAAS has approximately 125,000 individual members and only about 500 are elected Fellows each year.
"We are pleased that Professor Peregrine has been recognized with this honor," said Provost David Burrows. "He is a creative, intelligent scholar, a fine teacher and a great contributor to the science of anthropology."
An archaeologist, Peregrine joined the Lawrence faculty in 1995 after spending five years in the anthropology department of Juniata College in Pennsylvania.
Specializing in the evolution of complex societies, Peregrine's scholarship interests include how ancient people first came to live together in large communities with powerful political leaders and how people from different cultures and speaking different languages interact and sometimes merge.
He is the author of the book "Archaeology of the Mississippian Culture:  A Research Guide" and co-edited the book "Ancient Human Migrations."
He earned his bachelor's, master's and doctorate degrees from Purdue University.
Founded in 1848, the AAAS is an international organization dedicated to advancing science around the world and serves more than 260 affiliated societies and academies of science and 10 million individuals. Its flagship publication, Science, has the largest paid circulation of any peer-reviewed general science journal in the world.
Founded in 1847, Lawrence University uniquely integrates a college of liberal arts and sciences with a world-class conservatory of music, both devoted exclusively to undergraduate education. Ranked among America's best colleges, it was selected for inclusion in the book "Colleges That Change Lives: 40 Schools That Will Change the Way You Think About College." Individualized learning, the development of multiple interests and community engagement are central to the Lawrence experience. Lawrence draws its 1,445 students from 44 states and 35 countries.