The multi-Grammy Award nominated Tierney Sutton Band makes its Lawrence University debut Friday, Nov. 4 when it opens the college's 31st annual Jazz Celebration Weekend. Father-son duo John and Gerald Clayton share the stage with the Lawrence University Jazz Ensemble and Studio Orchestra in the weekend's finale Saturday, Nov. 5. Both concerts begin at 7:30 p.m. in the Lawrence Memorial Chapel.
Tickets, at $22-20 for adults, $19-17 for seniors and $17-15 for students, are available through the Lawrence Box Office in the Music-Drama Center, 920-832-6749.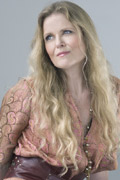 Led by Tierney Sutton, who grew up in Milwaukee and earned a degree in Russian language and literature at Wesleyan University, the five-member band celebrated both the recent release of its ninth album, "American Road," as well as its third Grammy nomination for "Best Vocal Jazz Album."
"Tierney is a terrific choice as one of our headliners," said Fred Sturm, Jazz Celebration Weekend founder and Lawrence's director of jazz studies and improvisational music. "She is a Wisconsin native, a marvelous singer and an experienced educator who taught jazz studies at the University of Southern California and now directs the vocal department at the Los Angeles Music Academy. She undoubtedly will inspire the student musicians attending our festival."
During its nearly two-decade long incorporated partnership, the band — Sutton on vocals, pianist Christian Jacob, bassists Trey Henry and Kevin Axt and drummer Ray Brinker — have garnered critical praise for their performances and recordings throughout the world with such musical luminaries as Ray Charles and Placido Domingo.
In addition to three Grammy nominations, Sutton was recognized with JazzWeek's Vocalist of the Year Award in 2005 and the Los Angeles Jazz Society's Jazz Vocalist Award the following year.  The 2002 disc "Something Cool" reached no.1 on the jazz charts.
Legendary composer/arranger/conductor and virtuoso bassist John Clayton, alongside his son, acclaimed pianist Gerald Clayton, close the weekend. The Claytons were a mid-summer Jazz Celebration Weekend replacement for Lyle Mays, who had to cancel his appearance for personal reasons.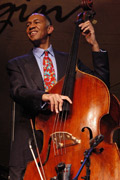 "Folks my age typically don't admit to having heroes, but John Clayton is surely one of mine," said Sturm. "When I invited him to appear at Jazz Weekend, he asked 'Can I bring my son Gerald?' I was thrilled, for the word has been out about this 27-year-old jazz prodigy for several years. Seeing and hearing this remarkable father-son duo will be an unforgettable musical experience for Jazz Weekend participants and audience members."
A Grammy Award-winning composer, John Clayton's career is littered with an impressive   array of accomplishments. Comfortable in both classical and jazz styles, he served as bassist with the Count Basie Orchestra and the Amsterdam Philharmonic Orchestra and as artistic director of Jazz for the L.A. Philharmonic and the Clayton-Hamilton Jazz Orchestra. As a music arranger, he has worked with Nancy Wilson and Quincy Jones, Whitney Houston and Queen Latifah, among others.
"Quite simply, John can do it all," said Sturm.
Born in the Netherlands but raised in Los Angeles, Gerald Clayton was named one of the top "up-and-coming pianists to watch" in a 2008 Downbeat Readers Poll. Influenced by Oscar Peterson, Monty Alexander and Benny Green, Gerald Clayton styles his music on the notion "tradition and innovation can peacefully coexist."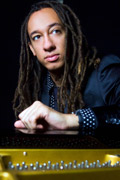 He began playing the piano at the age of six and has since performed for audiences across the globe while collaborating with such notable artists as Lewis Nash, Terrell Stafford and Clark Terry. In addition to award-winning piano skills that garnered a Grammy nomination in 2009 for his work on Cole Porter's "All of You" in the Best Improvised Jazz Solo category, Gerald Clayton's composition "Battle Circle" was a 2010 Grammy nomination for "Best Instrumental Jazz Composition." Most recently, the Gerald Clayton Trio released its second album, "Bond: The Paris Sessions," and made its debut at the North Sea Jazz Festival in the Netherlands.
As part of the Saturday concert, the Lawrence Studio Orchestra and the Jazz Ensemble will perform original works written and conducted by John Clayton and accompanied by Gerald Clayton. The Jazz Ensemble also will perform a set of Clayton works scored for the Clayton-Hamilton Jazz Orchestra, one of the world's premier big bands.
In addition to the two evening concerts, Lawrence will host more than 30 university, high school and middle school ensembles at part of  the 2011 Jazz Celebration Weekend. On Saturday, these ensembles will participate in daytime performances, educational clinics, and master classes with some of the finest jazz educators from across the country. All daytime  Saturday events are free and open to the public.
Founded in 1847, Lawrence University uniquely integrates a college of liberal arts and sciences with a world-class conservatory of music, both devoted exclusively to undergraduate education. Ranked among America's best colleges, it was selected for inclusion in the book "Colleges That Change Lives: 40 Schools That Will Change the Way You Think About College." Individualized learning, the development of multiple interests and community engagement are central to the Lawrence experience. Lawrence draws its 1,445 students from 44 states and 35 countries.