Persistence has earned Lawrence University senior Yifat Levensten national recognition.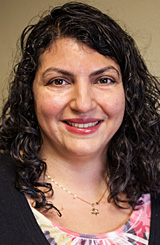 Levenstein's nearly year-long independent research on cross-cultural similarities and differences in predictors of disordered eating between American and Israeli women, was named the national winner of the Association of Behavioral and Cognitive Therapies' 2014 student poster competition.
She will present her research findings Friday, Nov. 21 in Philadelphia as an invited guest at the ABCT's four-day national conference, the country's premier convention for clinical psychology. Levenstein also received a prize of $150.
"It certainly meant a lot to have my work recognized in such an important conference," said Levenstein, a first generation college student from Israel. "The entire process has been a wonderful personal journey for me toward self realization."
In her project, Levenstein examined whether the same sociocultural factors that put women at risk for eating disorders in the United States also apply to Israeli women despite the cultural differences. In surveying more than 200 subjects, primarily college students and young adults, she found the relationship between the environment and eating disorders among American women may also apply to Israeli women. Her results indicate how pervasive Western beauty ideology is to eating pathology among women in a non-traditional Western country.
"Yifat undertook a very ambitious independent research project involving recruiting participants from two countries," said Lori Hilt, assistant professor of psychology who supervised Levenstein's project. "Her materials had to be translated and back-translated to ensure their validity. She managed to design, coordinate and complete data collection on this project as an undergraduate which is remarkable. It's no surprise she won this highly competitive undergraduate research award."
Growing up in Israel, Levenstein, at 34, a non-traditional Lawrence student, struggled with school and could never imagine some day being recognized for her scholarship.
"I barely graduated from high school," said Levenstein. "I did not think that I was smart enough to pursue higher education. When I came to America as an immigrant, I saw it as an opportunity to start over."
At the age of 30, shortly after the birth of her daughter, Levenstein began classes for her high school equivalency diploma, studying for the first time in English. Upon completion, she enrolled at UW-La Crosse and was accepted into the McNair Scholars Program
"I did not think that I was smart enough to pursue higher education. When I
came to America as an immigrant, I saw it as an opportunity to start over."

            — Yifat Levenstein '15
Named after astronaut Ronald McNair, who was killed in the Challenger space shuttle tragedy, the federal program administered by the U.S. Department of Education supports undergraduate students for doctoral studies through involvement in research and other scholarly activities. McNair Scholars are either first-generation college students with financial need or members of a group that is traditionally underrepresented in graduate education and have demonstrated strong academic potential.
She first began formulating the idea for her research at UW-La Crosse, but when her husband had to relocate for work reasons, she was forced to withdraw from school and move, a development she described as "devastating."
"I saw UW-La Crosse as my home and I was attached to all the wonderful mentors I had there," said Levenstein. "Nevertheless, I was determined to continue my education and to finish my research study."
After moving to Appleton, Levenstein enrolled at Lawrence and was accepted again to the McNair program, enabling her to continue her research study with Hilt as her mentor.
"Thanks to great opportunities, wonderful mentors, the McNair Scholars program and especially Professor Hilt, I was able to achieve this amazing accomplishment," said Levenstein. "Having my poster win in the research competition affirmed to me that it is never too late to start over and to reinvent oneself."
About Lawrence University
Founded in 1847, Lawrence University uniquely integrates a college of liberal arts and sciences with a nationally recognized conservatory of music, both devoted exclusively to undergraduate education. It was selected for inclusion in the Fiske Guide to Colleges 2015 and the book "Colleges That Change Lives: 40 Schools That Will Change the Way You Think About College." Engaged learning, the development of multiple interests and community outreach are central to the Lawrence experience. Lawrence draws its 1,500 students from nearly every state and more than 50 countries.