For the eighth consecutive year, Lawrence University has been named to the 2014 President's Higher Education Community Service Honor Roll.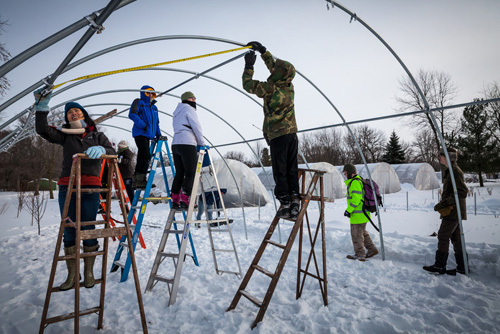 Lawrence is one of only two Wisconsin institutions to be cited every year by the Washington, D.C.-based Corporation for National and Community Service (CNCS) since it launched the honor roll program in 2006 in response to the thousands of college students who traveled across the country to support relief efforts along the Gulf Coast after Hurricane Katrina.
Nine hundred Lawrence students contributed 17,777 hours to community volunteer and service-learning programs in collaboration with a wide variety of valued partnerships throughout the Fox Cities during this year's reporting period, including 138 students who devoted 20 hours or more per term.
The President's Honor Roll program recognizes higher education institutions that reflect the values of exemplary community service and achieve meaningful outcomes in their communities on a broad range of issues. Honorees are chosen on the scope and innovation of service projects, the extent to which service-learning is embedded in the curriculum, the school's commitment to long-term campus-community partnerships and measurable community outcomes as a result of the service.
"Community service provides ways to better understand ourselves," said President Mark Burstein, "and involvement in the wider community enhances our learning environment. I am proud of the work and dedication our students display and pleased they have once again been nationally recognized for their efforts. At Lawrence, service continues to be not only altruism, but also part of the transformative educational experience that we strive to provide for our students."
Among the initiatives for which Lawrence was cited:
• Question, Persuade, Refer Suicide Prevention Training. The training program benefited not only the campus, but the greater community. Lawrence collectively trained one master trainer, 51 instructors and 510 gatekeepers. Instructors and gatekeepers reported intervening within days of learning QPR skills to connect distressed community members to immediate crisis intervention services.
• Self-Agency in Youth (SAY) Program. Using a two-pronged approach of support groups and a tutoring/mentoring initiative, the SAY Program helps teens gain ownership over their post-high school futures. Beautiful You African American Girls' Group and Hmong Youth Pride and Empowerment (HYPE) are two branches of SAY and one of several collaborations between Lawrence and the Boys & Girls Club of the Fox Valley. With backgrounds and challenges similar to those faced by the teenagers, the Lawrence student volunteers turned their own experiences as a refugee or a first generation college student into a source of knowledge to help high school students in need of mentoring, reassurance and support.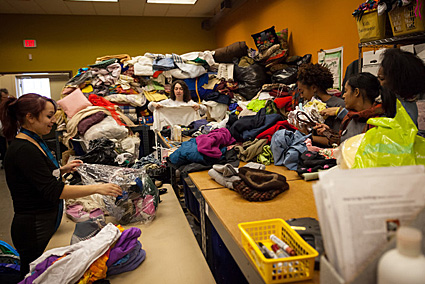 • Dr. Martin Luther King Jr. Day of Service. Nearly 500 students participated in activities under the theme of  "learn, serve and celebrate." Activities included a "Read and Reflect: A Lunch Discussion" event on the book "Why Are All the Black Kids Sitting in the Cafeteria," six student-led on-campus volunteer opportunities and the presentation of a specially developed curriculum on tolerance to more than 650 area youth at seven after-school sites of the Boys and Girls Clubs of the Fox Valley. Members of the Lawrence community ended the day by joining Fox Cities leaders to listen to Rev. Wanda Washington speak on "How to Build a Just World" at the annual MLK celebration hosted by Lawrence.
"It is a source of pride for everyone at Lawrence who values the college's contributions to the vitality of the greater Appleton and global communities, that we have been recognized, once again, by the Corporation for National and Community Service for our achievements in community service," said Mark Jenike, Pieper Family Professor of Servant Leadership and director of the college's Office for Engaged Learning. "At Lawrence, community engagement, enabled by strong partnerships, is one of the most important ways in which we pursue our mission of preparing students for lives of achievement, responsible and meaningful citizenship, lifelong learning and personal fulfillment."
The CNCS compiles the President's Community Service Honor Roll in collaboration with the Department of Education, Department of Housing and Urban Development, Campus Compact and the American Council on Education.
About Lawrence University
Founded in 1847, Lawrence University uniquely integrates a college of liberal arts and sciences with a nationally recognized conservatory of music, both devoted exclusively to undergraduate education. It was selected for inclusion in the Fiske Guide to Colleges 2015 and the book "Colleges That Change Lives: 40 Schools That Will Change the Way You Think About College." Engaged learning, the development of multiple interests and community outreach are central to the Lawrence experience. Lawrence draws its 1,500 students from nearly every state and more than 50 countries.