A seven-person team of multi-national Lawrence University students are accompanying government professor Claudena Skran to Philadelphia to work on a public health-related project the second week of February.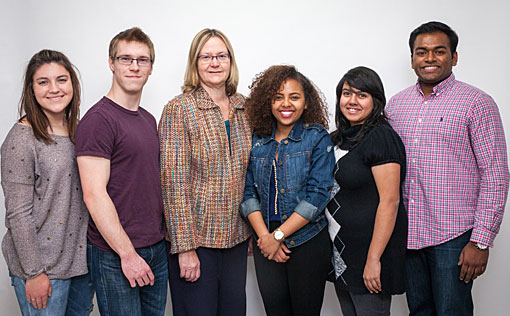 The students, members of KidsGive, a Lawrence-based scholarship program for children in Sierra Leone, will collaborate with Healthy NewsWorks, a health-focused student media program, to produce two educational videos on water and sanitation that will be shown at Conforti Primary School in Freetown, Sierra Leone.
KidsGive members are cooperating partners in a project that will build a new well and water system for the Calaba Town section of Freetown, an area on the outskirts of the capital city that is not currently served by piped water. When completed, the well will provide a water-tap system for the 500 children at Conforti Primary School and their families.
The video project will enable Healthy NewsWorks student reporters from two Philadelphia elementary schools to work with Lawrence KidsGive volunteers to engage in peer-to-peer public health education with students their own age in Sierra Leone. The videos will focus on health facts about water hygiene and hand washing. The Healthy NewsWorks students also will participate in face-to-face videoconference discussions about health with their counterparts in Sierra Leone.
Skran called the KidsGive engagement with Healthy NewsWorks "a very exciting collaboration."
"We are pleased that we can contribute in its important mission to train young journalists and promote better health," said Skran. "Working with student journalists will enable us to better reach children in Sierra Leone with important messages about sanitation and hygiene, which is especially important in the aftermath of the Ebola epidemic in West Africa."
Marian Uhlman, director of Healthy NewsWorks, said her student journalists are looking forward to working with the KidsGive volunteers.
"It's a great opportunity for our students to broaden their understanding of the world and to see how the health communication skills they're learning can make a real difference in improving lives," said Uhlman.
KidsGive volunteers participating in the video project will be senior Wesley Varughese, Lake Villa, Ill., project coordinator; junior Delina Abadi, Addis Ababa, Ethiopia, elementary school coordinator; senior Tierney Duffy, Riverside, Ill., middle school coordinator; senior Joe Pegorsch, Waupaca, videographer; junior Andres Capous, San Jose, Costa Rica, Spanish language coordinator; junior Alex Kurki, Helena, Mont., financial manager; sophomore Tamanna Akram, Dhaka, Bangladesh, water project liaison.
While on the trip, the students also will meet with Lawrence alumni in Philadelphia and New York City.
Prior to the video project, Skran, the Edwin & Ruth West Professor of Economics and Social Science and Professor of Government, will present "Stories of Loss and Resilience" Tuesday, Feb. 9 at the Free Library of Philadelphia. The public lecture will examine the impact of the Ebola epidemic on the children of Sierra Leone. Skran will share first-hand accounts of children who lost homes, parents and months of schooling while enduring quarantines and hospitalizations during the epidemic and discuss international efforts to assist in the nation's recovery.
"Working with student journalists will enable us to better reach children in Sierra Leone with important messages about sanitation and hygiene, which is especially important in the aftermath of the Ebola epidemic in West Africa."




    — Government professor Claudena Skran
Skran was the first U.S. Fulbright Scholar to Sierra Leone after its 1991–2002 civil war and has visited the country 17 times, including three times during the Ebola epidemic. She is currently writing a book, "Ebola Time," on the children, schools and the Ebola epidemic in Sierra Leone.
KidsGive, founded by Skran, is part of Lawrence's Innovation and Entrepreneurship program. It strives to educate U.S. students about African life and cultures and to promote informed giving while providing children in Sierra Leone with learning opportunities. The student-run organization maintains active partnerships with schools in all four regions of Sierra Leone by providing scholarships and general school support and by sponsoring volunteer missions by American university students.
About Lawrence University
Founded in 1847, Lawrence University uniquely integrates a college of liberal arts and sciences with a nationally recognized conservatory of music, both devoted exclusively to undergraduate education. It was selected for inclusion in the book "Colleges That Change Lives: 40 Schools That Will Change the Way You Think About College" and Fiske's Guide to Colleges 2016. Engaged learning, the development of multiple interests and community outreach are central to the Lawrence experience. Lawrence draws its 1,500 students from nearly every state and more than 50 countries.