The YMCA of the Fox Cities was presented the 2011 Lawrence University Collaboration in Action Award this morning (10/4) during the college's third annual "Report to the Community." Nearly 150 community leaders attended the event, in which Lawrence President Jill Beck discussed the college-community relationship.
Oscar Boldt, chairman of The Boldt Group, served as emcee of the event, while Joyce Bytof, CEO of Coldwell Banker The Real Estate Group, Inc., was the program's featured speaker.
The Lawrence University Collaboration in Action Award honors an individual or organization, who, in partnership with Lawrence, has provided exemplary service to the Fox Cities community through strategic vision, leadership influence, long-standing commitment and enthusiasm, financial contributions and/or volunteerism.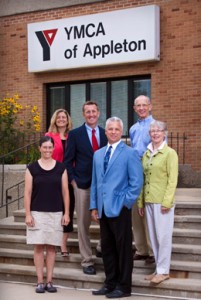 "The YMCA of the Fox Cities has been an outstanding neighbor and partner for many years," said Beck. "Their commitment to collaboration and resource sharing have helped make the Fox Cities a 'well city' and make Lawrence a 'well campus.'  We're thrilled to recognize the YMCA of the Fox Cities with the 2011 Lawrence University Collaboration in Action Award."
A community force for more than a century, the YMCA of the Fox Cities boasts more than 160,000 community members who participate in a YMCA program or activity on an annual basis. It collaborates with more than 350 local organizations, including Lawrence University.
Collaborations between the YMCA and Lawrence date back many years.  In 2005, a formal partnership was established with Lawrence students offered free memberships to the Appleton YMCA. In 2010, 725 Lawrence students visited the YMCA 12,541 times.
The YMCA also offers a membership discount to Lawrence faculty and staff, has provided free passes when Lawrence's Buchanan Kiewit Wellness Center has been closed during academic recesses and has provided wellness programming on Lawrence's campus, with plans for more in the current academic year.
"The YMCA has been a leader in wellness initiatives. I look forward to collaborating with the YMCA for on-site wellness programming to offer opportunities for our staff, faculty and students to strive to enrich their spirits, minds and body," said Erin Buenzli, Lawrence's director of wellness and recreation.
Lawrence and the Appleton YMCA have shared a number of resources over the years. Through a work-study program funded by both organizations, Lawrence students offer one-on-one tutoring at the YMCA to elementary and high school students. They provided more than 200 hours of tutoring in 2010.
The YMCA uses Lawrence facilities for programming at no cost: Lawrence is home to the YMCA Summer Tennis Camp and the YMCA uses Lawrence's aquatic facilities to increase participation in its swim team program. The Warch Campus Center also has hosted several events for the YMCA, including the Strong Kid's Victory Celebrations.
Cal Husmann, Lawrence's vice president of alumni, development and communications, serves on the YMCA of the Fox Cities Corporate Board and chairs the Development Committee, helping to raise funds that support and enhance YMCA programs, services and facilities.
"We are very proud and honored to have formed this wonderful relationship with Lawrence University," said Bill Breider, president/CEO of the YMCA of the Fox Cities. "Our partnership has provided thousands of students and community members with wellness and enrichment opportunities that would not have been available without the collaborative spirit from both the YMCA and Lawrence. Lawrence University is a wonderful neighbor, partner and pillar of our community."
Whether transforming an empty College Ave. storefront into a temporary "pop-up" gallery for local artists to showcase their talents, counting and monitoring bats at Menasha's Heckrodt Wetland Reserve or conducting research aimed at assisting local health care providers improve delivery of their services, Lawrence collaborations and partnerships exemplify the college's commitment to fostering a caring Fox Cities community.
Including their involvement with the YMCA, 605 Lawrence students volunteered more than 6,800 hours of service, including 2,800 hours at 47 different Fox Cities charities and schools during the 2010-11 academic year while Lawrence faculty and staff members served on the boards and committees of nearly 40 area nonprofit organizations.
The integration of civic service into the curriculum and culture at Lawrence resulted in the college being named to the President's Higher Education Community Service Honor Roll for the fifth consecutive year in 2011. Lawrence is one of only two Wisconsin institutions to receive this honor every year since the Honor Roll was established in 2006.
Founded in 1847, Lawrence University uniquely integrates a college of liberal arts and sciences with a world-class conservatory of music, both devoted exclusively to undergraduate education. Ranked among America's best colleges, it was selected for inclusion in the book "Colleges That Change Lives: 40 Schools That Will Change the Way You Think About College." Individualized learning, the development of multiple interests and community engagement are central to the Lawrence experience. Lawrence draws its 1,520 students from 44 states and 56 countries.