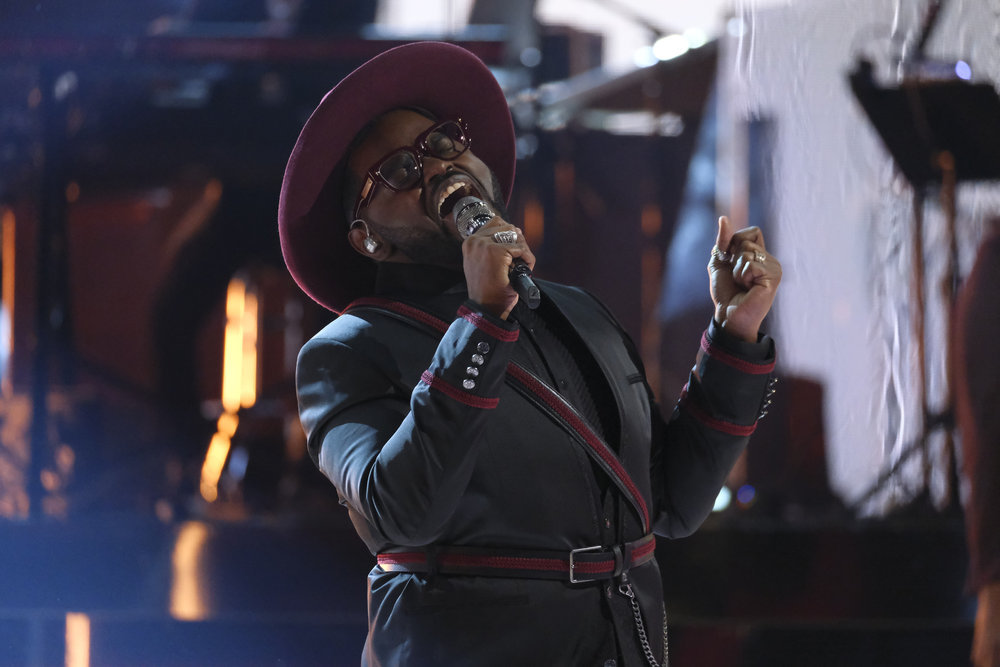 Story by Ed Berthiaume / Communications
Lawrence University voice professor John Holiday finished his wild ride on NBC's The Voice Tuesday night, placing fifth in the 19th season of the popular TV singing competition.
Holiday, an associate professor in the Lawrence Conservatory of Music since 2017, showcased a voice that John Legend called "otherworldly" as he advanced through the blind auditions, the battle rounds, the knockouts, the live playoffs, and the live semifinals, where TV viewers cast votes to move him into the Final 5.
On Tuesday's finale, he was joined on stage by Legend to sing Bridge Over Troubled Water, his final performance during an inspired run.
"It's been an incredible dream I could never have imagined," Holiday said of his time on the show.
But the title for Holiday wasn't to be. Carter Rubin, a 15-year-old coached by Gwen Stefani, was named the winner, based on viewer votes following Monday night's live finals performances, earning a recording contract in the process.
Late Tuesday, Holiday tweeted: "America, I love you so much! I appreciate every prayer that helped me and my #TheVoice family soar. Congratulations, @carterjrubin! The world is ready for your fierce talents and beautiful spirit. #HoliBaes forever! I love you and I am excited to be on this ride with you."
Holiday excelled in a competition that began in the spring with thousands of hopefuls and drew an average TV viewership of more than 7 million people during twice-weekly airings over the past two months. The show was conducted without its usual live audience and with social distancing protocols in place due to the COVID-19 pandemic.
Get to know Lawrence's John Holiday here.
Follow along with the John Holiday Tracker here.
Flashing a fun sartorial style to match a vocal talent that has made him a rising star in opera circles, the 35-year-old Holiday drew plenty of applause along the way, earning attention in the Los Angeles Times and USA TODAY, hearing effusive praise from the show's celebrity coaches—Legend, Stefani, Kelly Clarkson, and Blake Shelton—and growing a fan base he calls his Holibaes.
Holiday's voice students at Lawrence, who affectionately call him Prof, cheered him every step of the way, including through tonight's finale.
"From day one, Prof has told us that one of the main reasons he pursues his career is to show us what's possible," said David Womack '21, a senior voice student from Austin, Texas. "Watching him quickly become a household name is direct proof that we can do anything we set our minds to, as he frequently reminds us."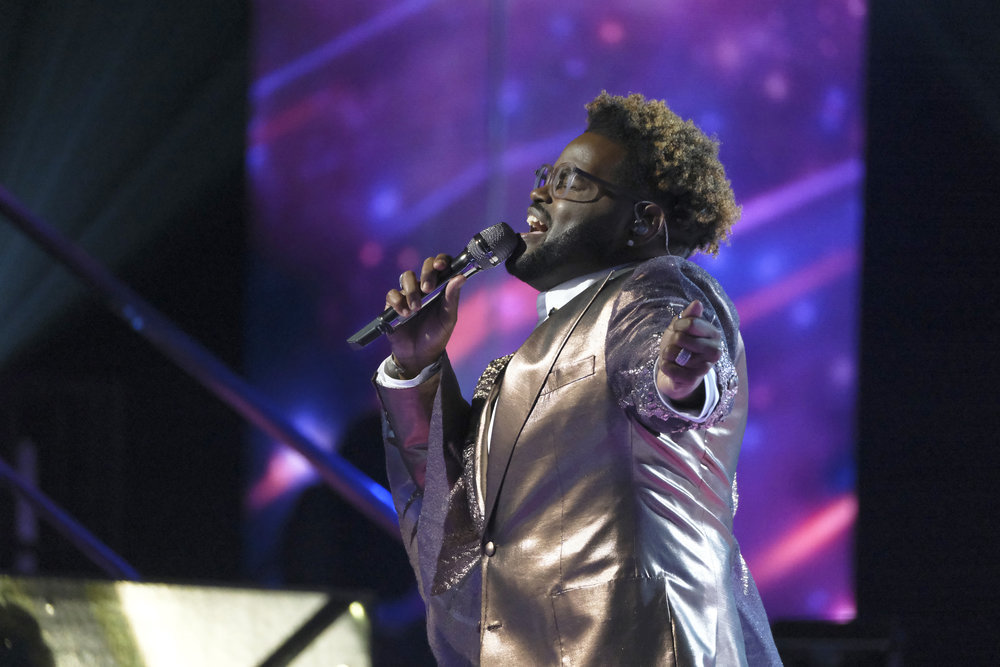 In Monday night's live finals, Holiday delivered Beyonce's Halo as his cover song and the Justin Tranter-produced Where Do We Go as his original.
"I love that you continue to show America more of yourself," Legend told him. "You put your heart out there every single week. You have an out-of-this-world gift."
Staying genuine
Holiday jumped into the competition after the pandemic shut down his performance schedule in the spring. He continued to teach remotely while quietly taking part in the auditions and the early rounds of the show from Los Angeles. The recorded segments—launched with Holiday delivering a stunning performance of Misty that quickly drew Legend to his corner in the blind auditions—began airing in mid-October. Holiday was sworn to secrecy as he advanced through each round as part of Team Legend. He returned to L.A. as the live rounds and viewer voting began two weeks ago.
Sarah Navy '22, a junior voice student from Holiday's hometown region of Houston, Texas, said she and her Lawrence classmates already appreciated Holiday's immense talents. Seeing other viewers discovering not only that talent but also his joyful heart was part of the fun.
"Even though I have spent so much time with him and have heard him sing so much, sometimes I go back to the first time I met him and I become that girl in tears who knew one day she could be great, too," Navy said. "He is such a genuine person who works so hard and is being a representative for so many people."
That genuineness shined through all levels of the show, whether Holiday was talking to Legend or host Carson Daly about his teaching at Lawrence, being Black and gay, singing opera, his incredibly high falsetto, growing up in his beloved Texas, his relationship with the grandmother he calls Big Momma, and the pain being felt by artists around the world in the midst of the pandemic.
"He is always so authentic to who he is, which is so inspiring to see," said Jack Murphy '21, a senior choral student from Neenah. "And just witnessing the outpouring of love for him. Not only for his talent, but what he stands for as well. It's encouraging and wonderful. I am so immensely proud of him, and so is our entire studio."
During his run on The Voice, Holiday became the student under the coaching guidance of Legend. In Monday's episode, he thanked his mentor for instilling in him confidence that he could shed labels and transcend musical boundaries.
"The Voice has been a place that has helped me to stretch myself far beyond what I thought was possible for me," Holiday said. "Having John as one of my biggest supporters, his belief in me means the world. … I spent so much of my life hiding, and I won't ever hide again. He's given me permission to fly."
Lawrence pride
While NBC billed Holiday as a native of Rosenberg, Texas, his home the past three years has been in Appleton. He represented Lawrence well throughout the season, speaking not only to the power of music education but also to the need for musicians to live and perform authentically and with empathy, resiliency, and flexibility.
"We couldn't be prouder of John Holiday and his incredible journey on The Voice," said Brian Pertl, dean of the Conservatory. "John is the perfect example of the flexible, versatile, virtuoso musician that the 21st century needs and Lawrence strives to produce. He is an opera star who can sing jazz and pop at the highest levels. He is a top-tier performer and a top-tier educator who values his students above all else. What an incredible role model for our students and musicians around the globe."
With The Voice now finished, Holiday will prepare for Winter Term at Lawrence while getting at least a bit of his performance schedule back. Opera Philadelphia announced last week that Holiday will take the lead in Tyshawn Sorey's Save the Boys in February, to be streamed on the Opera Philadelphia Channel.
Hannah Jones '22, a junior voice student from Houston, will be among the Conservatory students excited to welcome their professor home, even if it has to be via Zoom for a bit longer.
"Prof always tells us, 'I want to show you that it is possible,'" Jones said. "Well, he was doing that well before The Voice, but this is another level. Words cannot describe my excitement for Prof's success."
Ed Berthiaume is director of public information at Lawrence University. Email: ed.c.berthiaume@lawrence.edu