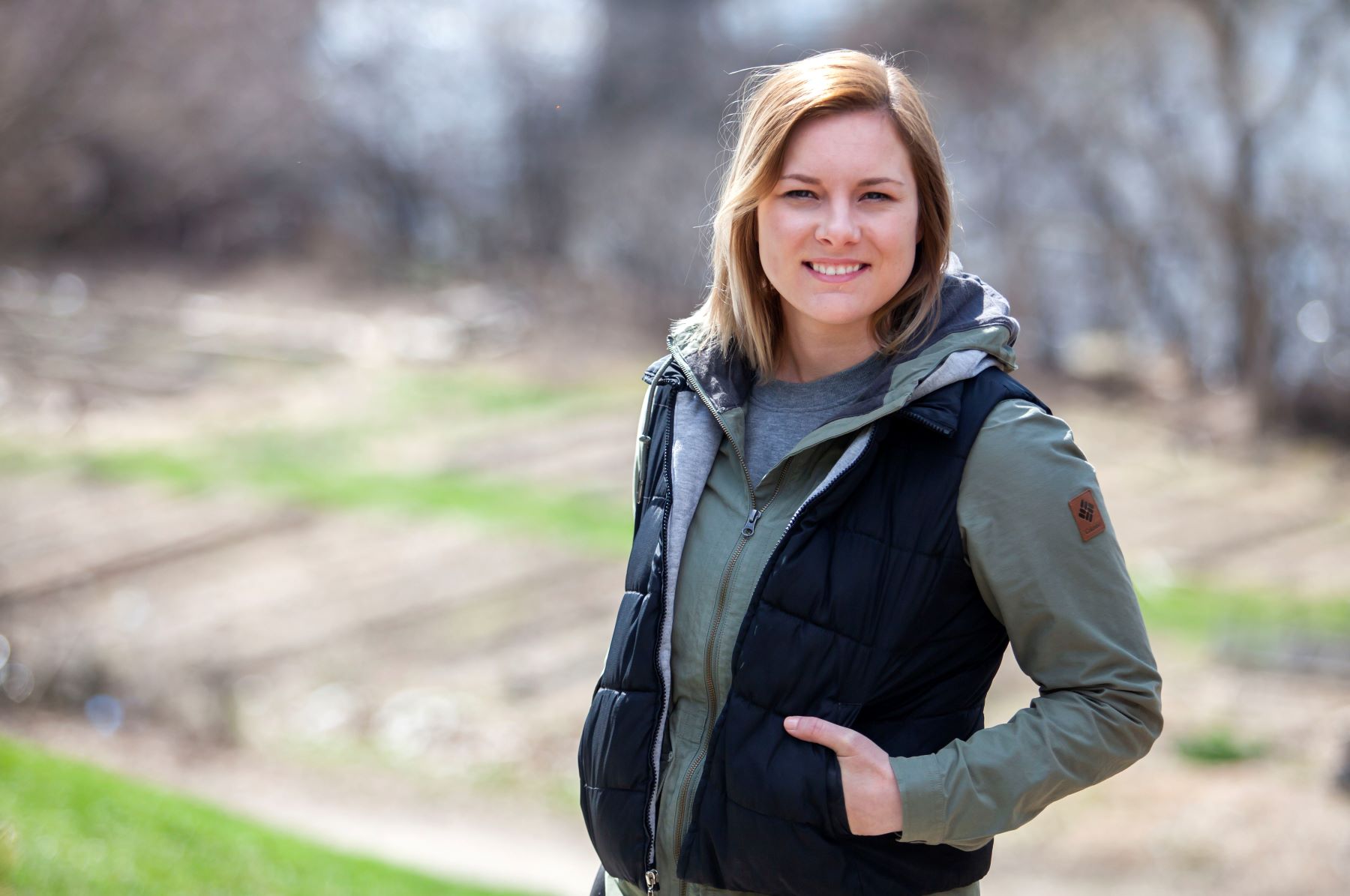 By Kelsey McCormick / Sustainability Coordinator
When I was young, my siblings and I spent many weekend mornings on walks or bike rides with our dad. I assume it was to get us out of the house and burn off energy. I never would have guessed that years later I would be able to so clearly remember Dad picking up a leaf or a pine cone and telling us which tree it came from. I would be awestruck. He taught me that each tree had its own identity and purpose. There was something I deeply respected about that.
Wednesday (April 22) is the 50th anniversary of Earth Day. Earth Day marks the birth of the modern environmental movement and is usually a day for people to gather together to show appreciation for the planet and demand that we treat it with care. As I was lamenting the loss of our on-campus Earth Day celebration, I asked myself, "How can I take advantage of this opportunity and encourage Lawrentians to celebrate Earth Day at home?" Then I thought, maybe celebrating Earth Day at home was meant to be.
Sustainability conferences often begin with the same ice-breaker question. "How did you become interested in sustainability?" Many responses follow a similar theme to mine. Summers in a little fishing boat with Grandpa, helping Mom plant the backyard garden, late nights catching fireflies with neighborhood friends. Maybe it's corny, but many of us seem to have strong emotional connections to the natural spaces where we live or have created fond memories. Sustainability is local. Sustainability is personal.
This made me perk up. Even though we cannot celebrate together, maybe we can still celebrate Earth Day in a way that is personal and meaningful to each of us.
In a nod to Earth Day, we also share this video that showcases the Fox River and trails near the Lawrence campus:
If you aren't sure where to start, here are seven ways that you can celebrate the 50th anniversary of Earth Day from wherever you call home.
1. Participate in a remote Earth Day documentary screening with the LU community
With assistance from Bullfrog Films, Lawrence's Sustainability Steering Committee will be hosting a live documentary screening of Once was Water at 6 p.m. CDT on April 22. Tune in to watch the film along with the committee members and fellow Lawrentians. A live chat feature will be available during the film. The film will be available for 24 hours after the initial screening for those who are unable to watch at that time. We hope the film will inspire and spark conversation about resource use in your own community. The link to the screening is here: https://streaming.bullfrogcommunities.com/sustainable_lawrence_once_was_water. The video password is 0wW2!21U
(Here's a message from Bullfrog Films: To watch the film, viewers must sign up with email (and sign in) or just sign in with Facebook or Twitter to access the screening room, and then enter the video password. If signing up with email, we recommend that viewers do this in advance of the screening. See our How To for details. We also recommend copying and pasting the password. We will open the screening room 30 minutes before screen time so viewers can chat.)
2. Follow Lawrence's green-living guidelines at home
Many of the credits in the Green Room Certification from Lawrence's Office of Residential Education and Housing can be applied at home. See how many of these green-living strategies you can add to your regular routine. Bonus points if you can get your family members or roommates to play along. Access to the Green Room Certification is here (a Lawrence login is required to access the link).
3. Refine your SLUG skills in a backyard garden
The produce grown in SLUG is sold to Bon Appetit to be served in Andrew Commons. If you can't tinker in the campus garden, try growing your own fruits or veggies and serving them in your own meals. If you don't have a yard, that's OK. Tomatoes, sweet peppers, spinach, lettuce, and many others will do well in pots on a balcony or patio.
4. Become an ally for pollinators
Pollinators play an especially important role in welcoming spring. Did you know 90% of flowering plants depend on pollinators to reproduce? Lawrence is recognized as a Bee Campus USA and demonstrates its commitment to bees and pollinators by including native plantings and "bee hotels" on campus. You can create your own little refuge for bees by planting native flowering plants at home. No yard space necessary. Try installing a window box and enjoy the buzz of activity you will see outside.
5. Pick up one of Lawrence's sustainability must-reads
Read what the faculty in this year's Sustainability Institute are reading. Try Timefulness: How Thinking Like a Geologist Can Help Save the World by Marcia Bjornerud, the Walter Schober Professor of Environmental Sciences and professor of geology at Lawrence. Or check out The Two-Mile Time Machine by Richard Alley. Interested in trying a thought-provoking novel? The Overstory by Richard Powers will spark conversation. Looking for something more philosophical? A Sand County Almanac details Aldo Leopold's observations and feelings regarding wildlife conservation based on his personal restoration project in southwest Wisconsin.
6. Support your local economy
Many of the small businesses that make your community special are likely closed or operating in limited capacities amid the COVID-19 pandemic. Support those businesses by placing carry-out orders or purchasing gift cards to use later. Non-financial options of support include leaving a positive review online or sharing their business page on social media.
7. Reduce personal waste
Be conscious of product packaging and be aware of single-use items. Have you ever noticed that many of the items in your trash or recycling bin are just the containers your items came in? Take a peek. … Both bar soap and shampoo bars can be found in simple cardboard packaging as opposed to plastic. Consider investing in reusable snack bags as opposed to the single-use film ones. Some of these options may even save you money in the long run.
Kelsey McCormick is a project specialist/sustainability coordinator on the president's staff at Lawrence University.