Ryan Petersen, music teacher at Deerfield High School, returns to his alma mater as one of two recipients of Lawrence University's 2015 Outstanding Teaching in Wisconsin Award.
Tim Grandy, an English teacher at Milwaukee's Divine Savior Holy Angels High School, also will be honored as an outstanding educator.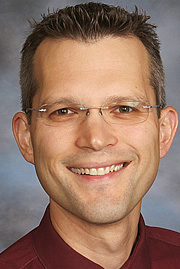 Petersen and Grandy each will receive a certificate, a citation and a monetary award Sunday, May 3 from Lawrence President Mark Burstein in ceremonies at the president's house. Their respective schools also will receive $250 from Lawrence for library acquisitions.
Recipients are nominated by Lawrence seniors and selected on their abilities to communicate effectively, create a sense of excitement in the classroom, motivate their students to pursue academic excellence while showing a genuine concern for them in and outside the classroom.
Since launching the award program in 1985, Lawrence has recognized 64 teachers.
Petersen, a 1998 Lawrence double degree graduate (B.A. and B.S.) with majors in music education and anthropology, joined the Deerfield School District that same year as band director for grades 6-12. He directs the high school jazz, pep and marching bands, the concert and jazz bands in middle school as well as 6th grade band.
In addition to music theory and music technology courses, he teaches junior- and senior-level high school classes in anthropology and archaeology. For the past 15 years, Petersen has taken his archaeology class on field trips to Bjorklunden, Lawrence's northern campus in Door County, for site excavation exercises.
Petersen also teaches music appreciation and archaeology classes online through the Jefferson Eastern Dane Interactive (JEDI) Distance Learning/Charter School/Online School program.
Lawrence senior Savannah Vogel, who nominated Petersen for the award, was a student of his from 6th grade through graduation.
"He always had high expectations of me which allowed me to set high goals for myself as a musician and as a student," said Vogel. "His passion for his students is apparent in the amount of time he spends working toward their success."
Vogel said Petersen's degree in anthropology from Lawrence helped him introduce the discipline at her school.
"Most students at Deerfield High School had never heard of anthropology and probably wouldn't have before college if it wasn't for Mr. Petersen," said Vogel. "He drew a large variety of students into these classes which resulted in anthro becoming a very popular class, despite the fact that it was one of the hardest classes offered at our school."
"His passion for his students is apparent in the amount of time he spends working toward their success."

— Savannah Vogel '15
He was recognized with the Wisconsin Music Educator's Association Outstanding Young Music Educator Award in 2004. He is also a five-time winner (2002, 2004, 2008, 2009, 2015) of Deerfield High School's Significant Educator Award, an honor chosen by the valedictorian and salutatorian of the senior class.
A native of Silver Spring, Md., Petersen is a member of the Madison Wind Ensemble and McFarland Community Band, which he also co-directs. He has served as co-president of the Deerfield Education Association since 2007.
After graduating from Lawrence, Petersen earned a master's degree in music education from Boston University.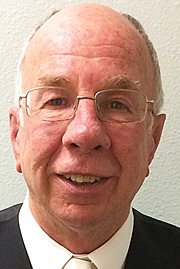 Grandy joined the English department at DSHA in 1980. He teaches junior-and senior-level classes on major British writers, modern American women writers, major themes in literature, Shakespeare, a college composition course and advanced placement English literature.
Lawrence senior Marie Jeruc credited Grandy with inspiring her to pursue a major in English in college.
"I have never had a teacher who is so genuinely excited about the course materials," Jeruc said of Grandy in her nomination. "He is engaging and exciting, but always genuinely passionate about English literature and extremely intelligent about the subject. Despite his reputation as a demanding teacher, he is also a wonderful man, full of enthusiasm, encouragement for his students and has the energy of three men combined.
"Mr. Grandy's intensity definitely applied to his expectations for his students," Jeruc added. "Most high school students dread writing analytical essays on literature, but writing for Mr. Grandy comes with even greater challenges. For as strict of a teacher he is, he does everything in his power to make sure his students learn as much as possible about literature and writing. He demands insightful commentary and eloquent writing, but also encourages creative thoughts and unique analyses.
"Despite his reputation as a demanding teacher, he is also a wonderful man, full of enthusiasm,
encouragement for his students and has the energy of three men combined."

— Marie Jeruc
Born and raised in Milwaukee, Grandy also has served as DSHA's yearbook advisor for much of his career. He was the recipient of a $1,000 Kohl Foundation Fellowship in 2005 and was recognized by the University of Chicago with its Outstanding Teacher Award — also through a nomination by a former student — in 2002.
He earned a bachelor's degree in English education from UW-Milwaukee and a master's degree in English and American literature from Marquette University.
About Lawrence University
Founded in 1847, Lawrence University uniquely integrates a college of liberal arts and sciences with a nationally recognized conservatory of music, both devoted exclusively to undergraduate education. It was selected for inclusion in the Fiske Guide to Colleges 2015 and the book "Colleges That Change Lives: 40 Schools That Will Change the Way You Think About College." Engaged learning, the development of multiple interests and community outreach are central to the Lawrence experience. Lawrence draws its 1,500 students from nearly every state and more than 50 countries.