Lawrence University softball star Amanda Jaskolski has been named the Midwest Conference Player of the Year for the second consecutive season.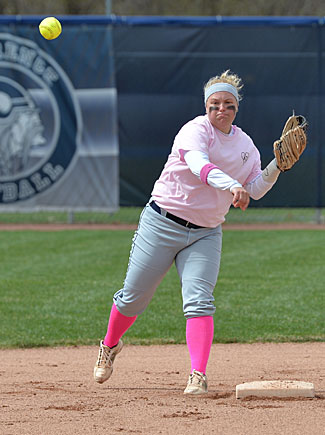 Jaskolski (Shawano, Wis./Shawano), a senior shortstop, earned the honor after leading the conference in several offensive categories and helping Lawrence to the North Division title.
Sophomore catcher Sam Belletini (Gurnee, Ill./Warren Township) also was named to the first team, and senior pitcher Liz Barthels (Sheboygan Falls, Wis./Sheboygan Falls) was chosen for the second team.
Jaskolski, who was the North Division Player of the Year in 2014, hit .462 on the season with 37 runs scored, 13 home runs and 46 runs batted in. She led the league in on-base percentage at .573 and was first in RBIs, homers and walks (31) and finished second in hits, slugging percentage and runs scored.
Jaskolski decimated the Lawrence season records in 2015 by tying or setting six marks.
Her 13 homers eclipsed the record of 12 set by Carli Gurholt in 2009 and her 46 RBIs topped Gurholt's 2009 mark of 45. Jaskolski obliterated the total bases record with 104. The mark was 79, set by Jenny Burris in 2001 and Gurholt in 2009.
Jaskolski's 54 hits broke the record of 51 set by Burris in 2001, and she tied Burris' record of 37 runs scored in 2001. Jaskolski also smashed the season walks record as teams consistently pitched around her. Jaskolski drew 31 walks, topping the mark of 22 set by Stephanie Ash in 1992.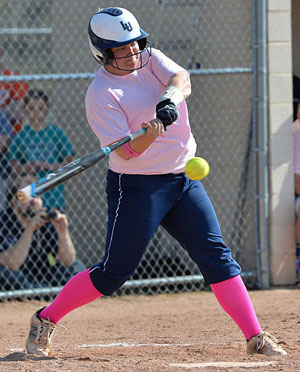 In conference play, Jaskolski hit .439 with three doubles, three homers and 12 RBIs. Jaskolski also was walked 15 times, which helped her score a team-best 16 runs in league play.
Belletini had a tremendous season behind the plate for the Vikings and was named to the all-conference team for the first time. Batting in the clean-up spot, she hit .367 with 13 doubles, four homers and 24 RBIs. Belletini, who was named the conference Player of the Week twice in 2015, tied the season doubles record set by Alex Goodson in 2009. Belletini also was very good defensively and threw out eight of 18 runners attempting to steal.
In Lawrence's 14 conference games, Belletini hit .551 with seven doubles, four homers and 13 RBIs. He had a .600 on-base percentage and a staggering .939 slugging percentage.
Barthels also was honored on the all-conference team for the first time. She went 13-6 with a 1.97 earned run average, the ninth-best season ERA in school history. In a team-high 117 innings pitched, Barthels struck out 44 and walked just 10, an average of 0.6 per seven innings.
Named the conference Pitcher of the Week once during 2015, Barthels tossed a pair of shutouts and picked up two saves. Barthels tossed a three-hit shutout in a 7-0 win over Knox College and allowed just five hits in an 8-0 shutout of Ripon College.
In conference action, Barthels posted a 5-2 record with a 2.13 ERA. In 42.2 innings, she struck out 20 and walked just four.
Lawrence won the North Division title for the first time since 2005 and finished second in the Midwest Conference Tournament. The Vikings finished with a 28-12 record to post the most wins by the team since setting the school record with 31 victories back in 1999.
About Lawrence University
Founded in 1847, Lawrence University uniquely integrates a college of liberal arts and sciences with a nationally recognized conservatory of music, both devoted exclusively to undergraduate education. It was selected for inclusion in the Fiske Guide to Colleges 2015 and the book "Colleges That Change Lives: 40 Schools That Will Change the Way You Think About College." Engaged learning, the development of multiple interests and community outreach are central to the Lawrence experience. Lawrence draws its 1,500 students from nearly every state and more than 50 countries.