When Fred Sturm, the former director of Lawrence University's jazz studies program, suggested to Tim Carrigg that he venture outside the box, he took the advice and ran with it.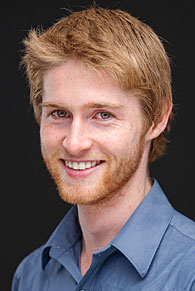 The end result, "Namaste," earned Carrigg national recognition from DownBeat magazine as the 2016 undergraduate winner in the original composition/large ensemble category in its 39th annual Student Music Awards competition.
It was the second year in a row Carrigg has been honored by DownBeat. In last year's SMA competition, he won the undergraduate jazz arrangement category for his six-minute, big band arrangement "Once Upon a Time," which was inspired by Herbie Hancock's "Tell Me a Bedtime Story."
Carrigg is in rare company at Lawrence as a back-to-back winner. He is only the second individual Lawrence student to win consecutive DownBeat awards, joining Javier Arau, who won SMAs in 1996 and 1997. The seven-member student band, Fatbook, which won two straight awards in 2010 and 2011 in the college blues/pop/rock group category, is Lawrence's only other multiple winner.
Announced in DownBeat's June edition, the SMAs are considered among the highest music honors in the field of jazz education. They are presented in 13 categories in five separate divisions: junior high, high school, performing high school, undergraduate college and graduate college.
Written over a period of six months, "Namaste" was actually performed and recorded live two months before Carrigg found out that "Once Upon a Time" had won a SMA.
"I certainly didn't think I had another winner when I finished writing 'Namaste' because at the time, I wasn't even aware I had won the first time," said Carrigg, who is pursuing a bachelor of music degree at Lawrence in music theory/composition major with a jazz emphasis.
It was shortly after he had finished "Once Upon a Time" that Sturm, who passed away in August 2014, encouraged Carrigg to "write something that's really original, really different."
"At that time, I had been listening to a lot of rock I had heard when I was younger, bands like Alice in Chains, Stone Temple Pilots, Nirvana," Carrigg recalled of his conversation with Sturm. "I took all those influences and basically brought them together into 'Namaste.'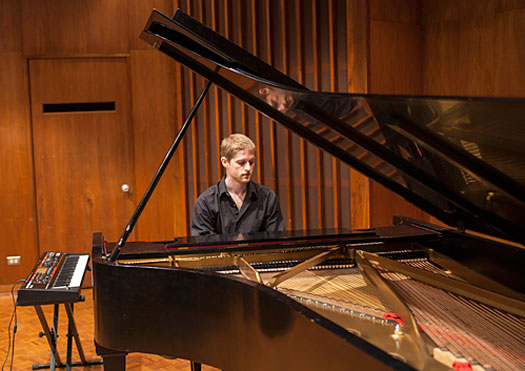 "I wound up with this really cool fusion between '90s rock and more traditional elements of jazz. It has this feeling of solemnness but also excitement. In the middle of the piece, the horns start playing the texture of a lush chorale, only to catch you by surprise when the piece suddenly breaks for a heavy drum solo."
The nine-minute piece features 18 musicians — five saxophones, four trumpets, four trombones and five rhythm section players.
"Tim incorporates unconventional sounds and instruments and heavy metal/rock/fusion elements in his jazz ensemble works, which has greatly influenced his unique style of composing," said Patricia Darling, who teaches jazz composition and arranging classes and directs the Lawrence University Jazz Ensemble. "I love working with him because he has such a clear vision of what he wants to create and is determined and able to make it happen. It will be exciting to see where he goes with this when he heads to graduate school next year."
"Namaste" is the latest of 15 concert style works Carrigg has written, five of which will be performed during his upcoming senior recital on May 14. He puts "Namaste" among his top three favorites.
"I put a lot of work into that piece and certainly was excited when I found out it won the DownBeat award," said Carrigg. "The performers put in a lot of time on it and they all sounded great. It's such a fun piece."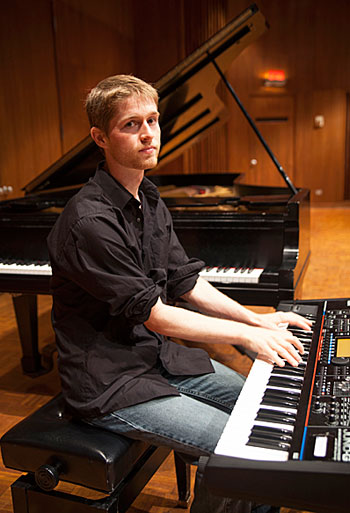 Following graduation in June, Carrigg will head to the University of Oregon where he'll be a graduate teaching fellow while working toward a masters in jazz composition.
"What I would really love to do is be in a small group where I'm writing for individuals," said Carrigg, who plays piano. "There's something very special about writing for a small group of people where you're connected on an individual level but you also know their personalities on the instrument.
"I love writing for big ensembles too, and that's a skill set I'll always have," he added. "Ultimately, I'd like to be a performer as well as a composer. Small group writing has a pretty big place in my heart, whether that is through freelancing or being part of a group or collaboration."
Since DownBeat launched its Student Music Awards competition in 1978, Lawrence students and ensembles have won a total of 27 SMAs, including seven in the past six years.
About Lawrence University
Founded in 1847, Lawrence University uniquely integrates a college of liberal arts and sciences with a nationally recognized conservatory of music, both devoted exclusively to undergraduate education. It was selected for inclusion in the book "Colleges That Change Lives: 40 Schools That Will Change the Way You Think About College" and Fiske's Guide to Colleges 2016. Engaged learning, the development of multiple interests and community outreach are central to the Lawrence experience. Lawrence draws its 1,500 students from nearly every state and more than 50 countries.