Nancy Mattson put her Lawrence University degree in economics to such good use, she earned recognition from the United States Navy.
Her work in 1987 as a financial advisor on a $3 billion vessel financing program for the U.S. Navy earned her one of the few Distinguished Public Service Awards bestowed by the Secretary of the Navy during the Reagan Administration.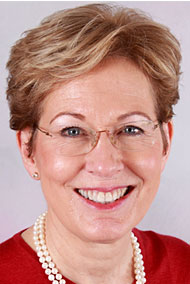 Mattson is one of five Lawrence graduates who will be honored Saturday, June 18 as part of the university's annual alumni Reunion celebration. Each will be recognized at the Reunion Convocation at 10:30 a.m. in the Lawrence Memorial Chapel. The event is free and open to the public.
More than 1,000 alumni and guests from 43 states and five countries, including India, Italy and Romania, representing classes as early as 1940, are expected to return to campus.
Members of the Lawrence 50-Year Connection, a cohort of alumni who graduated at least 50 years ago, get Reunion activities started Wednesday evening June 15 with a reception and dinner and a series of panel presentations and small-group discussions on Thursday, June 16. A complete schedule of Reunion activities can be found here.
The 2016 awards and recipients are:
• Lucia Russell Briggs Distinguished Achievement Award — Nancy Mattson, Class of 1976, Novato, Calif. The award recognizes a Lawrence or Milwaukee-Downer graduate of more than 15 years for outstanding career achievement. The award honors the second president of Milwaukee-Downer College, one of the most beloved and influential figures in that college's history.
 With more than has more than 35 years of commercial and investment banking experience, Mattson is the founder, managing director, executive vice president and chief financial officer of Argent Group Ltd., a boutique investment banking firm.
Prior to founding Argent in 1982, Mattson spent three years as a vice president with Bank of America. An expert in maritime finance, she has served as a member of the shipbuilding subcommittee of U.S. Marine Transportation System National Advisory Council for the U.S. Department of Transportation.
"I'm fond of saying Lawrence was a great place to 'grow up,'" said Mattson. "Lawrence gave me the academic background I needed to succeed in my business career.  The liberal arts focus of the university meant that I was exposed to courses that I would not study in depth, but the study of which would enrich my life.
"Lawrence clearly helped me build a firm foundation for life and I believe that it is continuing to do the same for today's Lawrentians," Mattson added. "I am grateful to have had the opportunity to attend this truly outstanding university."
After graduating from Lawrence, Mattson earned an MBA from the John M. Olin School of Business at Washington University, which recognized her with a distinguished alumni award in 1995.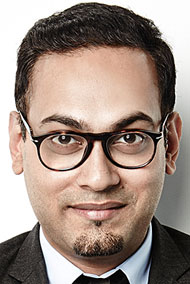 • Nathan M. Pusey Young Alumni Distinguished Achievement Award — Curien Kurrien, Class of 2001, Mumbai, India. The award recognizes Lawrence alumni of 15 years or less for significant contributions to, and achievements in, a career field. The award honors the 10th and youngest president of Lawrence and an exemplary figure in higher education in the 20th century.
In 2008, Kurrien became an important footnote within the vast publication empire of Condé Nast. At the age of 29, launched GQ India, becoming the youngest editor-in-chief in the publishing titan's history. Since making its debut eight years ago, Kurrien has built the magazine into India's leading men's media brand.
Prior to heading GQ India, he worked as a reporter for The Indian Express, a daily newspaper. He also covered the music and nightlife scene for Time Out Mumbai magazine and wrote for Reuters, the international wire service, which brought his stories to The New York Times and Washington Post, among others.
"I only began to fully understand the value of my Lawrence education as a senior, when I magically started connecting the dots between ostensibly disparate fields, drawing from each discipline to strengthen my arguments in another," Kurrien said. "These insights imbued me with precious confidence I'd never possessed before – a powerful force that I draw upon daily for my complex, creative, nuanced job as editor-in-chief of GQ India."
"I returned home a year after I graduated," Kurrien added. "By then the Lawrence liberal arts ideal had transformed and armed me with a unique outlook that allowed me to identify and capitalize on a range of opportunities in the new India."
Kurrien earned a degree in government from Lawrence in 2001 and a post-graduate certificate in journalism from New York University.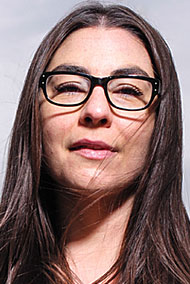 • The George B. Walter Service to Society Award — Timothy Anne Burnside, Class of 2002, Washington, D.C. The award recognizes an alumnus or alumna of Lawrence or Milwaukee-Downer who best exemplifies the ideals of a liberal education through its application to socially useful ends in the community, the nation or the world. This award honors George B. Walter '36, faculty member, coach and dean of men, whose work at the college and beyond was guided by his conviction that every individual can and should make a positive difference in the world.
As a museum specialist at the Smithsonian Institution's National Museum of African American History and Culture, Burnside works with musicians, artists and others to build collections and develop exhibitions that offer complex representations of history and cultural expression.
She began her career in 2003 at the National Museum of American History where she launched that museum's hip-hop collecting initiative. Among the numerous Smithsonian projects she has worked on was an exhibition on Harlem's Apollo Theater. Burnside regularly presents at conferences and serves on the executive committee of the International Association for the Study of Popular Music.
"I'm lucky to have a career that combines the three things I studied at Lawrence, which I am grateful for every single day," said Burnside. "I carry every life lesson and classroom experience from Lawrence with me, because those moments taught me how to be confident and not afraid of striving to do the work that I love.
"I learned humility and the importance of working towards a goal because of the good work being done, not because you would be rewarded. I came away from those four years without a plan for the rest of my life, but I knew that I would be ok."
After graduating with a bachelor's degree in English from Lawrence, Burnside earned a master's degree in museum studies at Johns Hopkins University.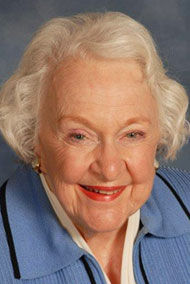 • Gertrude Breithaupt Jupp Outstanding Service Award — Betty Barrett, Milwaukee-Downer Class of 1955, Macomb, Ill., and William Hochkammer, Class of 1966, Bloomfield Hills, Mich. The award recognizes an alumnus or alumna of Lawrence or Milwaukee-Downer after his/her 15th Cluster Reunion who has provided outstanding service to Lawrence. It honors Gertrude Breithaupt Jupp, voted Milwaukee-Downer alumna of the year in 1964 for her long-standing service to the college as president of the alumnae association board, class secretary and public relations officer.
Barrett has worked tirelessly to sustain the Milwaukee-Downer legacy after the former all-women's college consolidated with Lawrence in 1964. Through the Betty Heistad Barrett Fund for Excellence in Civic Service, which she established with her late husband in 2010, Lawrence students are empowered to improve the world, grow as young professionals and explore the nonprofit sector.
Barrett has served on the Lawrence Alumni Association Board of Directors, numerous reunion committees and as a member of a working group for Lawrence's 2005-11 More Light! campaign.
"'With a heart full of love for our college' is a line from the Milwaukee-Downer College alma mater that never fails to bring tears, even 62 years after the merger that formed Lawrence University," said Barrett. "Downer lives on in the hearts and minds of its devoted alumnae. I am grateful that many of our traditions continue, most visibly the class colors."
"Lawrence's liberal arts program, fine professors, individualized education and small size  all make it a fine choice for many students," Barrett added. "I appreciate coming to Lawrence to meet those students who are successors to me and my classmates. Milwaukee-Downer College lives on through these students."
After earned a bachelor's degree at M-D, Barrett earned a master's degree in government from Marshall University.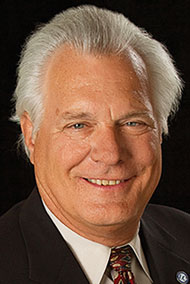 Hochkammer, a health care attorney and partner in the Detroit law firm Honigman Miller Schwartz and Cohn LLP, served 22 years on Lawrence's Board of Trustees, including as board chairman from 2005-07. He was recently re-elected to the board, becoming the first trustee in Lawrence history to complete his term limit and be invited to rejoin the board.
While on the board, Hochkammer was instrumental in the success of Lawrence's $160 million "More Light!" campaign that ended in 2011 and served on the Presidential Search Committee that appointed Jill Beck as the university's 15th president. He currently serves on the leadership team for Lawrence's $75 million "Full Speed to Full Need" endowed scholarship campaign.
"Attending Lawrence was a life changing experience for me. It was instrumental to my transition from growing up on a Wisconsin farm, the first in my family to attend college, to completing law school and to a full and enjoyable life on both a personal and professional basis," said Hochkammer. "While I valued my time as a student at Lawrence I didn't then fully appreciate what I was gaining from my experience. As I had more life experiences, my appreciation for my Lawrence education continued to grow as I saw how well Lawrence had prepared me as a person.
"Today I see how strongly Lawrence is committed to its mission, how it continues to transform the lives of students and how it strives constantly to become even better at providing outstanding experiences to its students," Hochkammer added.
After graduating with a bachelor's degree in economics from Lawrence, Hochkammer earned a law degree from Northwestern University School of Law.
About Lawrence University
Founded in 1847, Lawrence University uniquely integrates a college of liberal arts and sciences with a nationally recognized conservatory of music, both devoted exclusively to undergraduate education. It was selected for inclusion in the book "Colleges That Change Lives: 40 Schools That Will Change the Way You Think About College" and Fiske's Guide to Colleges 2016. Engaged learning, the development of multiple interests and community outreach are central to the Lawrence experience. Lawrence draws its 1,500 students from nearly every state and more than 50 countries.