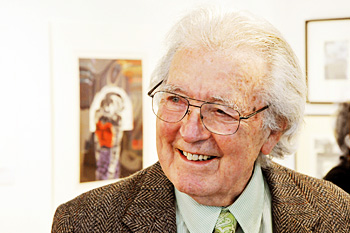 A celebration of former Lawrence University art professor Arthur Thrall's skills and imagination as an award-winning printmaker and painter highlights the newest exhibition in Lawrence's Wriston Art Center galleries.
"Arthur Thrall: Tribute to a Master Artist" in the Kohler Gallery opens Friday, Sept. 23 at 6 p.m. with a free public reception. The exhibition runs through Nov. 23.
During a 26-year teaching career at Lawrence — Thrall retired in 1990 but remained an active artist in retirement — he established an international reputation for works inspired by sources as diverse as calligraphy and computers, music and microchips.
Covering three broad themes — calligraphy, musical notation and lyrical lines — the exhibition features a wide array of media and print-making processes, from intaglio and relief prints to gouache and oil paintings.
A video by professional photographer Mark Heffron, "Orchestrated Lines," that documents Thrall creating the print "Confluence" will be shown during the exhibition, while the plate for that print and some of Thrall's printmaking tools also will be displayed.
Beth Zinsli, director and curator of the Wriston Art Center galleries, called Thrall "a legend in the Wisconsin arts community."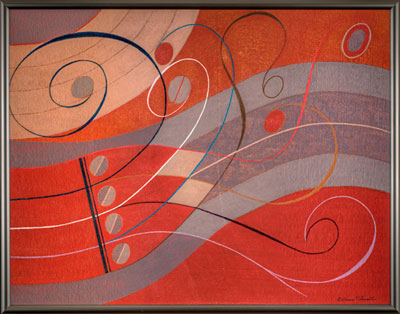 "It's an honor and a privilege to showcase this stunning array of Arthur's complex and multilayer works in a variety of media," said Zinsli. "I'm confident viewers will find his work aesthetically pleasing and intellectually engaging."
His prints and paintings appeared in more than 500 exhibitions around the world and many found homes in the permanent collections of the British Museum, London's Victoria and Albert Museum, the Tate Gallery, the Smithsonian Institute, the Library of Congress and the Chicago Art Institute, among others.
A native of Milwaukee, Thrall was one of 21 members of the Milwaukee-Downer College faculty who came to Lawrence in 1964 as part of the consolidation with the former all-women's college. He died at the age of 88 in March, 2015.
During his career, Thrall was recognized by the art community with more than 75 awards, including the Lifetime Award from the Society of American Graphic Artists in New York in 2013. He also received the Museum of Wisconsin Art's Wisconsin Visual Art Lifetime Achievement Award in 2011.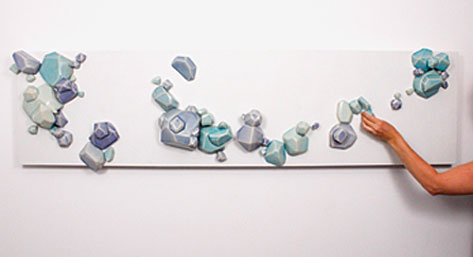 In addition to "Tribute to a Master Artist," the Leech and Hoffmaster galleries host  "FACET: Diverse Works by Women in the West." The show features five female artists from the American West — Renee Brown, Natalie Macellaio, Jessica McCambly, Lesli Robertson and Shannon Sullivan — who work with "heavy" sculpture materials, including metals, clay, concrete, wood and glass. Their work, reflecting deep consideration of the virtues and limitations of their chosen medium, references the natural world, including geologic, chemical and biological processes.
"FACET" includes Sullivan's interactive piece "Interactive Bubble Array," which visitors can manipulate (while wearing gloves).
The Wriston Art Center galleries are free and open to the public Tuesday-Friday 10 a.m. – 4 p.m.; Saturday-Sunday noon – 4 p.m.; closed Mondays. For more information on the exhibition, 920-832-6890.
About Lawrence University
Founded in 1847, Lawrence University uniquely integrates a college of liberal arts and sciences with a nationally recognized conservatory of music, both devoted exclusively to undergraduate education. It was selected for inclusion in the book "Colleges That Change Lives: 40 Schools That Will Change the Way You Think About College."  Engaged learning, the development of multiple interests and community outreach are central to the Lawrence experience. Lawrence draws its 1,500 students from nearly every state and more than 50 countries.