With two smash hits to its credit, Lawrence University looks to make it three in a row with its third edition of Giving Day.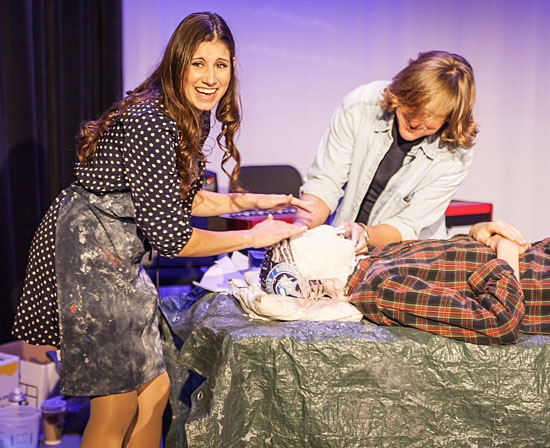 From athletics to art, dance to diversity, physics to philosophy, virtually everything you want to know about what's new and interesting at Lawrence will be discussed Tuesday, Nov. 15 during the college's third annual 12-hour Giving Day extravaganza.
The 9 a.m.-to-9 p.m. show will be webcast LIVE at go.lawrence.edu/givingday and will feature dozens of special guests and performers from all corners of the campus throughout the day. Lawrence President Mark Burstein, dance instructor Margaret Paek, theatre director Timothy Troy, Kimberly Barrett, dean of diversity and inclusion, classics professor Randall McNeil, the Lawrence Fiddle Club and Porky's Groove Machine are among those who will share their insights, perspectives and talents.
Kasey Corrado, Lawrence's director of social media, returns for her third year as "ringmaster" of the show. She will be joined by first-time co-host Ken Anselment, dean of admissions and financial aid.
While a 12-hour live gig is definitely a challenge, Corrado calls Giving Day "her favorite day of the year at Lawrence."
"When you're given that signal that you're 'live,' it slowly but surely sinks in that you have a marathon and not a sprint ahead of you," said Corrado. "But this is such a wonderful opportunity to celebrate all that is Lawrence. In 12 hours, we're able to showcase current students, connect with alumni, interact with faculty, talk with staff, and of course, share appreciation for our generous donors.
"As a co-host, I enjoy experiencing all the excitement and energy of the day," she added. "I always come away from Giving Day completely amazed at the amount of love and support Lawrence has not only from people on campus but from all over the world."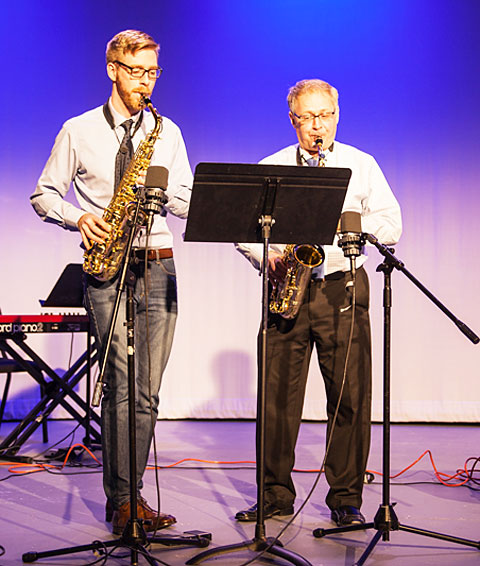 Being in front of a camera is nothing new for Anselment, who previously has "starred" in a pair of Lawrence April Fool's Day videos, but he admits those productions weren't exactly perfect preparation for a 12-hour stint in front of the camera eye.
"I've stood behind college fair tables for four hours at a time and I've run a handful of half marathons, but I have never tried to do all of that in one day," said Anselment, a 12-year veteran of admissions and financial aid operations at Lawrence.
"My job will be to help our viewers get a sense of how engaging, interesting and fun our community is and that is best done by letting our guests shine as brightly as they can," added Anselment, a former college cheerleader. "I plan to bring all that enthusiasm to Giving Day without, of course, my old cheerleading uniform."
Lawrence held its first Giving Day in 2014 as a one-day-only fundraising event for alumni and friends to show their support for Lawrence and its programs. The first year, with the help of "game changers" who promised to match gifts, raised $1.1 million for the college. Last year, more than 2,300 donors generated $1.36 million during the second Giving Day event.
For this year's event, more than 140 alumni, parents and friends have agreed to serve as "game changers" by providing matching funds to motivate others to support the college and its students according to Ben Campbell, Lawrence's director of annual giving.
"We are heartened by the way the university community continues to pull together for this wonderful celebration of Lawrence, past and present," said Campbell, a 1997 LU graduate. "We're looking forward to doing it all again, only bigger, better and 'bLUer.' We hope everyone can find some time during the show to give, share and watch in celebration of Lawrence Giving Day 2016."
Exhibiting her apparent high pain threshold, Rachel Crowl has returned to perform her masterful behind-the-scenes wizardry as the webcast's all-important producer/director for a third straight year.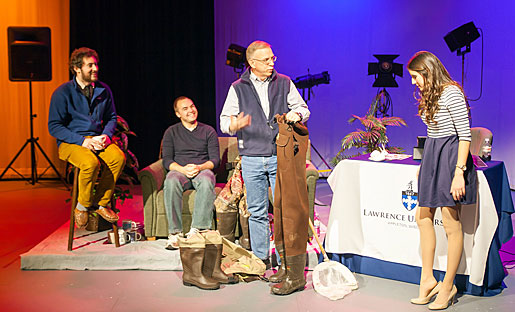 "I'm fully prepared for things to once again go wrong in ways I never expected and I can't wait to watch us catch ourselves again before we fall," said Crowl, who has spent months lining up guests and organizing the show. She's promising a more music-infused program for year three along with the usual staples.
"I'm hoping to have at least one jaw-dropping musical performance very hour. We're also going to take a look at some of the mainstays of a liberal arts college, like philosophy and classics, do a little science, learn about public art, make some chili, do some dancing, make some noise.
"I just want to have some fun, be entertaining, show off Lawrence University and raise some money."
About Lawrence University
Founded in 1847, Lawrence University uniquely integrates a college of liberal arts and sciences with a nationally recognized conservatory of music, both devoted exclusively to undergraduate education. It was selected for inclusion in the book "Colleges That Change Lives: 40 Schools That Will Change the Way You Think About College."  Engaged learning, the development of multiple interests and community outreach are central to the Lawrence experience. Lawrence draws its 1,500 students from nearly every state and more than 50 countries.