With the help of the combined talents of vanguard composer Philip Glass and iconic beat poet Allen Ginsberg, Lawrence University's opera studies program explores four decades of social activism in four performances of "Hydrogen Jukebox."
The production will be staged Feb. 16-18 at 7:30 p.m. and Feb. 19 at 3 p.m. in Stansbury Theatre of the Music-Drama Center. Tickets for the general public, at $15 for adults, $10 for seniors and $8 for students, are available through the Lawrence Box Office. The opera is free to members of the Lawrence community with an ID.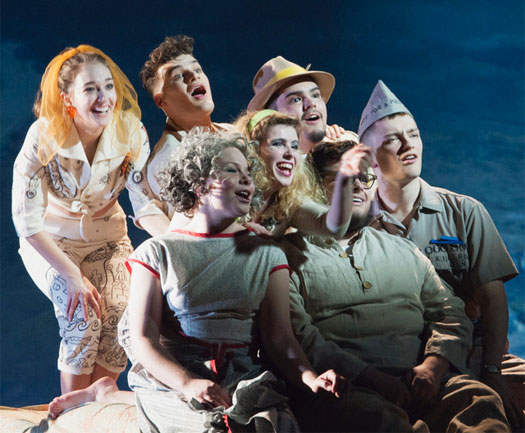 A talk back with members of the cast, production team and Lawrence faculty will follow the Friday (2/17) and Saturday (2/18) performances.
The opera grew out of a 1988 chance meeting between Glass and Ginsberg at a New York City bookstore. A piano piece composed by Glass to accompany a Ginsberg reading of the anti-war poem "Wichita Vortex Sutra" at Broadway's Schubert Theater evolved into a full-length piece that became "Hydrogen Jukebox." The name came from a verse in Ginsberg's 1955 poem "Howl."
The opera's first public performance was on May 26, 1990 at the Spoleto Music Festival in Charleston, S.C.
According to Glass, the idea behind "Hydrogen Jukebox" was to create a portrait of America covering the 1950s through the late 1980s by incorporating the personal poems of Ginsberg that examined a variety of social issues, from the anti-war movement and the sexual revolution to Eastern philosophy and environmental issues.
Copeland Woodruff, director of opera studies at Lawrence, who is directing the production, said he selected the work in part to expose students to social activism in the country during the 1950s, '60s, '70s and '80s.
"The primary impetus of choosing an opera at an academic institution, especially an undergraduate one, is to serve the population of students you currently have," said Woodruff, whose 2016 production of "The Beggar's Opera" earned first-place honors in the National Opera Association's Division 6 best opera production competition. "With the prevalent social unrest at universities and colleges last year, it seemed a responsible thing to do. I did not, however, anticipate falling so completely in love with Philip Glass and Allen Ginsberg."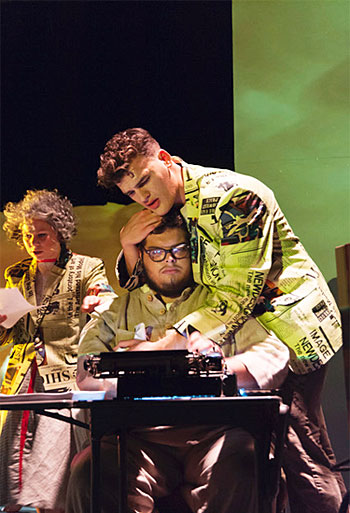 The production features a cast of six singers and an actor. It incorporates a considerable among amount of video projection content, which is used in a variety of roles throughout the performance, including environmental and expressive of characters and thoughts.
"The cast, designers and I looked at the poetry and Glass' and Ginsberg's fascination and dedication to Eastern thought," said Woodruff, "and we crafted an evening that is a journey from loss and back on the path of regaining oneself and one's purpose.
"Highlights along the road include experimentation with consciousness to reconnect; opening oneself to help others, but having only harsh words and doubt to convey; looking into the past and finding the growth potential instead of being marred in past wrongs and shortcomings; and seeing things clearly and dispassionately, so that we may be most helpful to others and ourselves."
Andrew Mast, Kimberly Clark Professor of Music and director of bands, conductors the music ensemble for the production. Bonnie Koestner, associate professor of music, is the production's music director and Reed Woodhouse, a senior vocal coach at Juilliard, is visiting guest artist and a vocal coach for the production.
About Lawrence University
Founded in 1847, Lawrence University uniquely integrates a college of liberal arts and sciences with a nationally recognized conservatory of music, both devoted exclusively to undergraduate education. It was selected for inclusion in the book "Colleges That Change Lives: 40 Schools That Will Change the Way You Think About College."  Engaged learning, the development of multiple interests and community outreach are central to the Lawrence experience. Lawrence draws its 1,500 students from nearly every state and more than 50 countries.