Wealthy owners of major sports franchises like to speak of private-public partnerships when seeking new and improved ballparks, stadiums and arenas for their teams. Taxpayers, who often are asked to foot part or most of the construction or renovation bill, may view the arrangements more akin to hostage situations.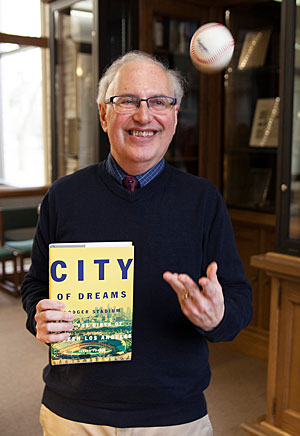 Lawrence University historian and life-long baseball fan Jerald Podair explores one of the earliest owner-city new ballpark negotiations and the subsequent economic and cultural impact in the book "City of Dreams: Dodger Stadium and the Birth of Modern Los Angeles" (Princeton University Press).
Podair wrote "City of Dreams" to provide a window into the complex choices cities face as they seek to balance the values of entertainment and culture against those of fiscal responsibility, of private gain against public good.
"The goal for cities seeking to build stadiums – easier said than done, of course – should be to get as much private money in the deal as possible," says Podair, Robert S. French Professor of American Studies and professor of history at Lawrence.
In 1957, Walter O'Malley, owner of the Brooklyn Dodgers baseball team, moved his team to Los Angeles, where he planned to build a new ballpark in the Chavez Ravine neighborhood adjacent to downtown.
In "City of Dreams," Podair dissects the story behind the construction of Dodger Stadium and the bitter arguments it ignited over the direction and identity of modern Los Angeles.
Questions of whether, where and how to build Dodger Stadium convulsed Los Angeles between 1957 and 1962. The debate back then — much like many today — pitted those who argued government assistance for O'Malley, in the form of a favorable deal for the acquisition of the land, was a proper means of growing the local economy and thus an appropriate "public purpose," against those who opposed that assistance as an inappropriate "gift" of public resources to a private businessman.
"The goal for cities seeking to build stadiums – easier said than done, of course – should be to get as much private money in the deal as possible."
— Jerald Podair


The arguments for and against also raised the issue of the relative worth of a revitalized downtown core, since Dodger Stadium would be the first of a series of planned cultural and entertainment venues that would brand Los Angeles as a national and global city in the images of New York, Chicago and San Francisco.
O'Malley's vision prevailed and his privately constructed Dodger Stadium opened April 10, 1962. In the 50-plus years since, Dodger Stadium has contributed substantially to the civic and financial well-being of Los Angeles. But the aid O'Malley received from the city in building the stadium raised questions of when and under what circumstances public resources could legitimately be used for private goals and which constitute a true "public purpose?"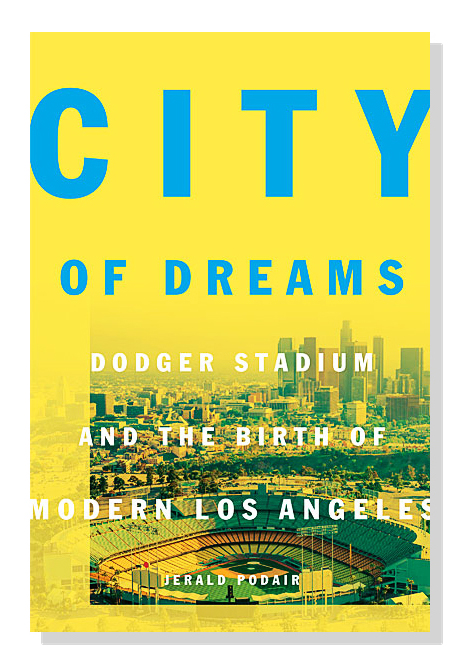 "The battle over Dodger Stadium still has profound implications today for all American cities, especially those like Milwaukee, that seek to attract or retain major league sports teams with the promise of new stadiums financed with public money," said Podair, a native New Yorker and die-hard Mets fan. "How much public assistance to private entrepreneurs — in the form of bond debt, tax increases and the like — is too much?"
Podair, who joined the Lawrence faculty in 1998, watched the Mets win Game Seven and the 1986 World Series over the Boston Red Sox from the upper deck of the since torn-down Shea Stadium.
A specialist in 20th-century history, especially presidential history and race relations, is the author of two previous books, "The Strike that Changed New York" (Yale University Press) and "Bayard Rustin: American Dreamer" (Rowman & Littlefield Publishers).
He also co-authored, with 1975 Lawrence graduate James Merrell, "American Conversations: From the Centennial Through the Millennium" (Pearson, 2012) and was co-editor of "The Struggle for Equality" (University of Virginia Press, 2011).
About Lawrence University
Founded in 1847, Lawrence University uniquely integrates a college of liberal arts and sciences with a nationally recognized conservatory of music, both devoted exclusively to undergraduate education. It was selected for inclusion in the book "Colleges That Change Lives: 40 Schools That Will Change the Way You Think About College."  Engaged learning, the development of multiple interests and community outreach are central to the Lawrence experience. Lawrence draws its 1,500 students from nearly every state and more than 50 countries.