A tale that examines our potential to live together and love each other, while asking what we owe ourselves vs. what we owe others unfolds like a strange dream in the Lawrence University Theatre Arts department's production of "Gint."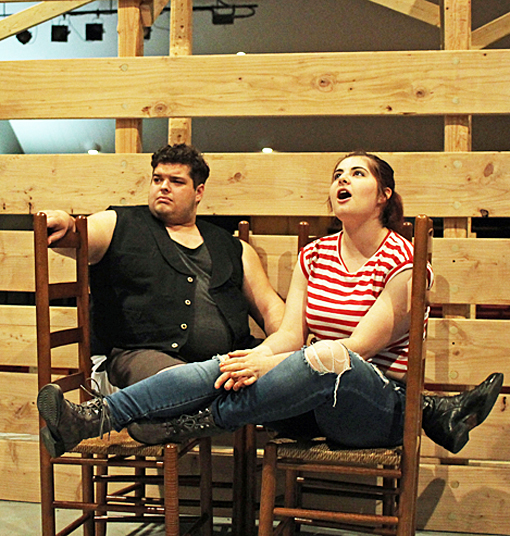 Four performances will be staged in Stansbury Theater May 11-13 with an 8 p.m. show each night and an additional 3 p.m. matinee on Saturday, May 13. Tickets, at $15 for adults, $8 for students/seniors, are available through the Lawrence Box Office, 920-832-6749.
Adapted from "Peer Gynt," Henrik Ibsen's 1876 Norwegian classic, "Gint" was written by Romulus Linney (father of actress Laura Linney) in 1996. Set in the Appalachian Mountains, the story begins in 1917 and ends in 1997 as it follows Peter Gint, a raggedy young man preoccupied drinking, lying and sexual misadventures despite aspirations of becoming "something great, grand and glorious." His life is sprinkled with encounters with an unlikely collection of characters, including lunatics, devils and a razorback hog, who, disguised as a woman, seduces Gint.
After a long haitus from mountain country, Gint, now 75 and an ex-billionaire after losing his fortune to unscrupulous business partners, returns to Appalachia and his former love, Sally, who accepts him, faults and all.
In a break from tradition, the production will be presented "thrust-style," with the audience seated on risers on stage on three sides of the action while the usual audience space is transformed into the Smoky Mountains.
"'Gint' is constructed to give the audience the experience of being told a story, much like Appalachian folklore," explained Kathy Privatt, James G. and Ethel M. Barber Professor of Theatre and Drama and associate professor of theatre arts, who is directing the production. "The arrangement limits our audience size, but it also lets the audience be in close proximity for that story-telling, community feel."
Privatt has been a big fan of Ibsen's "Peer Gynt" since the first time she read the play and is excited about the opportunity to direct an updated version.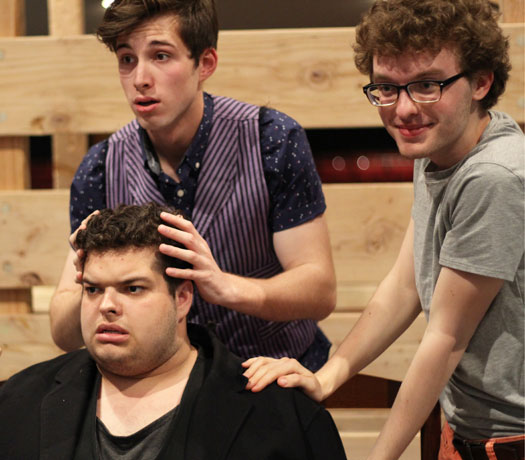 "Ibsen's original reads more like a movie script, with lots of gorgeous scenic vistas, not so much like a play. Linney came along and turned the story into a thoroughly theatrical play, so of course I was interested in staging it," said Privatt, who completely coincidentally wound up on a family vacation to Appalachia shortly after selecting the play for production. "Suddenly taking vacation pictures expanded into resources for the set and lighting designers and dramaturgical research for me and the cast. It's funny how life lines up that way sometimes."
Senior Jacob Dalton plays the title character and sophomore Abby Simmons is Sally Vicks, the new girl in town who falls for Gint, but won't tolerate any infidelity. Senior Olivia Gregorich portrays the matriarch of the Gint family. The remaining six cast members each play multiple roles.
The production will also feature the premiere of a modern version of a Shaker spiritual commissioned to Slipstream, a contemporary chamber quartet comprising former and current Lawrence students.