Since its first performance in 2006, Lawrence University's Kaleidoscope — a 75-minute musical extravaganza — has literally entertained thousands.
The sixth iteration of Kaleidoscope returns Saturday, Oct. 14 at 8 p.m. to the stage — and the floor and balconies — of the Fox Cities Performing Arts Center, 400 W. College Ave., Appleton.
Tickets, at $15 for adults, $10 for senior citizens and $7 for students, are available at both the Lawrence University Box Office, 920-832-6749, and the Fox Cities Performing Arts Center Box Office, 920-730-3760.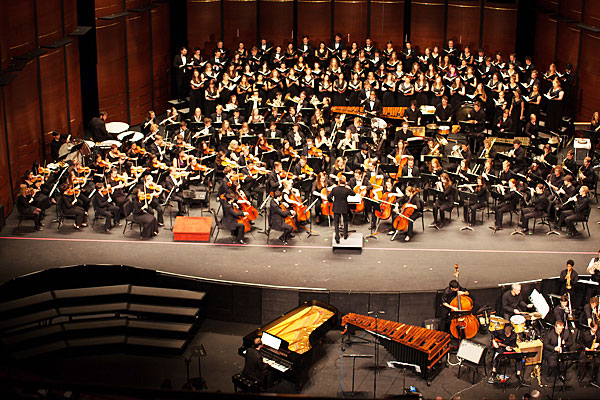 From Bernstein to Balinese gamelan, the symphony orchestra to saxophone quartet, choir to chamber ensemble, Kaleidoscope showcases the musical talents of 300 Lawrence students in 15 ensembles.
"Kaleidoscope allows the listener to experience an extremely wide range of musical styles in one sitting," said Andrew Mast, Kimberly-Clark Professor of Music, associate dean of the conservatory and director of bands, who is coordinating the concert for the second time in its history. "Virtually every area of the Lawrence Conservatory of Music is represented in this 75-minute presentation of non-stop, back-to-back performances. If music was food, Kaleidoscope is a buffet of the largest and richest variety."
Gawain Usher, a senior from Shoreham Vt., will be performing in his second Kaleidoscope concert, this time as principal viola with the Lawrence Symphony Orchestra.
"For both performer and viewer this concert is a non-stop rollercoaster ride of excellent performances ranging from the intimate to the extravagant. It really offers a wonderful snapshot of what we do at the Lawrence conservatory," said Usher, a self-described avid chamber music performer. "As a musician getting the opportunity to play at the PAC on the big stage is special. For us instrumentalists, we crave the opportunities to perform in the big halls because it's something we don't usually get to do.
"If music was food, Kaleidoscope is a buffet of the largest and richest variety."
— Andrew Mast, Kimberly-Clark Professor of Music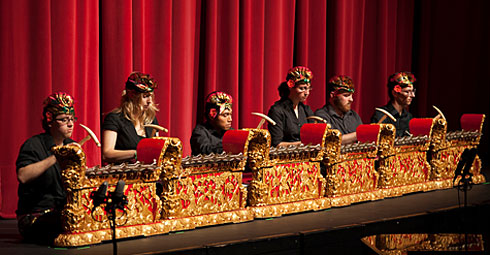 "For anyone thinking about going or not going to this concert," Usher added, "even if you think you don't like classical music, you will love Kaleidoscope. The whirlwind of performances from different eras, cultures and instrumentations will surely leave you feeling invigorated."
Senior Kin Le from Hanoi, Vietnam, a soprano in Lawrence's Concert Choir, calls Kaleidoscope "the most exciting moment that performers and audience can experience together."
"The spectrum of sounds from various ensembles seemingly come from every corner of the auditorium — from the main stage to the balcony," said Le, who will be singing in her second Kaleidoscope concert. "The audience members get to immerse themselves in so many different performances in just 75 minutes."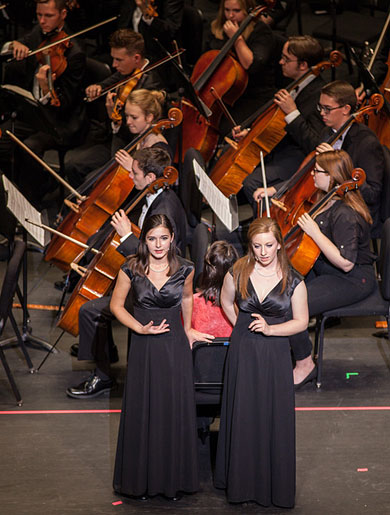 Regardless of one's tastes, Kaleidoscope6 —  as its name implies — is sure to offer at least one irresistible musical morsel in its 17-piece program. Among the tasty samples will be some Mozart (Mozart Chamber Winds) and Benjamin Britten (opera soloists), Astor Piazzolla (cello ensemble) and Philip Glass (saxophone quartet). The Cantala women's choir performs its version of Natasha Bedingfield's contemporary hit "Unwritten" while the symphony orchestra honors Leonard Bernstein with a performance of his "Overture to Candide."
Works by two composers with local ties — John Harmon and the late Fred Sturm, both Lawrence graduates — will be highlighted by the Lawrence Viking Bassoon Ensemble and the Lawrence University Jazz Ensemble, respectively.
Closing the concert, and encompassing the entire array of Kaleidoscope performers, will be an encore presentation of "The Music Makers," a massive seven-minute work written by Emmy Award-winning composer and 2010 Lawrence graduate Garth Neustadter. "The Music Makers" made its world premiere at the 2015 Kaleidoscope concert.
As a prelude to the concert, art work created by six student studio art majors will be displayed in the PAC lobby.
About Lawrence University
Founded in 1847, Lawrence University uniquely integrates a college of liberal arts and sciences with a nationally recognized conservatory of music, both devoted exclusively to undergraduate education. It was selected for inclusion in the book "Colleges That Change Lives: 40 Schools That Will Change the Way You Think About College." Engaged learning, the development of multiple interests and community outreach are central to the Lawrence experience. Lawrence draws its 1,500 students from nearly every state and more than 50 countries.