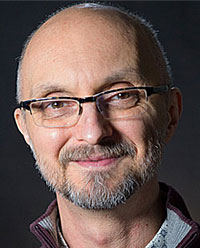 In baseball parlance, Lawrence University has swept a prestigious doubleheader in the annual American Prize Performing Arts competition.
Copeland Woodruff, director of opera studies and associate professor of music at Lawrence, has been named the 2018 recipient of the American Prize's Charles Nelson Reilly Prize for stage direction. Selected from among 15 national semifinalists, he was honored for his work on Lawrence's 2017 production of Philip Glass' "Hydrogen Jukebox."
American Prize hailed Copeland as "a champion of improvisation, musical and physical, in the operatic medium as a tool for education, creation and performance."
Additionally, Lawrence's opera productions "The Beggar's Opera" and "Hydrogen Jukebox" shared first-place honors for the American Prize in Opera Performance in the college/university division.
Lawrence's two productions were chosen from among 15 reviewed operas. Lawrence was competing against several institutions with graduate programs, including Yale University, University of Wisconsin-Madison. and Oklahoma State University.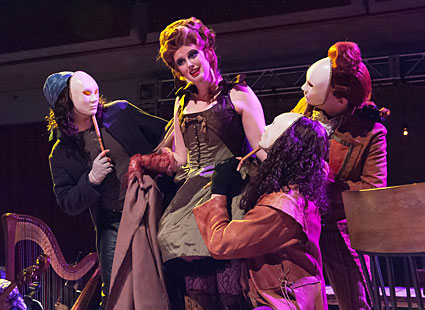 In announcing Lawrence as this year's performance winner, American Prize said "Recent productions have garnered national attention because of their well-crafted and dedicated musical and dramatic performances."
Copeland said being honored as the first recipient of the newly-named Charles Nelson Reilly Prize was "daunting."
"I admired Reilly as a child and met him in the early 1990s while I was on staff at Santa Fe Opera," recalled Woodruff. "His acting classes were packed and like nothing I had ever seen before. To be mentioned with a man who lived his amazing life proudly and among many of the world's great talents, is a blessing I never anticipated, but am over-the-moon about."
Copeland credits Brian Pertl, dean of the Lawrence Conservatory of Music, who hired him in 2014 as the university's first director of opera studies, for offering him "the chance to dream."
"The Charles Nelson Reilly Award recognizes Copeland's outstanding achievements as an artist, director, and educator. I can't think of anyone more deserving of this singular honor."
— Brian Pertl, dean of the Lawrence Conservatory of Music
"Lawrence has been the epitome of environments to teach, learn, develop craft and struggle to tell difficult, funny, frightening, loving, messy human stories on stage," said Woodruff.  "I have been a very lucky man to do what I love for a living and feel luckiest being able to work with unbelievably generous colleagues and students whom I also see as colleagues. Lawrence is fertile soil with dedicated gardeners. I'm humbled and inspired each day."
Pertl called winning the American Prize for two separate opera productions "a rare and momentous occasion."
"It speaks to the incredible strength of the Lawrence Opera program, our outstanding students and especially our world-class faculty," said Pertl. "From the moment Copeland Woodruff walked through the doors of our conservatory, we all knew that he was a creative visionary who would build an opera studies program that would give our students the opportunity to receive not only exceptional opera training but also the opportunity to create art at the highest level.
"The Charles Nelson Reilly Award recognizes Copeland's outstanding achievements as an artist, director and educator," Pertl added. "I can't think of anyone more deserving of this singular honor."
Woodruff's Reilly Prize honors the memory of Charles Nelson Reilly, the Tony Award-winning actor for his 1962 portrayal of Bud Frump in the Pulitzer Prize-winning musical, "How to Succeed in Business Without Really Trying," Broadway stage director, acclaimed opera director and acting teacher.
Woodruff joined the Lawrence faculty after spending six years as co-director of opera activities at the University of Memphis, where he earned four first-place National Opera Association Best Opera Production Awards. In addition to directing Lawrence's annual main stage opera production, Woodruff has launched a series of "micro-operas" that examine socially relevant issues and are performed at non-traditional locales.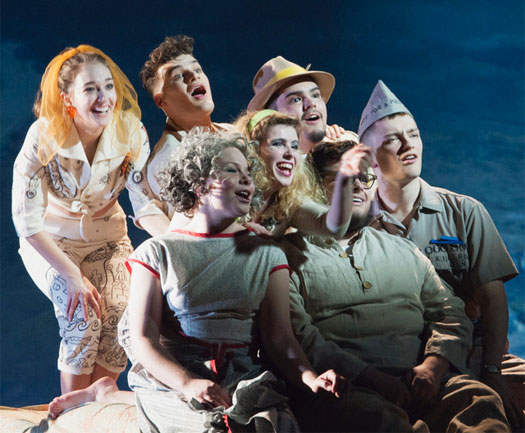 The American Prize honors are only the latest accolades for Woodruff. His 2016 mainstage production of "The Beggar's Opera" was awarded first-place honors by the National Opera Association while his 2015 production of "The Tender Land" earned second-place honors in the NOA's Best Opera Production competition. "The Beggar's Opera" also was named "Best of Local Productions" from among 164 productions in both local and professional categories by WFRV-TV arts critic Warren Gerds.
Other awards during Copeland's tenure include first-place honors for seven students in the 2015 Collegiate Opera Scenes competition held at the NOA's national convention in Indianapolis, Ind., and his first two micro-operas — "Expressions of Acceptance" and "Straight from the Hip," which addressed issues of gun presence/gun awareness in the community — earned third-place recognition in the NOA competition, competing against standard opera performances.
Founded in 2009 and based in Danbury, Conn., the American Prize is a series of non-profit national competitions in the performing arts providing cash awards, professional adjudication and regional, national and international recognition for the best recorded performances by ensembles and individuals each year in the United States at the professional, college/university, church, community and secondary school levels.
About Lawrence University
Founded in 1847, Lawrence University uniquely integrates a college of liberal arts and sciences with a nationally recognized conservatory of music, both devoted exclusively to undergraduate education. It was selected for inclusion in the book "Colleges That Change Lives: 40 Schools That Will Change the Way You Think About College."  Engaged learning, the development of multiple interests and community outreach are central to the Lawrence experience. Lawrence draws its 1,500 students from nearly every state and more than 50 countries.