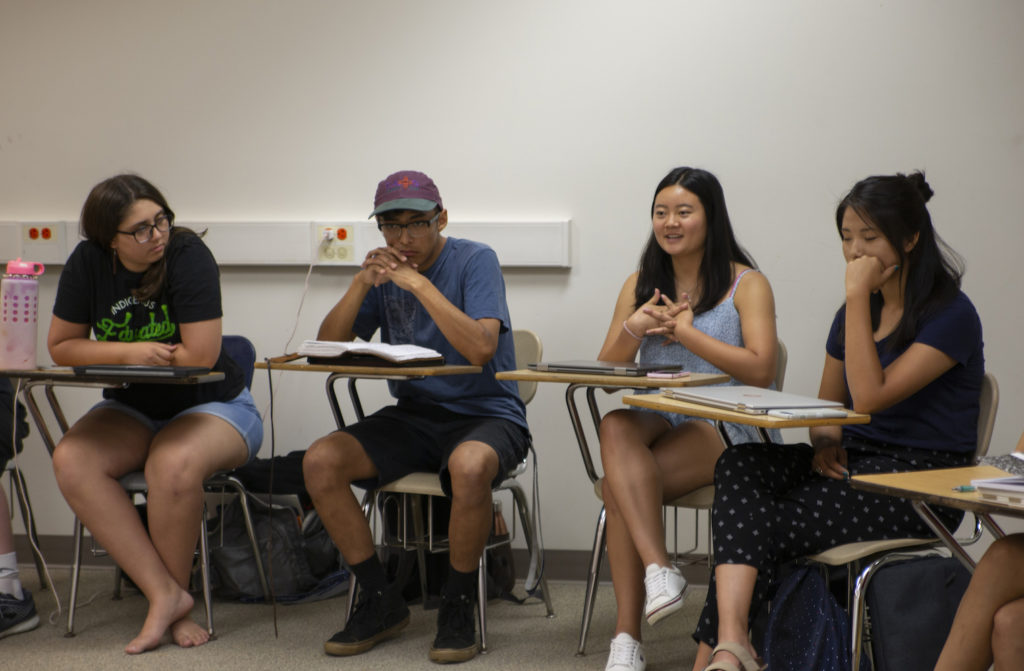 Story by Isabella Mariani '21
Twenty-one new high school graduates representing six Native American groups have been visiting Lawrence University this month as part of the College Horizons Scholars Program, a three-week summer academy that encourages the students' healthy transition into college.
The Scholars Program is one of three administered by College Horizons, a New Mexico-based college-access nonprofit that advocates for the success of Native American students in higher education by teaching college readiness. Its staple program is College Horizons, a summer program of pre-college workshops for sophomores and juniors.
The Scholars Program, meanwhile, is for those College Horizons graduates who are preparing for college this fall. It's been hosted by Lawrence each of the past three summers.
In addition to the students from the Scholars Program, Lawrence also hosted Graduate Horizons, a four-day program offering graduate school admissions workshops for Native college students.
Lawrence is one of about 50 colleges that partner with College Horizons. The partnership, established shortly after the organization's 1998 founding, was a step toward increased campus diversity and in support of academic excellence in higher learning institutions.
In 2015, the Mellon Foundation awarded Lawrence a three-year grant of $650,000 to support the partnership with College Horizons. The foundation promotes the arts, humanities and culture in higher education.
Lawrence has hosted the Scholars Program every summer since the program's 2017 debut. While most of the participating students won't be attending Lawrence, having the program on campus helps strengthen the partnership with College Horizons.
"It was an easy fit because of our history and the attractions to Lawrence," says Mikaela Crank, director of the Scholars Program. "Small liberal arts campus, easy to navigate … it basically has the sense of community that we do here."
The link between Lawrence and the Scholars Program is more in-depth than just the partnership; the three-week itinerary of the Scholars Program is modeled after Lawrence's Freshman Studies. For five days a week, students attend writing seminars and lectures led by Lawrence faculty members Brigetta Miller, Julie Haurykiewicz and Kate Zoromski. The Scholars Program has "indigenized" the model by adding a cultural transitions course, taught by Crank, which gives students the "cultural capital tools" to navigate a campus and utilize its resources.
College Horizons' emphasized attention to the students' well-being on campus is a key to the program's success. The Scholars Program sets itself apart from other summer bridge programs because, Crank says, they take a holistic approach to the students' adjustment to the institution, in order to empower their indigenous identities in an academic setting.
"We don't want to graduate broken students," she says. "We want to graduate students who are whole and healthy and who are not broken down by the university. So, we are really taking well-being into account."
For the Scholars Program, Crank brings in speakers to address mental health stigmas and physical wellness, organizes meditation workshops at the Center for Spiritual and Religious Life, and holds financial aid workshops with the Admissions office, all with the goal of empowering students to be successful and resilient when they head to their respective colleges in the fall.
The results are moving. Hawaii native Sienna De Sa, who is on campus with the Scholars Program, said she remembers when Carmen Lopez, executive director of College Horizons, spoke at her high school. The program's values struck a chord with her, and she felt she needed help applying for colleges. Her experience in the high school program motivated her to apply for the Scholars Program as a senior. She has since committed to the University of Hawaii Hilo and has found more than just academic prosperity.
"I've learned that I am strong and resilient," says De Sa. "That I have the power to be indigenous, educated, and I do not have to be afraid to do so. College Horizons has also given me this amazing support system that I know I can rely on in the future."
De Sa is far from the only student to blaze her trail with help from College Horizons. The organization's data shows that 99 percent of College Horizons students have been accepted into college and 85 percent have graduated college in four or five years.
The Scholars Program students are set to leave campus this weekend after their three-week stay, but the College Horizons partnership with Lawrence will continue. Lawrence's grant has just been approved for another three years.
In its 21st year, College Horizons continues to aim high — more innovative programming, brilliant scholars and host universities building bridges to the future.
Isabella Mariani '21 is a student writer in the Communications office.