Rob McCarthy is the new head football coach at Lawrence University, Director of Athletics Mike Szkodzinski announced today.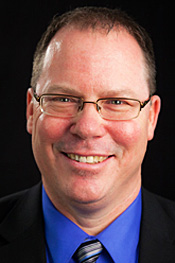 McCarthy, the defensive line coach at Carleton College and former long-time defensive coordinator at St. Olaf College, becomes the 28th head coach in Lawrence's 122-year football history. A native of Deer River, Minn., McCarthy brings 25 years of coaching experience to Lawrence.
"I just think it's a great, great opportunity," McCarthy said of coming to Lawrence. "During my visits, I found a great excitement for football and a passion for excellence among the administration, faculty and alumni. That made me really want to be part of Lawrence's rich football tradition."
McCarthy said his first priority will be to build the Lawrence football family, and he wants to see greater depth in the program.
"No. 1, we want to build a football family where "I" is replaced by "we", "team" is replaced by "family." We will provide Lawrence student-athletes with a great experience. Winning will be a byproduct of doing things the right way," McCarthy said.
"In addition, recruiting will be a priority. We have to get the numbers up to provide a quality experience. We want to recruit young men who want excellence in their lives, both in academics and athletics. We will recruit the top student-athletes from the Fox Valley, the state of Wisconsin and the country."
Lawrence President Mark Burstein praised McCarthy's commitment to the student and the student-athlete.
"One of the distinctive aspects of Rob's candidacy was his strong support of students' interest to pursue more than one passion or – as we like to say – 'multi-interested students,'" Burstein said. "To reinforce this commitment, Rob has served through most of his career as the assistant men's and women's track coach where his student athletes have had significant success."
"During my visits, I found a great excitement for football and a passion for excellence among
the administration, faculty and alumni. That made me really want to be part of
Lawrence's rich football tradition."

— Head Coach Rob McCarthy
Szkodzinski said McCarthy emerged from a talented group of candidates to be the next leader of Lawrence's football program. A committee consisting of Lawrence administrators, faculty, students, trustees and alumni-athletes considered more than 100 applicants identified in a national search.
"We are very excited to welcome Rob to our staff as the next head football coach," Szkodzinski said. "The applicant pool was tremendously competitive and Coach McCarthy distinguished himself as one of the top recruiters in our pool."
Szkodzinski added that bringing McCarthy to Lawrence serves the best interests of the program and will keep the team moving forward. With the hiring of the McCarthy and the renovation of the Banta Bowl taking place this year, Szkodzinski reiterated the administration's commitment to football and the Department of Athletics as a whole.
"Rob's connections throughout the Midwest, Florida and nationally will serve our program well," Szkodzinski said. "Not only will he be able to attract tremendous student-athletes to Lawrence, as he has at other excellent institutions, his experience as a coordinator led us to believe that he has the tools to help us succeed on the field as well. We know Coach McCarthy will be an asset to the entire department and look forward to watching our program move back toward the top of the Midwest Conference."
This past fall was McCarthy's first at Carleton after spending the previous 12 seasons at St. Olaf College. While at St. Olaf, McCarthy was part of a coaching staff that put together the best 12-year record in school history with a 73-47 mark. McCarthy was responsible for bringing a number of stellar players to St. Olaf, including one (Horace Gant Jr.) that went on to play in the NFL, a number of All-Americans and many All-West Region and first-team All-Minnesota Intercollegiate Athletic Conference picks.
"The applicant pool was tremendously competitive and Coach McCarthy distinguished
himself as one of the top recruiters in our pool."
— Director of Athletics Mike Szkodzinski
McCarthy served in a variety of roles, most notably as defensive coordinator, for the Oles. He also worked as the special teams coordinator and recruiting coordinator for St. Olaf, which won eight games in four different seasons during that 12-year span.
McCarthy began his coaching career at Concordia (Minn.) College, where he earned a bachelor's degree in 1989 with a double major in English and speech, communications and theater arts. A standout defensive lineman for the Cobbers, McCarthy earned All-MIAC honors and helped his team to conference championships in 1986 and 1988.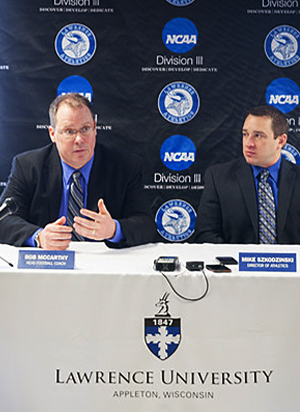 After serving as an assistant coach at Concordia for the 1989 season, McCarthy moved to the University of St. Thomas (Minn.) in 1990. He served with the Tommies for five seasons and helped them win the MIAC championship in 1990. McCarthy then coached at Northwestern (Minn.) College and the University of Wisconsin-Eau Claire over the next five seasons. He helped Northwestern win the 1995 Upper Midwest Athletic Conference title and was part of the UW-Eau Claire team that took the 1998 Wisconsin Intercollegiate Athletic Conference championship.
McCarthy earned a master of science of education degree in learning disabilities from UW-Eau Claire in 2000. He then returned to coach for one season at St. Thomas and one season at Pensacola (Fla.) High School before moving to St. Olaf.
After coaching for most of his career in Minnesota, McCarthy said Lawrence provided him exactly the opportunity he was seeking, both for himself and his family. McCarthy and his wife, Angie, have three children.
"It's a great place to raise a family," McCarthy said. "I wasn't just going to leave. It needed to be the right program. When this came up and everyone raved about Appleton and Lawrence, we knew this was the one."
Lawrence has been playing varsity football since 1893 and ranks third in Midwest Conference history with 16 league championships. The Vikings have won 496 games during their storied history, and that includes the distinction of being the first Midwest Conference team to host, and win, a NCAA Division III playoff game.
Lawrence has nearly 450 All-Midwest Conference selections since the league began choosing teams back in 1937. The Vikings have 66 All-America selections, starting with Claude Radtke in 1949. Lawrence also is the only school in the Midwest Conference to have a player, Scott Reppert in 2003, selected for the College Football Hall of Fame.
Watch a video of a press conference introducing Coach McCarthy. (Note: The press conference actually begins at the 15:50 mark of the vide0.)
About Lawrence University
Founded in 1847, Lawrence University uniquely integrates a college of liberal arts and sciences with a nationally recognized conservatory of music, both devoted exclusively to undergraduate education. It was selected for inclusion in the Fiske Guide to Colleges 2015 and the book "Colleges That Change Lives: 40 Schools That Will Change the Way You Think About College." Engaged learning, the development of multiple interests and community outreach are central to the Lawrence experience. Lawrence draws its 1,500 students from nearly every state and more than 50 countries.