While she is more accustomed to "hearing" thoughts take shape than she is to seeing them emerge on the printed page, Lawrence University Professor of Music Catherine Kautsky has turned a fascination with the intimate interactions between music and social history into her first book.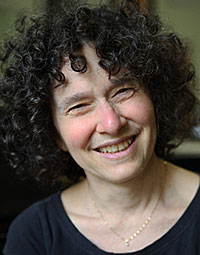 In "Debussy's Paris: Portraits of the Belle Époque" (2017, Rowman & Littlefield), Kautsky paints a vivid picture of Paris during the period between the end of the Franco-Prussian war (1871) and World War I (1914), the period commonly referred to as the "Belle Époque," and ventures into the war years as well.
Kautsky treats readers to a tour of Paris through her detailed descriptions of the city's passions, vices and obsessions, and then reflects on how French composer Claude Debussy's piano music (1862-1918) mirrors the city. She explores how some of his key works reveal not only the most appealing facets of Paris but also the more disquieting aspects of the period, including minstrel shows with racist overtones, colonization which entailed brutal domination, and nationalism rife with hostility.
In its review, Booklist called "Debussy's Paris" a "fascinating fusion of music, literature and social history. [Kautsky's] graceful and erudite prose is embellished with period illustrations and bolstered by a carefully selected bibliography. A treat for music lovers, Francophiles and anyone who appreciates the arts."
The seeds of the book were first sown more than 20 years ago during an academic sabbatical year Kautsky spent in Paris during the mid-1990s. Two years later, while serving as director of Lawrence's London Center, Kautsky met two renowned Debussy scholars whose interests resonated with her own and inspired further research.
"When I returned to the United States, I started writing a number of articles on the connections between Debussy's piano music and literature," said Kautsky, who is in her 25th year teaching piano in the Lawrence Conservatory of Music. "At that point I was hooked on Debussy, though I certainly wasn't yet envisioning a book.
"[Kautsky's] graceful and erudite prose is embellished with period illustrations and bolstered by a carefully selected bibliography. A treat for music lovers, Francophiles and anyone who appreciates the arts."
— Booklist
"I was totally fascinated by the intersections of Debussy's music with many other aspects of French life at the turn of the century," she added. "I noticed that while people had written a lot about commonalities between the music and impressionist and symbolist art, there was less about all the ways Debussy draws on literature — from poetry, to journalism, to fairy tales—and even less on how his titles give constant clues to the social history of fin-de-siècle Paris."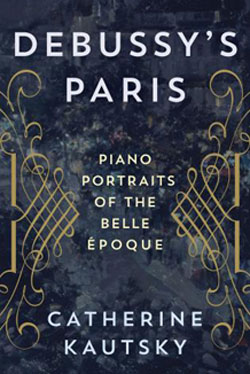 The book deals with historical and political issues in Debussy's Paris, many of which remain all-too-relevant in America today. For instance, a seemingly benign and entertaining genre like the cakewalk emanates from blatantly racist minstrel shows, and the book includes a number of disturbing "cakewalk' cartoons from Debussy's day which echo the genesis of our own racism in assumptions about "dark" Africa. Similarly, the French nationalism which drew Debussy in before WWI —encouraging France and Germany to engage in years of bloodshed—parallels "America First" slogans proliferating in our own times. And the colonialism which featured the exoticism of Arab nations and neighbors while simultaneously demeaning their primitive ways, is highly topical as we examine the role of Moslem culture in Western nations.
"My book is not about placing personal blame on Debussy for any of these 'isms,'" Kautsky explains. "Rather it's about the ways in which a composer, often unwittingly, illustrates his times and beliefs through his music. Debussy makes the task of drawing inferences infinitely easier, for he furnishes us with titles every step of the way. By looking at those titles, we learn about the literature, the art and the politics that gripped France in 1900.
"I've loved putting together the strands of politics, art, and literature as diverse as Proust and Peter Pan," she added. "Hearing music in the abstract is more than enough, but hearing it as the composer must have heard it—through the prism of his own life experiences—adds another dimension that I've found irresistible."
The recipient of Lawrence's Award for Excellence in Teaching in 2016, Kautsky earned a bachelor's degree from the New England Conservatory, a master's degree from the Juilliard School and a doctorate degree from the State University of New York at Stony Brook.
About Lawrence University
Founded in 1847, Lawrence University uniquely integrates a college of liberal arts and sciences with a nationally recognized conservatory of music, both devoted exclusively to undergraduate education. It was selected for inclusion in the book "Colleges That Change Lives: 40 Schools That Will Change the Way You Think About College." Engaged learning, the development of multiple interests and community outreach are central to the Lawrence experience. Lawrence draws its 1,500 students from nearly every state and more than 50 countries.