It will be a homecoming of sorts for award-winning writer and Appleton native Lan Samantha Chang when she returns to the Lawrence University campus to receive an honorary Doctor of Humane Letters degree Sunday, June 12 at the college's 167th commencement ceremony.
Chang, the director of the prestigious Iowa Writers' Workshop at the University of Iowa, also will serve as the principal commencement speaker. This will be Chang's first honorary degree.
"An understanding of the creative process is core to the education Lawrence offers," said President Mark Burstein. "We are very pleased that Lan Samantha Chang will join us for commencement this spring so we can honor an Appleton native who has perfected her craft and now teaches it to others as director of the Iowa Writers' Workshop. From her first book, which the New York Times described as 'a taut, incisive study of Chinese immigrants in America and their almost wordless struggle to adapt to a new life,' to more recent work, Samantha has provided us a window into the human experience."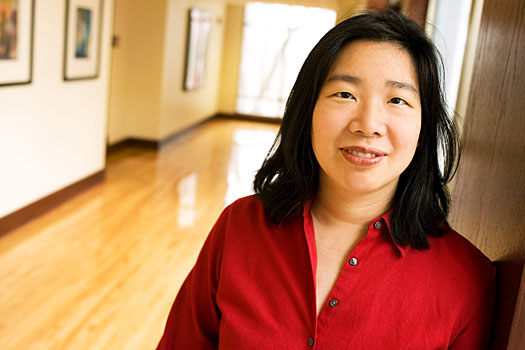 Chang, whose parents emigrated to the United States from China, graduated from Appleton West High School in 1983. Her honorary degree will further connect her to Lawrence. Her mother earned a bachelor of music degree in piano pedagogy from Lawrence, while her father was an associate professor of engineering at the former Institute of Paper Chemistry, which had a long affiliation with Lawrence.
"Receiving an honorary degree from Lawrence means a great deal to me," said Chang, "in part because when I was growing up, Lawrence was the center of intellectual life in Appleton. It is a greatly respected university. I have vivid memories of being at the conservatory during my mother's recitals and meeting her professors."
Her path to award-winning writer followed a circuitous route. Chang attended Yale University intending to satisfy her parent's wishes of pursuing a medical degree, but she soon decided becoming a doctor was not in her future. After earning a degree in East Asian Studies, she told her parents she would become a lawyer, another career option more designed to please her parents than her own interests. She eventually earned a master's of public administration degree from Harvard University's Kennedy School of Government.
"I realized that I didn't want to pursue that direction either," Chang explained of her second change of heart. "It was really just a question of coming to face the fact that I had never wanted to do anything else except write fiction and that it would be pointless to try to keep trying to do other things."
Chang eventually enrolled at the University of Iowa and earned a master of fine arts in creative writing.
While she says her life has been much easier since then, "I don't think I've ever circled as much as I did after college when I understood that I would have to disappoint my parents and pursue an uncertain life," said Chang.
Before returning to the Iowa Writers' Workshop, Chang taught creative writing at Stanford University as Jones Lecturer in Fiction, in Warren Wilson College's MFA program for writers and at Harvard University as Briggs-Copland Lecturer in Creative Writing.
Since 2006, she has served as the program director of the Writers' Workshop at the University of Iowa, where she also teaches English as the May Brodbeck Professor of Liberal Arts and Sciences.
Chang's experiences as an Asian American inspired her to write two novels and a collection of short stories about the merging of Chinese and American culture and the dynamics of family and wealth in times of hardship or after war. Her works include 1998's "Hunger: A Novella and Stories," 2004's "Inheritance: A Novel" and "All is Forgotten, Nothing is Lost: A Novel" in 2010.
Chang's work has been recognized with the 2005 PEN Open Book Award for "Inheritance," while "Hunger" was the winner of the Southern Review Fiction Prize and named a finalist for a Los Angeles Times Book Award. Chang's writing has been selected twice (1994, 1996) for inclusion in the yearly anthology "The Best American Short Stories."
About Lawrence University
Founded in 1847, Lawrence University uniquely integrates a college of liberal arts and sciences with a nationally recognized conservatory of music, both devoted exclusively to undergraduate education. It was selected for inclusion in the book "Colleges That Change Lives: 40 Schools That Will Change the Way You Think About College" and Fiske's Guide to Colleges 2016. Engaged learning, the development of multiple interests and community outreach are central to the Lawrence experience. Lawrence draws its 1,500 students from nearly every state and more than 50 countries.