He met Rosa Parks when he was 17 years old. He met Dr. Martin Luther King Jr. when he was 18.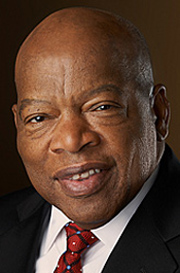 He spoke at the 1963 March on Washington when King delivered his "I Have a Dream" speech.
He was beaten as he marched across the Edmund Pettus Bridge in Selma, Ala., on the day in 1965 that became known as "Bloody Sunday."
He organized sit-in demonstrations at segregated lunch counters in Nashville, Tenn., as a college student and was among the Freedom Riders who helped pave the way for the passage of the historic Voting Rights Act.
He has described himself as "a soldier in a nonviolent army."
Congressman John Lewis, a genuine American historic figure and living legend in civil rights activism, has spent nearly all of his 75 years of life getting in the way — what he calls "good trouble" — on behalf of social justice.
In the 50th anniversary year of the passage of the Voting Rights Act, Lewis will deliver Lawrence University's 166th Commencement address Sunday, June 14. He will be joined on stage by another instrumental figure in the  civil rights movement, Appleton native James Zwerg, one of the courageous Freedom Riders of the early 1960s. Both men will be recognized with an honorary doctor of humane letters degree.
Commencement exercises begin at 10:30 a.m. on Main Hall green. A live webcast of the commencement ceremony will be available at http://www.livestream.com/lawrenceuniversity.
"Becoming an engaged citizen is one of the central tenets of a liberal arts education and so we are proud to celebrate the 50th anniversary of the passage of The Voting Rights Act of 1965 at this year's commencement, which provided a path to an essential right for many people in this country," said President Mark Burstein. "We look forward to welcoming Congressman Lewis back to campus and having Mr. Zwerg represent local participation in the events that led up to the legislative passage of The Act."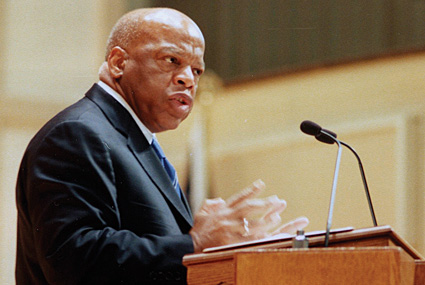 This will be the third visit to Lawrence by the son of an Alabama sharecropper who has represented Georgia's Fifth Congressional District since 1986. Lewis' first trip to Lawrence came in April 1964 as head field secretary of the Student Nonviolent Coordinating Committee to speak at a campus-sponsored "Civil Rights Week" event. He returned to campus in February, 2005 to deliver the university convocation "Get in the Way."
While still in his early 20s, Lewis, whose forehead still bears a scar from Bloody Sunday, already had established himself as a nationally recognized leader in the civil rights movement. His engagement with the  movement included three years (1963-66) as the chair of the SNCC. He later served as the director of the Voter Education Project, helping to add nearly four million minorities to the voter rolls. In 1977, President Jimmy Carter appointed Lewis head of ACTION, the federal volunteer agency.
Lewis' efforts and contributions toward building what he as calls "the beloved community" in America have been recognized with dozens of prestigious awards, among them the 2010 Medal of Freedom, the Martin Luther King Jr. Non-Violent Peace Prize, the National Education Association's Martin Luther King Jr. Memorial Award and the John F. Kennedy "Profile in Courage Award" for lifetime achievement.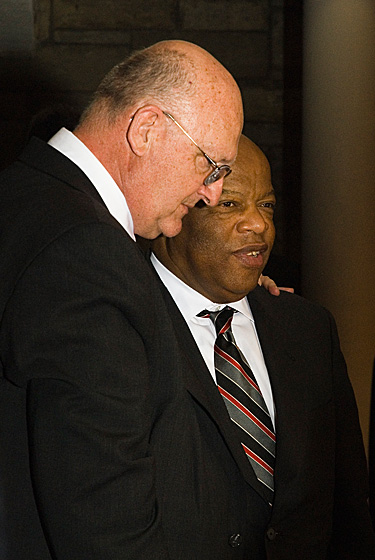 A graduate of Fisk University and the American Baptist Theological Seminary, Lewis is the author of "Across That Bridge: Life Lessons and a Vision for Change," which received the 2012 NAACP Image Award for Best Literary Work-Biography and the graphic novel memoir trilogy "March."
The first volume of "March" reached no. 1 on the New York Times best-seller list and was included on lists of the best books of 2013 by the Washington Post, Boston Globe, Publishers Weekly, Library Journal, The Horn Book Review, Booklist and others.
The trilogy's second installment, which examines Lewis' days as a Freedom Rider, was released in January.
Burstein will preside over his second commencement as president. Lawrence is expected to award bachelor degrees to 281 students from 28 states and seven countries during Commencement.
Retiring faculty member, Jane Parish Yang, associate professor, department of Chinese and Japanese, will be recognized for her 24 years of teaching with an honorary master of arts degrees, ad eundem, as part of the graduation ceremonies.
In addition to Lewis, Burstein, Lawrence Board of Trustees Chair Susan Stillman Kane '72 and senior Mallory Speck from St. Charles, Ill., also will address the graduates.
Prior to Commencement, Lawrence will hold a baccalaureate service Saturday, June 13 at 11 a.m. in the Lawrence Memorial Chapel. Julie McQuinn, associate professor of music, presents "Cinderellas and Cyborgs: Ritual, Imagination and Transformation." The baccalaureate service and commencement exercise are both free and open to the public.
About Lawrence University
Founded in 1847, Lawrence University uniquely integrates a college of liberal arts and sciences with a nationally recognized conservatory of music, both devoted exclusively to undergraduate education. It was selected for inclusion in the Fiske Guide to Colleges 2015 and the book "Colleges That Change Lives: 40 Schools That Will Change the Way You Think About College." Engaged learning, the development of multiple interests and community outreach are central to the Lawrence experience. Lawrence draws its 1,500 students from nearly every state and more than 50 countries.