Downtown Appleton, Inc. recognized Lawrence University March 18 with its 2010 Dreamers and Doers Award for the opening of the Warch Campus Center and the completion of the College Avenue median project.
The annual Dreamers and Doers Award, presented at ADI's annual dinner at the Radisson Paper Valley Hotel, recognizes a business, group or individual "who has significantly enhanced, for years to come, the physical and/or economic landscape of the downtown."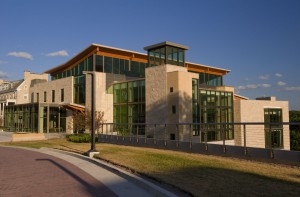 Nearly 20 years in the making, the $35 million, 107,000-square-foot Warch Campus Center opened last September to rave reviews. In November, U.S. Green Building Council awarded the environmentally friendly building LEED-certified Gold status, the second highest designation on the green building four-level certification system.
The Dreamers and Doers Award is just the latest accolade for the Warch Campus Center. It previously was named one of Wisconsin Builder magazine's 2009 Top Projects, earned a Concrete Design Award from the Wisconsin Ready Mixed Concrete Association and was named winner in the "Best New Construction" category in FOX CITIES Magazine's annual "Great Spaces Great Places" contest.
The College Ave. median project between Drew and Lawe streets, was a joint undertaking between Lawrence, the City of Appleton and private donors in the historic neighborhood who funded the project.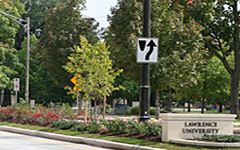 The revamped median was turned into a natural garden with shrubs, trees and flowers, providing a beautiful entrance to downtown Appleton. Lighted Lawrence University signs on each end of the median remind motorists they are driving through the campus. The median also features two well-defined crosswalks to enhance safety for students crossing the busy boulevard.