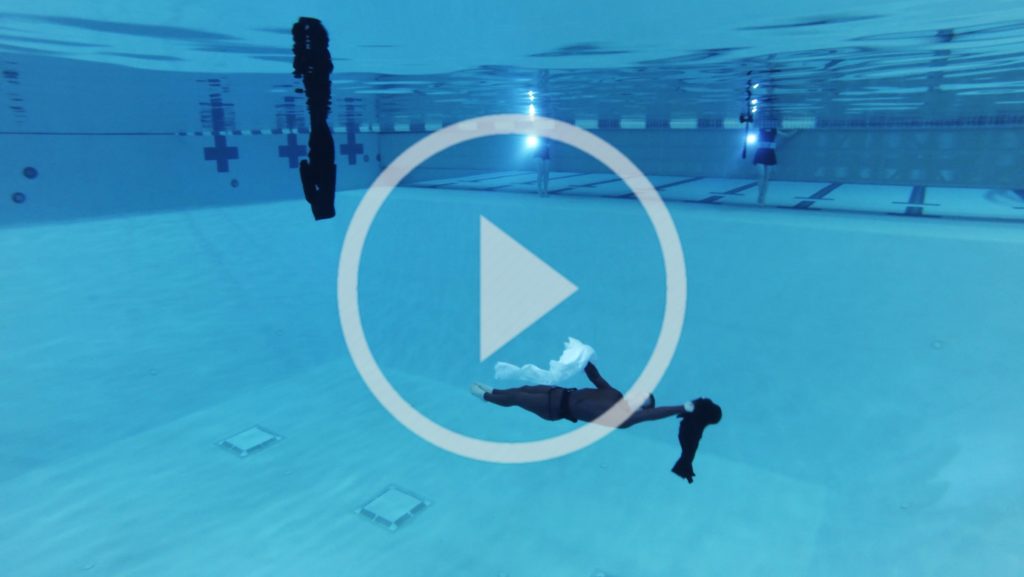 Story by Ed Berthiaume / Communications
Odds are, you haven't seen anything like this before.
Yes, it's an opera performance. And, yes, many of the usual expectations are there — there are opera singers and percussionists, trumpets, a cello, even a flute. There are dancers and a keyboardist and a bass player. Tuxedos will be worn.
But there's a twist.
The stage? Well, it's a swimming pool. A fully functioning swimming pool.
Welcome to Breathe: a multi-disciplinary water opera, set to be staged this weekend at the Buchanan Kiewit Wellness Center pool at Lawrence University. Showtimes are 8 p.m. Saturday and Sunday.
"When we normally consider the arts, we put it on a stage and we sit, and there it is," said Loren Kiyoshi Dempster, the composer and musical director for the production. "But here the audience is going to interact in a much different way."
The mastermind behind Breathe is Gabriel Forestieri, a Boston-based choreographer and director who teamed with Dempster two years ago to stage the water opera at Middlebury College in Vermont. He, along with Dempster and author and visual artist Adrian Jevicki, will try to bring that same magic to the pool at Lawrence this weekend, an invitation that came from Margaret Sunghe Paek, who is married to Dempster, is an instructor of dance in the Lawrence Conservatory of Music and curates the Lawrence Dance Series.
"I saw the video of them in the water," Paek said. "I said, 'We need to bring that here to Lawrence. We need to bring some version of that here."
It's taken two years, but it's finally here. This version is heavier on musicians than the one at Middlebury, a nod to the diverse talents available courtesy of the Lawrence Conservatory of Music.
Unusual as it might be, it wasn't a hard sell, Dempster said.
"With the conservatory here and the wealth of really great musicianship available and people who are really excited to try something different, you find there is a curiosity there," Dempster said. "It's really doubled in size."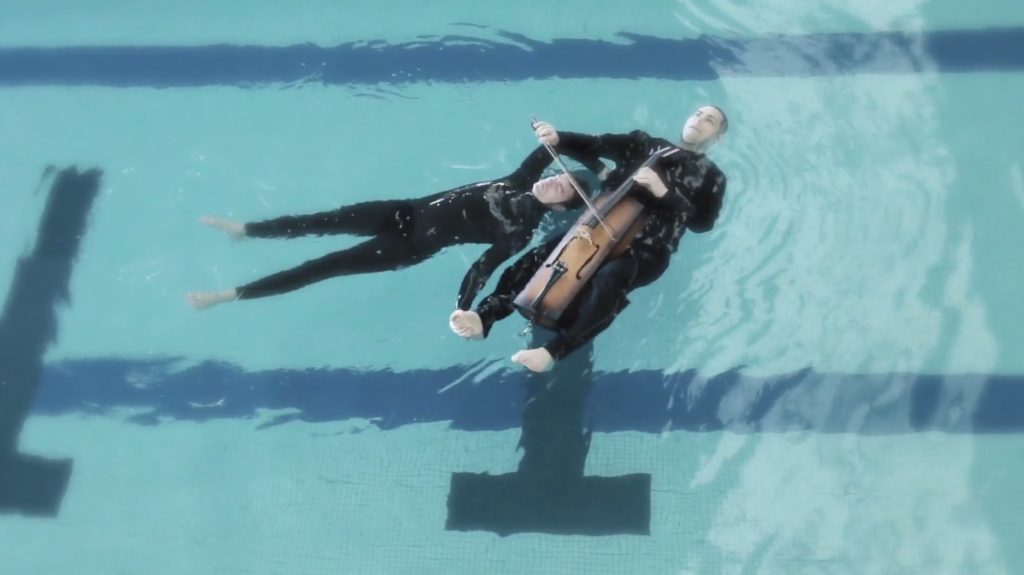 Innovative opera nothing new at Lawrence: Mass broke down barriers
More on Lawrence Conservatory of Music here
There are more than 20 performers in the cast. Some are students from the conservatory, some from the college, some are athletes — including a diver — and some are professional dancers from the community.
"I saw a diver doing dives one day," Paek said. "I went up to her and said, 'Would you want to be in a water opera?' And she's in it. Things like that happened."
That diver is Maddy Smith, a freshman biology major and member of the Lawrence swimming and diving team. It's been a thrill, she said.
"I get to do diving in a different way, a more artistic way," Smith said.
In the second to final scene, she'll be on the board for seven dives. The biggest challenge, she said, is slowing everything down.
"They've been talking to me about how I need to slow down all of my dives and just kind of listen to the beat of the music and just go through it all at a slower tempo."
Trial and error
Dempster said he had his doubts when Forestieri first broached the water opera idea. He had to go into the water to convince himself it was doable.
"Gabe was working with dancers and bringing them to the pool in Middlebury," Dempster said. "The question was, can I make sound underwater or even play the cello underwater? So, I messed around with that, and eventually figured out that, yes, it kind of works. After a bunch of experimenting and reading and doing research, I found you can buy a hydrophone, something that would be used by a marine biologist to record whales or sounds of marine life, and you can use this to record playing underwater.
"I have this cheap cello, or strange-looking box cello, as I call it, that when you dunk it underwater, it still has enough air in it to create a resonator, so when I play on this hydrophone, it makes a sound of some kind. Definitely not like a regular cello. It has a very watery kind of sound."
Safe to say, this isn't like any cello recital you've been to.
"It very much has the effect of performance art," said Dempster, an Appleton resident who teaches at Lawrence, has a private cello studio, and is a guest artist at Renaissance School for the Arts. "We wear our tuxedos and get in the water. There are always these different things happening. It evolves into a thing with singers and percussionists and trumpet players."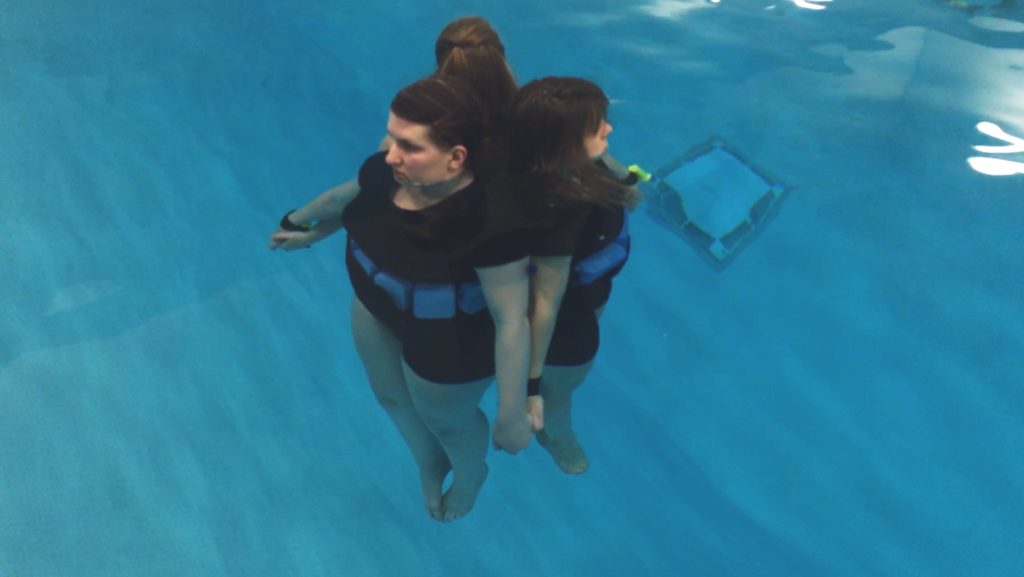 Not all of the instruments are getting wet, of course. Some are played above the water. There's even a kayak in one scene. Much of the musicianship and dancing takes place on the deck or on the water, but almost every cast member ends up in the water at some point, and the entire pool is basked in dramatic lighting.
The audience — restricted to no more than 250 or so because of limitations of the space — is encouraged to move around during the performance, best to experience a variety of angles.
"It's really about transforming the space," Paek said. "Gabriel's hope is that people will go into the space and feel it and experience it differently. Even if they go swimming there every day, they'll be aware and present in a new way."
Perhaps the biggest challenge as showtime draws near has been getting in the needed rehearsals. This performance, as you might expect, comes with its own set of challenges.
"We can only rehearse when there are lifeguards," Dempster said.
WATER OPERA
What: Breathe: a multi-disciplinary water opera
When: 8 p.m. Saturday and Sunday (March 30-31)
Where: Buchanan Kiewit Wellness Center pool at Lawrence University
Admission: Free, but reservations are required by calling the Lawrence Box Office at 920-832-6749. Access is limited to about 250 people per performance.