Four performances of Lawrence University's production of Elmer Rice's Pulitzer Prize-winning play "Street Scene" will be staged Feb. 20-22 in Stansbury Theatre of the Music-Drama Center.
Performances are at 8 p.m. each day with an additional 3 p.m. matinee on Saturday, Feb. 22. Tickets, at $10 for adults and $5 for students and seniors (free to LU faculty staff and students), are available through the Lawrence Box Office, 920-832-6749.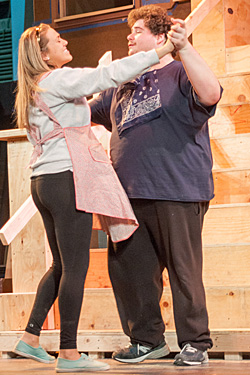 Set entirely on a front stoop and surrounding street in New York City, the play follows a neighborhood through one 24-hour period in the summer of 1929. At the center of the story is the Maurrant family: Anna Maurrant, a woman struggling with infidelity; her abusive husband, Frank; and their daughter, Rose, and son, Willie. More than 30 other characters make their way into the plot, which addresses themes of despair, love and dreams among the diverse inhabitants of the neighborhood.
Director Kathy Privatt, Lawrence professor of theatre arts, says the play's setting is critical to its action.
"Elmer Rice is absolutely giving us a slice of neighborhood life in a section of the city he describes as a 'mean quarter,'" said Privatt. "Think of a melting pot of ethnicities all crammed in an apartment house together before the Crash."
The close quarters heighten tension in the many complex relationships the play reveals, questioning the verbal conflict to which audiences are often exposed while watching theatre.
"The play is really a snapshot of how we communicate, and how often we don't, even though we're talking, talking, talking," Privatt added.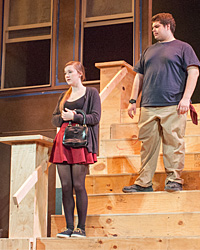 In a particularly collaborative effort that underscores the symbiotic relationship between the theatre arts department and the conservatory of music, the play will be staged mere weeks prior to Lawrence's production of Kurt Weill's opera adaptation of "Street Scene" March 6-8.
"We thrive on collaboration," said Privatt. "The sum really is greater than the parts and this dual production project lets us collaborate and creatively 'feed' each other in fabulous ways."
About Lawrence University
Founded in 1847, Lawrence University uniquely integrates a college of liberal arts and sciences with a nationally recognized conservatory of music, both devoted exclusively to undergraduate education. It was selected for inclusion in the Fiske Guide to Colleges 2014 and the book "Colleges That Change Lives: 40 Schools That Will Change the Way You Think About College." Individualized learning, the development of multiple interests and community engagement are central to the Lawrence experience. Lawrence draws its 1,500 students from nearly every state and more than 50 countries.