The conflicts between individual freedom and the security of the state, as well as the limits of divine and civil law, get a theatrical examination in Lawrence University's production of "The Burial at Thebes," Seamus Heaney's version of Sophocles "Antigone."
Four performances will be staged in Stansbury Theatre Oct. 26-28 with an 8 p.m. show each night and an additional 3 p.m. matinee on Saturday, Oct. 28. Tickets, at $15 for adults, $8 for students/seniors, are available through the Lawrence Box Office, 920-832-6749.
The play was commissioned by Dublin's Abbey Theatre in 2004 by Irish Nobel laureate Heaney as a response to the invasion of Iraq in 2003 and the on-going struggles to settle peace following the Good Friday Peace Accord in Northern Ireland. Though originally produced in ancient Athens, the play's characters — Antigone, her sister Ismene, her fiance Haemon and her uncle Creon — seem as current today as they did in the 5th-century BCE.
The production uses the visual imagery of early 20th-century Calabria, Italy, which was destroyed by an earthquake in 1905, to evoke a society recovering from massive disruption, as ancient Thebes was recovering from civil war.
The central character, Antigone, the daughter of Oedipus, learns that her brothers, Eteocles and Polyneices, have killed each other after being forced into opposing sides during the Theban civil war.
Creon, the king of Thebes, grants Antigone permission to bury Eteocles, who supported the state, but not Polyneices, who fought against it. She defies Creon to provide Polyneices peaceful passage to the underworld. In retaliation of her defiance, and against his advisor's caution that his action could anger the gods, Creon orders Antigone to be buried alive.
"At a moment in history when we are struggling profoundly to find ways to compromise with each other, the story of Sophocles' 'Antigone' remains as relevant as ever it was," says Adriana Brook, assistant professor of classics, who served as dramaturg for the production. "It reminds us of the terrible price that we might pay if we cannot or choose not to make space for the quiet and courageous voices urging us toward moderation and mutual understanding."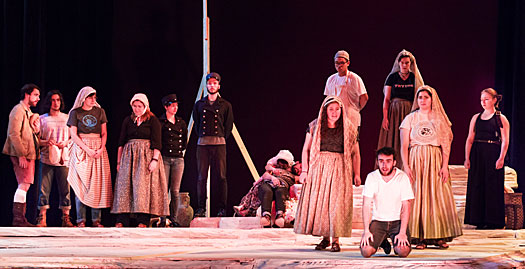 Timothy X. Troy, Hurvis Professor of Theatre and Drama, who is directing the production, hailed Heaney's adaptation as "a masterpiece."
"It's such a great joy, indeed a great good fortune, to have a version of 'Antigone' that preserves the general themes and core conflicts of the original, while speaking in a clear contemporary voice," said Troy. "Only a great poet like Seamus Heaney could produce such a masterpiece as "The Burial at Thebes."
Senior Jenny Hanrahan, Johnsburg, Ill. portrays Antigone and senior Liam McCarty-Dick, Madison, plays her uncle, the king Creon. Antigone's sister Ismene is played by sophomore Flora Aubin, Columbia, Md., while freshman Oscar Robert Lunday Brautigam, Appleton, portrays Antigone's fiancé Haemon.
About Lawrence University
Founded in 1847, Lawrence University uniquely integrates a college of liberal arts and sciences with a nationally recognized conservatory of music, both devoted exclusively to undergraduate education. It was selected for inclusion in the book "Colleges That Change Lives: 40 Schools That Will Change the Way You Think About College." Engaged learning, the development of multiple interests and community outreach are central to the Lawrence experience. Lawrence draws its 1,500 students from nearly every state and more than 50 countries.