The myriad of ways people long for, share and interpret today's constant bombardment of data and information gets a rapid-fire treatment in Lawrence University's production of award-winning British playwright Caryl Churchill's "Love and Information."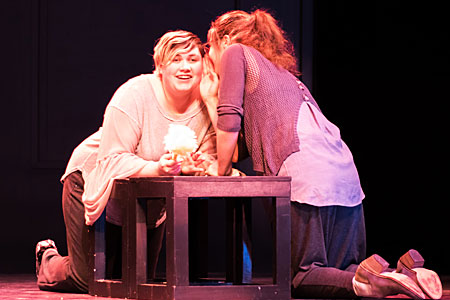 Four performances will be staged in Stansbury Theater May 10-12 with an 8 p.m. show each night and an additional 3 p.m. matinee on Saturday, May 3. Tickets, at $15 for adults, $8 for students/seniors, are available through the Lawrence Box Office, 920-832-6749.
Written in 2012, the "play" is actually a series of more than 60 thought-provoking scenes and vignettes, some of which are less than a minute long, featuring 17 actors portraying a dizzying array of questioning, frustrated characters. Each explores how we communicate with the people we love, covering the spectrum of human emotions, from comic to tragic.
Known for her minimalist style, Churchill provides dialogue, divided into small, titled scenes that are further grouped into sections, but without location, character names or character relationships. Churchill puts the onus of the details on the production team.
"I told the cast Caryl Churchill looked at life and distilled it down to the equivalent of a stick figure drawing,'" said Kathy Privatt, James G. and Ethel M. Barber Professor of Theatre and Drama and associate professor of theatre arts, who is directing the production. "Our job as a production team is to create fully-fleshed people in situations, all the while knowing that as specific as we are, each audience member may see or hear something different because 'information' just isn't that concrete.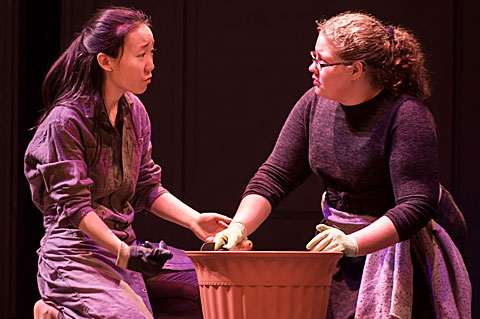 According to Privatt, the play invites the audience to be part of the production by bringing themselves, their experiences and their perceptions to see what they see.
"We're actively making meaning and asking the audience to do the same – just like we do every day in our lives," said Privatt. "And just maybe, we'll recognize ourselves, or remember a time, or understand an encounter a little differently after we share this time in the theatre together."
Privatt noted that since the play was selected for performance last spring, world events have refocused our national attention on information.
"I assume our audiences may bring some of those perspectives to the performance," said Privatt.
About Lawrence University
Founded in 1847, Lawrence University uniquely integrates a college of liberal arts and sciences with a nationally recognized conservatory of music, both devoted exclusively to undergraduate education. It was selected for inclusion in the book "Colleges That Change Lives: 40 Schools That Will Change the Way You Think About College."  Engaged learning, the development of multiple interests and community outreach are central to the Lawrence experience. Lawrence draws its 1,500 students from nearly every state and more than 50 countries.