Josh Hobson was so excited about returning to Lawrence University to attend his 10-year class reunion this weekend, he got an early start. He left April 30th…from San Francisco…on his bicycle!
The 2000 graduate expects to pedal his way on to the Lawrence campus  Friday,  just in time for the college's annual Reunion Weekend Celebration activities June 18-20.
Hobson will be among 759 alumni and guests — from 40 states, England and Kenya — who will participate in the weekend-long festivities. Highlighting the weekend will be the presentation of six alumni awards for career achievement and distinguished service to the college during the annual Reunion Convocation Saturday, June 19 at 10:30 a.m. in the Lawrence Memorial Chapel.  The convocation is free and open to the public.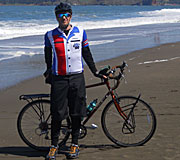 Starting near the Golden Gate Bridge, Hobson pointed his Trek 520 east on April 30 for a transcontinental ride that will cover nearly 4,200 miles by time he reaches his Brooklyn, N.Y., apartment in early July.  He had logged just over 3,000 miles when he reached his grandmother's house in Princeton earlier this week. Prior to this, the longest ride Hobson had ever completed was a 240-miler over two days.
"This is something I've wanted to do ever since I was a little kid," said Hobson, who has maintained a blog about his adventure.
One of his tires found a wood screw just 27 miles into the ride, but since stocking up on spare tubes — he carries six of them — he has not encountered another flat tire.
He did run out of water while crossing the desert in Utah (a friendly pick-up truck driver gave him an eight-mile lift to a gas station), met a fellow biker from Africa in Nevada who also was riding across the country so they rode together for  a couple of days and discovered the road he had planned to take in a part of Wyoming was completely closed for construction, leaving him with a tough choice: take a 45-mile detour or ride 11 miles on the Interstate along side tractor trailer trucks whizzing by at 80-plus miles per hour.  In the interest  of time, he opted for the Interstate, which turned out to be the most frightening segment of the trip to date.
"What I'm doing is ridiculous," said Hobson, who graduated with a degree in theatre, later attended the French Culinary Institute in Manhattan where he earned a degree in culinary arts and hopes to own his own restaurant in the not-too-distant future. "But I'm also encouraging people I'm meeting along the way to get out on their own bikes as much as possible. It doesn't have to be a 100-mile ride. Whatever you can do. It's all about the experience."
Joel Blahnik, long-time Wisconsin high school band director and Paul Schmidt, an Immigration Judge, won't be returning to their alma mater on bicycles, but each will receive Lawrence's Lucia R. Briggs Distinguished Achievement Award.  Named in honor of the second president of Milwaukee-Downer College, the Briggs award recognizes alumni of more than 15 years for outstanding contributions to, and achievements in, a career field.

A composer, conductor, retired music educator and member of the class of 1960, Blahnik, Fish Creek, spent 32 years as band director at three different Wisconsin high schools, including Gibraltar High School, where he taught for 13 years before his retirement in 1993.  His father, Arthur, a 1933 Lawrence graduate, began his own career as band director at Gibraltar High School in the 1930s.
Blahnik's compositions have been recorded around the world and been featured at national symposiums and international festivals. He is a founding member of the Wisconsin Alliance for Composers. As band director, his student ensembles have distinguished themselves at state convention, including three performances at the celebrated Mid-West International Band and Orchestra Clinic. He has been a long-time clinician for state adjudication workshops, related-arts festivals, music camps, and other music activities from elementary schools to world professional ensembles.
During the past 22 years, Blahnik has been heavily involved in musical activity in the Czech Republic, where he co-founded the Prague Youth Wind Ensemble Festival and serves as guest conductor for student, amateur and professional ensembles.  In 1989, he established Alliance Publications, Inc., a desk-top music publishing company to promote old and new Czecho-Slovak music, as well as educational and religious music of contemporary composers.

Schmidt, Alexandria, Va., who graduated from Lawrence in 1970 with a degree in history, has served as an Immigration Judge since 2003.  Prior to that appointment, he spent eight years on the Board of Immigration Appeals in Falls Church, Va., including six years as board chairman before stepping down to adjudicate cases full-time.
Earlier in his career, Schmidt served as deputy general counsel and general counsel for the former Immigration and Naturalization Service, where he was instrumental in developing the rules and procedures to implement the Immigration Reform and Control Act of 1986.  He left the INS to practice business immigration law with the Washington, D.C. office of Jones, Day, Reavis, and Pogue.  He later served as managing partner of the law firm Fragomen, Del Rey & Bernsen before joining the Executive Office for Immigration Review.
Schmidt has taught law at the George Mason University School of Law, authored numerous articles on immigration law and has written extensively for the American Immigration Lawyers Association.
J. Thomas Hurvis, Glenview, Ill., and Joseph Kortenhof, a native of Kimberly now living in St. Louis, Mo., will receive the Gertrude B. Jupp Outstanding Service Award.  The award honors Jupp, a 1918 graduate of Milwaukee-Downer College, who was named M-D Alumna of the Year in 1964 for her long volunteer service to the college.  It recognizes Lawrence and Milwaukee-Downer alumni of more than 15 years who have provided outstanding service to the college.

A 1960 Lawrence graduate, Hurvis was a member of the Lawrence Board of Trustees from 1990-2002 and was elected trustee emeritus in 2003.  He has served Lawrence as a class agent and More Light! campaign event volunteer as well as a member of the steering and gift committees for his 40th reunion.
He has generously supported numerous Lawrence projects and initiatives over the years, among them the Warch Campus Center, Hurvis Crossing land bridge, the Lawrence Fellows Program, the Posse Program and conservatory ensemble tours.
An advocate for education reform, Hurvis has sponsored scholarships and internships for inner city youth and serves on the board of Providence St. Mel, a private K-12 school in Chicago, a former failing inner city school that now boasts a 100% acceptance rate of its school's graduates to four-year colleges and universities for the past 29 years.  In 2009, Hurvis and his wife, Julie Esch Hurvis '61, produced an award-winning documentary — "The Providence Effect" — to showcase the school's success and provide a platform for a conversation about improving education in America.
He is the co-founder, president and CEO of Old World Industries, a privately-held company that markets and sells chemical products and automotive parts, including Herculiner truck bed liners, Peak antifreeze and Febreze odor eliminator in more than 50 countries worldwide.

Kortenhof served as an Alumni Trustee for 10 years and chaired his 50th Reunion Gift Committee, helping secure Lawrence's first Reunion Class Gift of more than $1 million.  He is currently a member of the 60th Reunion Steering Committee for the Class of 1950.
Ten years after graduating from Lawrence, Kortenhof co-founded and served as senior partner of the St. Louis law firm Kortenhof & Ely, which specialized in malpractice, workers compensation, civil trial practice and casualty insurance.  Amnog his past clients were  General Motors Corp., Freightliner Corp. and Sentry Insurance.
Kortenhof, who spent time as an adjunct professor of law at Washington University Law School, was recognized in 1990 by the Lawyers Association of St. Louis with its Award of Honor.
Andrea Powers Robertson, Chicago, Ill., and Erin Stahowiak, Chicago, Ill., both 1994 graduates, will receive the Marshall B. Hulbert Outstanding Young Alumni Service Award, which recognizes a Lawrence graduate of 15 years or less for significant service to the college.  The award honors Hulbert, a 1926 Lawrence graduate known as "Mr. Lawrence," who served the university in many significant capacities for 54 years.

Powers Robertson has served her alma mater as an employee and a volunteer. She spent six years in the alumni relations office as assistant and later associate director and also helped coach the men's and women's swimming teams.  She has served as a career contact, admissions volunteer, Viking Gift Committee member, international student host parent, More Light! campaign volunteer, class secretary and co-chair of the steering committee for her 15th reunion.  She is employed by The Field Museum of Chicago where she is the auxiliary groups manager.

Stahowiak was a member of the Lawrence University Alumni Association from 2002-2005 and has served as a career contact, an admissions volunteer, a regional event volunteer, a regional club program committee member and an alumni phonathon caller.  Last December, she participated in the Shadow Chicago networking event, in which Lawrence students from the Chicago area followed alumni at their jobs during the winter break.  She is currently a senior planner for McDonald's Corporation in Oak Brook, Ill.