Accomplished multimedia composer Jeff Kurtenacker makes a return visit to his alma mater and he's bringing Grammy Award-nominated trumpet player Wayne Bergeron along. The two Los Angeles-based musicians will lend their respective talents to the Lawrence University community for a series of special events April 12-13, culminating with a big band concert.
A 1999 Lawrence graduate and Green Bay native, Kurtenacker has made his mark in the video game industry. After graduating from Lawrence with a self-designed major in composition, Kurtenacker landed a job with Hans Zimmer at his company, Media Ventures/Remote Control, where he honed his craft of composing for media.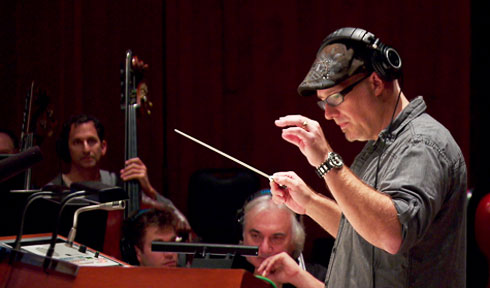 After serving as choral arranger on "Warcraft 3" for Blizzard Entertainment, Kurtenacker worked on numerous other video game titles, among them "World of Warcraft," "Pirates of the Burning Sea," Dreamworks' "Igor,"  and "American Idol."
Kurtenacker joined Carbine Studios in 2008 as a sound designer and three years later moved into the role of lead composer. In addition to that role, he also serves as Carbine's audio department manager. He composed, orchestrated and conducted a 75-piece orchestra in recording more than nine hours of music for Carbine's "Wild Star."
Bergeron has established himself as one of the most sought-after musicians in the world for studio sessions, film soundtracks, international touring, jazz concerts and clinics. He is especially in demand for film and television scores, having contributed to more than 350 TV and motion picture soundtracks. His many credits include "Frozen," "Bridge of Spies," "Monsters University," "Despicable Me" "Marley & Me," "The Simpson's Movie," "Dreamgirls," "Mission Impossible 3" and "South Park."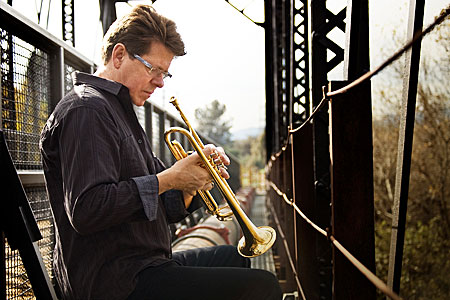 After working behind the scenes for many years, Bergeron released his first solo effort, "You Call This a Living?," which earned rave reviews as well as a Grammy Award nomination in 2004. His second disc, "Plays Well With Others" released in 2007, drew similar praise. His latest project is scheduled to be released later this year.
During their residency at Lawrence, Kurtenacker and Bergeron will participate in the following events, all of which are free and open to the public.
• Tuesday, April 12, 11:10 a.m. Bergeron and Kurtenacker will lead masterclasses in trumpet and composing, respectively, in Shattuck Hall 163 and Shattuck Hall 4.
• Tuesday, April 12, 7 p.m., Shattuck Hall 163. The pair will conduct a live recording session with the Lawrence Symphony Orchestra sight reading one of Kurtenacker's orchestral soundtracks. The session will be recorded just as his music is at Warner Bros. in Los Angeles. Bergeron will play with the LSO for the recording.
• Tuesday, April 12, 8 p.m., Shattuck Hall 163. Bergeron and Kurenacker lead a discussion on "the business of music," providing an insider's look at the world of composing and performing for film, television and multimedia.
• Wednesday, April 13, 8 p.m., Lawrence Memorial Chapel. Bergeron headlines a concert with the Lawrence University Jazz Ensemble and the new 19-member Lawrence Jazz Faculty Big Band. The program will feature jazz standards such as Billy Strayhorn's "Take the A Train" as well as several selections Bergeron has personally selected from his library.
"We are so fortunate to get this opportunity to perform with Wayne Bergeron, who is really  one of the world's most in-demand musicians," said Patricia Darling, lecturer in music and director of the Lawrence University Jazz Ensemble. "We'll be playing some great big band charts. This is going to be a very exciting and rewarding concert for everyone."
About Lawrence University
Founded in 1847, Lawrence University uniquely integrates a college of liberal arts and sciences with a nationally recognized conservatory of music, both devoted exclusively to undergraduate education. It was selected for inclusion in the book "Colleges That Change Lives: 40 Schools That Will Change the Way You Think About College" and Fiske's Guide to Colleges 2016. Engaged learning, the development of multiple interests and community outreach are central to the Lawrence experience. Lawrence draws its 1,500 students from nearly every state and more than 50 countries.