The critically acclaimed Milwaukee Symphony Orchestra under the baton of musical director Edo de Waart and the first-ever all-Latin Jazz Celebration Weekend highlight Lawrence University's eight-concert 2010-2011 Artist and Jazz Series.
Season subscriptions are currently on sale, with discounts available to senior citizens and students. Reserve tickets can be ordered for the Artist, Jazz or a "Favorite 4" series that allows subscribers to select any combination of four concerts from either series. Single-concert tickets go on sale Sept. 16. For additional ticket information, contact the Lawrence Box Office at 920-832-6749.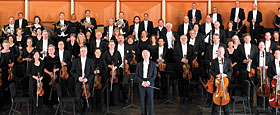 Recognized as a pioneer in the world of new music among American orchestras, the Milwaukee Symphony Orchestra's 88 full-time professional musicians take the Lawrence Memorial Chapel stage Friday, April 1, 2011. Founded in 1959, the MSO conducts nearly 150 concerts a year and has performed on tour in Europe, Japan and Cuba, as well as Carnegie Hall and other venues throughout the United States.
Joining the MSO on the Artist Series schedule are the six-member Rhythm and Brass, which opens the series Saturday, Sept. 25; soprano Measha Brueggergosman performs Wednesday Feb. 9, 2011; and The Los Angeles Guitar Quartet closes the series Friday, April 16, 2011.
For the first time in its 30-year history, Jazz Celebration Weekend goes all Latin, with Brazil's Grammy-winning jazz singer Louciana Souza and her quartet opening the weekend Nov. 5. Raised in a family of bossa nova innovators, Souza has emerged as one of jazz's leading singers and interpreters, creating a body of work with sophisticated lineage in world music that transcends traditional boundaries.
Trombonist Conrad Herwig performs Nov. 6 on the second night of Jazz Celebration Weekend along with the Lawrence Jazz Trio and the Lawrence University Jazz Ensemble. With series of "Latin Side" CDs, including tributes to John Coltrane and Miles Davis, Herwig has created a highly identifiable niche in contemporary jazz.
The remaining Jazz Series includes Donny McCaslin, who brings his sonorous tenor sax to the Lawrence Chapel stage Feb. 25, where he'll be joined by The Lawrence Brass. The two-time Grammy Award-winning Vanguard Jazz Orchestra closes the series May 6.
Rhythm & Brass incorporates influences as divergent as Josquin Des Prez, Pink Floyd and Johann Sebastian Bach in creating musical presentations that cross time, geographic and cultural boundaries.
Canadian soprano Brueggergosman, one of today's most vibrant performers, has earned international critical acclaim for her innate musicianship, voluptuous voice and supreme stage presence beyond her years.
The Los Angeles Guitar Quartet, a 2005 Grammy Award winner, brings a special energy to the concert stage with its eclectic programs and dynamic musical interplay. The quartet continues to break new ground with fresh interpretations of works from the contemporary and world-music realms.
McCaslin's incisive twists and purposeful turns of his emotionally charged solos have wowed audiences and critics alike for the past decade. While he has recorded seven albums, his solo work with large ensembles has turned heads, resulting in a Best Jazz Instrumental Solo Grammy nomination in 2004.
The Vanguard Jazz Orchestra features some of world's finest musicians, most of whom lead their own bands when not performing with the orchestra. Co-founded by legendary trumpeter Thad Jones and drummer Mel Lewis, the ensemble still plays virtually every Monday night at the renowned jazz club Vanguard Village, New York City's most famous basement, where it got its start in 1966.