Previous trips abroad on off-campus study programs served as motivation for two Lawrence University seniors to apply for the Fulbright English Teaching Assistant Program.
William Gill, a German and government major from Bloomington, Ill., and Elena Hudacek, a linguistics and Spanish major from Lexington, Mass., were both rewarded with Fulbright Fellowships and will spend the majority of their first post-graduation year abroad as English language teaching assistants and cultural ambassadors, courtesy of the United States Department of State and the J. William Fulbright Foreign Scholarship Board.
Beginning in September, Gill will make his third trip to Germany while Hudacek travels to Colombia for the fist time. While neither yet knows their official assignment, they will spend 10 months working in a school as a teacher's aide. As part of the program, each also is expected to devote 10-15 hours per week on a social/volunteer project related to their personal, career, and/or educational interests.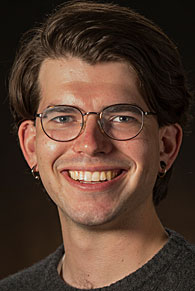 Gill's first exposure to Germany came as a sophomore at Wayland Academy in Beaver Dam when he participated in a three-week exchange program established by Wayland Academy and a school in Germany. After graduating, Gill took a "gap year" before attending Lawrence.
"I'd been thinking about taking a gap year for a long time before going to college, but I didn't really want to pay for a program," said Gill. "So, I asked the school in Germany that partnered with Wayland if they'd hire me for the year just to work. They accepted me."
He wound up serving as a supervisor at a boarding school section of a large day school in the town of Elze, routinely working 80-hour weeks.
"I was a little out of place," Gill recalled. "I didn't really speak much German at that time. I worked really hard, dealt with a lot of difficult stuff, did a lot of informal teaching and assisting. My German improved though, living in a small town where no one really spoke English. That really helped me with the language and the cultural side of things."
After enrolling at Lawrence, he returned to Germany in the fall of 2017 on a study-abroad program, but extended his stay by applying for a fellowship with the German Academic Exchange Institute. He received the scholarship, allowing him to spend an additional five months in Berlin, conducting independent research that he turned into the thesis "National Myth-building and Reunification for the Nachwende Generation," which he presented at this year's Harrison Symposium.
Brent Peterson, professor of German and Gill's academic advisor, called the Fulbright "a justly deserved award."
"Will has been one of the strongest German students we have ever had at Lawrence," said Peterson. "He spent six months in Berlin interviewing members of the young people's branch of a party that was founded by members of the old Socialist Unity Party after the fall of the Berlin Wall. His research was financed by a grant that is usually reserved for graduate students working on a Ph.D. That grant and resultant research was instrumental in the completion of his Senior Capstone Project."
Gill is looking forward to his return trip to Germany, this time to a yet-to-be determined destination somewhere in the western state of Nordrhein-Westfalen, a part of the country he has yet to visit. He sees his role as a Fulbright Fellow as one more unique learning experience.
"There's still so much for me to learn, said Gill, a fourth-generation Lawrentian and the 10th member of his family to attend Lawrence. "But I have an advantage because I don't have to make it over the first hurdle. As a Fulbright recipient, I feel like I'm in a position to focus less on myself and more on other people. I can relate comfortably to people in Germany, culturally, linguistically and personally because I've spent so much time there."
"Will has been one of the strongest German students we have ever had at Lawrence. [The Fulbright is] a justly deserved award."
— Brent Peterson, professor of German
As for post-Fulbright life, Gill says graduate school is a possibility, but he is open to different opportunities.
"I love film, but I also love writing and a lot of other things," he said. "Until there's a program that really fits with my interests, I'm not going back to school yet. I think opportunities present themselves in weird ways sometimes. You've got to be open and have that flexibility to follow that thing if it presents itself. That's how some of the coolest things I've ever done happen to me."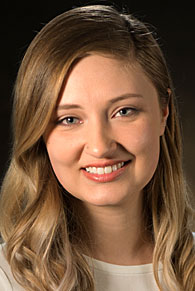 The National University of Colombia in Bogota will be Hudacek's Fulbright assignment, where she will co-teach undergraduate English classes and lead conversation circles.
"I was lucky enough to study abroad in Spain last year and knew that I wanted to teach in a Spanish-speaking country after graduation," said Hudacek, whose lone previous encounter with South America was a trip to Peru. "Having studied in Europe during my term abroad, I decided I wanted to live in Latin America and experience a different side of Hispanic culture. I chose Colombia because it's known for having clear Spanish and friendly people. I also liked that I was guaranteed placement in a university, since that's the teaching context I was most interested in. Plus, I'm just obsessed with Colombian music."
With her academic background in linguistics and Spanish, Hudacek says her Fulbright experience can serve as a good test run of sorts for future career considerations.
"Elena brings insight, enthusiasm and skills honed through years of exceptional work with Spanish and Waseda students at Lawrence to English language learners in Bogota. I have no doubt that Elena and her students will be transformed by this incredible experience."
—  Madera Allan, associate professor of Spanish
"I've worked a lot at Lawrence with international students as a mentor and a tutor, and I've really enjoyed that role," said Hudacek, who first began studying Spanish in third grade. "It allows me to use my linguistics knowledge in a very practical way. I'm hoping that through this experience I can see whether or not I have a future teaching English Language Learners at the university level. Even if I decide it's not the best fit for me, I will still gain leadership experience, become more independent, and further develop my Spanish skills."
Beyond teaching, Fulbright fellows are unofficial goodwill ambassadors for the United States, a role Hudacek embraces. Her time in Europe exposed the many misconceptions people have of the United States.
"At Lawrence, I've spent a lot of time with international students, especially those that are part of the Waseda program. Part of my role as a Waseda mentor is being a U.S.-Wisconsin-Lawrence ambassador to those students. I've had some experience navigating U.S. culture with people from a different background than mine, discussing culturally-sensitive and sometimes controversial topics. I feel pretty comfortable in that role. I want to paint a picture of the United States that is diverse and complex, one that moves beyond stereotypes and generalizations."
"Elena brings insight, enthusiasm and skills honed through years of exceptional work with Spanish and Waseda students at Lawrence to English language learners in Bogota," said Madera Allan, associate professor of Spanish and Hudacek's academic advisor. "I have no doubt that Elena and her students will be transformed by this incredible experience."
Graduate school is in Hudacek's future, but her immediate plans after her Fulbright ends are to teach English in Japan "for some experience in a different setting."
"I recognize that a level of English proficiency is necessary for a lot of people," she said. "It allows them educational and professional opportunities they might not have otherwise."
The Fulbright Program is designed to build relations between the people of the United States and the people of other countries that are needed to solve global challenges. Celebrating the 72nd anniversary of its establishment in 1946, the program operates in more than 160 countries worldwide. Fulbright recipients are among more than 50,000 individuals participating in U.S. Department of State exchange programs each year.
About Lawrence University
Founded in 1847, Lawrence University uniquely integrates a college of liberal arts and sciences with a nationally recognized conservatory of music, both devoted exclusively to undergraduate education. It was selected for inclusion in the book "Colleges That Change Lives: 40 Schools That Will Change the Way You Think About College."  Engaged learning, the development of multiple interests and community outreach are central to the Lawrence experience. Lawrence draws its 1,500 students from nearly every state and more than 50 countries.