A pair of Lawrence University seniors will spend the majority of their first post-graduation year as English language teaching assistants and cultural ambassadors, courtesy of the United States Department of State and the J. William Fulbright Foreign Scholarship Board.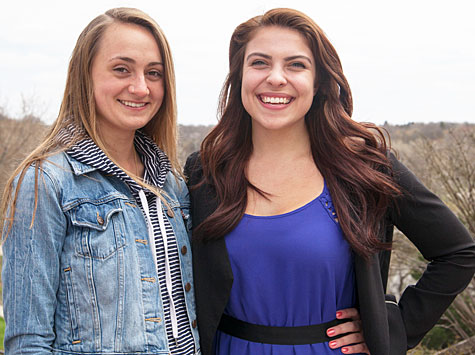 Hayley Cardinal, a German and linguistics major from Lombard, Ill., and Kirstin Edwards, a German and physics major from Whitefish Bay, have been awarded 2016-2017 Fulbright U.S. Student grants to Germany. The Fulbright Program is the flagship international educational exchange program of the United States.
Both will travel to Germany in September, where they will spend 10 months working in a school as a teacher's aide. Cardinal knows she will be in the capital city of Berlin, while Edwards' final destination is still to be determined, although she knows it will be somewhere in the central state of Hessen.
It will be a return trip for Cardinal, who spent a semester in Berlin a year ago on a study-abroad program.
"Berlin was my first choice, which I was not expecting to get," said Cardinal, who spent a month in Germany as a high school junior on a student-exchange program. "I'm super excited to go back."
Cardinal applied for a Fulbright grant after realizing it was a perfect combination of several of her passions.
"I love German and linguistics and working with students," said Cardinal, who first started studying German as a high school freshman. "Helping students learn English will be ideal as far as potential career fields I've been considering. I'm interested in speech therapy, working with high school or younger students, helping with speech problems they struggle with or possibly going into English as a Second Language."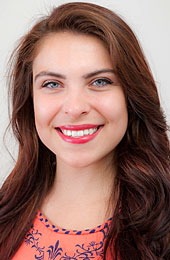 Ruth Lunt, associate professor of German and Cardinal's advisor, called her a "perfect choice" for the Fulbright program.
"Her linguistics training and knowledge of both English and German give her an advantage when it comes to explaining aspects of English to German speakers," said Lunt. "She also has shown a deep understanding of German culture. Hayley is one of the most intellectually curious, highly motivated and intelligent students I have had the pleasure of working with. She is creative, energetic and has taken the time to explore and think about what she really wants to do."
Perhaps being part prescient, Cardinal studied Arabic this year, knowing Germany has accepted a large number of Syrian refugees.
"I really hope to work with a volunteer program where I can help teach English to refugees, which would go hand-in-hand with what I'm doing with my Fulbright," said Cardinal, a three-time conference champion on the Lawrence women's swimming team and a hurdler on the women's track team. "I think it's an important part of current German culture and helping these refugees to succeed is really important. It's not easy to integrate thousands of these people into the country, so I'd like to help in any way I can."
Edwards also participated in a student exchange program in high school, during which she spent time on a farm in the state of Hessen, has gotten a taste of what it's like to teach a language as a German tutor at Lawrence.
She spent last summer in the Netherlands working with Lawrence graduate Jennifer Herek in her optics laboratory at Twente University. Her time there inspired her to apply for the Fulbright.
"I worked in the Netherlands and really enjoyed working with an international group," said Edwards, who often took the train across the border to venture about in Germany. "I saw a lot of value in that sort of international exchange and felt I would benefit from a more immersive experience in Germany."
Alison Guenther-Pal, assistant professor of German, was nearly as happy for her advisee as Edwards was for herself.
"I'm thrilled that Kirstin earned the Fulbright, not only because she is such a deserving candidate, but also because she was not able to spend a lengthy period of time in Germany as an undergraduate," said Guenther-Pal. "As a diligent, thoughtful and multi-interested person, Kirstin will be a wonderful representative of Lawrence abroad."
While improving her German is important, Edwards is excited about the opportunities the Fulbright grant will present.
"Teaching will be a very valuable experience, especially with students who are interested in learning about the United States," said Edwards, a three-year starter on Lawrence's women's soccer team. "I'm looking forward to learning from them about their own culture, too.  Spending 10 months in a single place that is foreign to me will be exciting. Maybe not always in positive ways, but I'm sure that there will be plenty of new experiences every day."
Edwards hopes to pursue a graduate degree in geophysics, possibly at a German university, after her Fulbright program.
Cardinal and Edwards are the 24th and 25th Lawrence students since 2008 to be awarded Fulbright grants. Nine of those were student fellowships to Germany.
The Fulbright Program is designed to build relations between the people of the United States and the people of other countries that are needed to solve global challenges. Celebrating the 70th anniversary of its establishment in 1946, the program operates in more than 160 countries worldwide. Fulbright recipients are among more than 50,000 individuals participating in U.S. Department of State exchange programs each year.
About Lawrence University
Founded in 1847, Lawrence University uniquely integrates a college of liberal arts and sciences with a nationally recognized conservatory of music, both devoted exclusively to undergraduate education. It was selected for inclusion in the book "Colleges That Change Lives: 40 Schools That Will Change the Way You Think About College" and Fiske's Guide to Colleges 2016. Engaged learning, the development of multiple interests and community outreach are central to the Lawrence experience. Lawrence draws its 1,500 students from nearly every state and more than 50 countries.