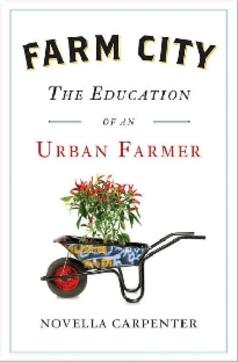 Taking a page from Freshman Studies, Green Roots is sponsoring a special 1-unit course for Term III under the umbrella of Topics in Environmental Studies that will feature a campus community read of the 2009 book "Farm City: The Education of an Urban Farmer." The book's author, Novella Carpenter, will visit campus in April in conjunction with Earth Day and the Fox Cities Book Festival.
The book chronicles Carpenter's efforts to operate a sustainable farm 10 blocks from the ghetto of downtown Oakland, Calif., utilizing a vacant lot to grow pumpkins and artichokes and the scraps in dumpsters to feed her collection of chickens, turkeys, ducks, rabbits and pigs.
Registration for the one-hour-per-week, five-week-long class is currently open to all students and will feature 16 faculty from across the curriculum team-teaching the course with a colleague.
"I am thrilled to see such a positive campus-wide response to this initiative," said Associate Professor of Geology Andrew Knudsen, who spearheaded the community read course with Jason Brozek, assistant professor of government and Stephen Edward Scarff Professor of International Affairs. "We have students and instructors from all across the university signed up to participate in this program. It will be very exciting to be a part of a campus-wide discussion of this book. If you can run a farm on a vacant lot in Oakland, it seems like the possibilities are limitless."