More than 90 Lawrence University students will showcase their voices when the Lawrence Concert Choir and Cantala women's choir perform at the 2014 American Choral Directors Association North Central Regional Conference March 19-20 in Des Moines, Iowa.  This is the second time since 2006 Concert Choir and Cantala both were selected to perform at the ACDA's regional conference.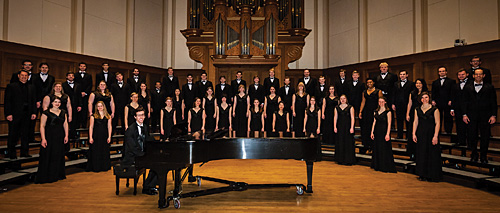 Each choir will be in the spotlight Thursday, March 20 at St. Ambrose Church, with the 45-member Cantala singing at 10:30 a.m. and the 48-member Concert Choir performing at 2 p.m. Both choirs sing under the direction of co-choir directors Phillip Swan and Stephen Sieck.
Choirs are invited to perform at ACDA regional and national conferences through a rigorous, blind-auditioned, peer-reviewed process based on submitted concert recordings from the last three years.
"It is unusual for two choirs from the same institution to be invited to perform at the same conference," said Swan, who directed Cantala at the 2006 ACDA regional conference in Omaha, Neb., and the 2011 national conference in Chicago. "It's gratifying to know that consistent quality continues to be evident in our choral program and is recognized by our peers. It's especially exciting to know that although we have undertaken major changes in our program (a new conducting team and a new co-directing model), our vibrant, retooled choral program continues to be recognized for its quality and creativity."
For Sieck, who joined the conservatory of music faculty in 2010, his first invitation to perform at this level was especially gratifying.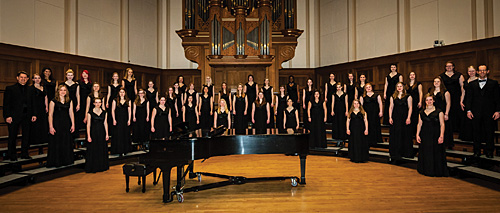 "This shows that Lawrence has not just one outstanding choir, but an outstanding choral program," said Sieck. "Having both advanced ensembles featured is a real celebration that our students sing at the highest level. I'm also excited because this shows that Lawrence's co-directing model is not just innovative, but also effective. Phillip and I have each worked with each of these choirs over the past three years, so having them both selected is a great honor to the team-teaching approach we bring."
The program for both choirs celebrates the spirit of worship in the Hindu, Roman Catholic, Eastern Orthodox and Protestant traditions, covering five centuries of music from 11 countries in nine languages. The performances will feature genres ranging from opera to children's play-songs, from dance to prayer.
"Many schools have an outstanding mixed choir, which is usually considered the flagship ensemble in the choral department," said Swan, who has worked with the Lawrence choral program since 2002. "But, to also have a nationally recognized women's choir, with completely different personnel, that performs at the same musical level as the top mixed-voice ensemble, demonstrates depth of quality in our choral program. I feel extremely blessed to work with such talented students and am also thankful to work with colleagues who have a shared vision for teaching and inspiring these young adults to achieve their highest musical potential."
About Lawrence University
Founded in 1847, Lawrence University uniquely integrates a college of liberal arts and sciences with a nationally recognized conservatory of music, both devoted exclusively to undergraduate education. It was selected for inclusion in the Fiske Guide to Colleges 2014 and the book "Colleges That Change Lives: 40 Schools That Will Change the Way You Think About College." Individualized learning, the development of multiple interests and community engagement are central to the Lawrence experience. Lawrence draws its 1,500 students from nearly every state and more than 50 countries.