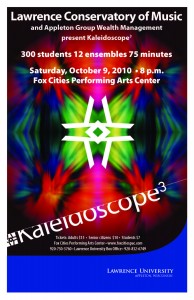 From Bizet to Broadway, Lawrence University's biennial Kaleidoscope concert promises to strike at least one chord with every music lover. Showcasing the musical talents of nearly 350 Lawrence students, the third edition of the concert will be performed Saturday, Oct. 9 at 8 p.m. at the Fox Cities Performing Arts Center, 400 W. College Ave., Appleton.
Tickets, at $15 for adults, $10 for senior citizens and $7 for students, are available at both the Lawrence University Box Office, 920-832-6749, and the Fox Cities Performing Arts Center Box Office, 920-730-3760.
First performed in 2006, the 75-minute, non-stop musical whirlwind will feature a dozen student groups performing from all corners of the theatre, including the side balconies, main floor and upper balcony.
"Kaleidoscope is really the cornucopia of concerts. It is designed to cover a broad spectrum of musical offerings and give the audience a sampling of everything from intimate chamber music and funky jazz to musical theatre and Brazilian percussion," said Andrew Mast, director of bands at Lawrence and the coordinator of this year's concert.
"It will be the most ambitious thing Lawrence does musically this year and requires a lot of work on the part of our students to pull it off given in the short time they've been back in school," Mast added. "But it's a special opportunity to perform in a beautiful hall like the Performing Arts Center. I know everyone is excited about putting on a great show."
Highlighting the concert's repertoire will be three works with Lawrence connections, including two compositions that will have their world premiere. The Lawrence Wind Ensemble will debut "Arclight Alley," written by 2006 Lawrence graduate David Werfelmann, while "Layaanjali," a composition by Assistant Professor of Music Asha Srinivasan, will have its world premiere performed by the Lawrence Saxophone Ensemble. Director of Jazz Studies Fred Sturm will direct the Lawrence University Jazz Ensemble in a performance of his recent composition "Signal Fires."
The program also includes performances by Lawrence's new gamelan ensemble, the Lawrence Symphony Orchestra, the Lawrence Concert Choir, Cantala women's choir, the Sambistas percussion ensemble, a string quartet, opera and musical theatre excerpts and a six-hand piano performance.
The concert's grand finale will feature a performance of the "Jupiter Hymn" from Gustav Holst's seminal work "The Planets" by the entire Kaleidoscope cast under the baton of Lawrence President Jill Beck.
"The fast-paced nature of the concert, with no breaks between the relatively short, but audience-accessible works along with the constantly changing staging truly makes for a unique concert experience," said Mast. "We hope the audience enjoys listening to it as much as we enjoy performing it."
Lawrence University gratefully acknowledges Appleton Group Wealth Management, LLC for its sponsorship of the Kaleidoscope concert and extends its deep appreciation for its generous support of this special community arts showcase.