For the second time in four years, a Lawrence University faculty member has been selected as an American Council on Education (ACE) Fellow.
Associate Professor of History Peter Blitstein was one of only 50 people selected nationally from nominations by college and university presidents or chancellors as a 2013-14 fellow and the only fellow selected from a Wisconsin college or university.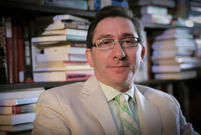 Established in 1965, the ACE Fellows Program is the country's premier higher education leadership development program. It is designed to identify and prepare promising senior faculty and administrators for responsible positions in college and university administration.
"The awarding of the ACE Fellowship is an honor for Professor Blitstein and for Lawrence," said Lawrence President Jill Beck. "Peter is an experienced faculty member who chairs the faculty governance committee at Lawrence and offers fine leadership as director of the Senior Experience program.
"Peter's interest in the development of vision for higher education, and the translation of vision into strategic planning, is of interest to Lawrence but also to the world of universities more broadly," Beck added. "The future of higher education depends upon developing outstanding leaders, and we are happy that Peter will be part of the ACE program designed to encourage these talents."
According to Margarita Benítez, interim director of ACE's Emerging Leaders Group and the ACE Fellows Program, more than 1,600 of nearly 2,000 previous fellows have advanced into major positions in academic administration, including more than 300 who have gone on to serve as chief executive officers of colleges or universities.
"I am delighted to have been selected for an ACE fellowship and very grateful to President Beck and Provost Burrows for supporting my application," said Blitstein, who joined the Lawrence faculty in 2001. "Over the course of the fellowship, I hope to learn more about how liberal arts colleges such as Lawrence can survive and thrive in the changing and increasingly uncertain landscape of higher education.
During his fellowship, Blitstein will focus on how private liberal arts colleges can effectively, inclusively and efficiently conduct strategic planning. He will spend the 2013-14 academic year working with a college or university president and other senior officers on that issue at a still-to-be-determined host institution.
As part of the program, Blitstein will attend three, week-long retreats organized by ACE, read extensively in the field and engage in other activities to enhance his knowledge about the challenges and opportunities confronting higher education today.
The ACE Fellows Program condenses years of on-the-job experience and skills development into a single year through seminars, interactive learning opportunities, campus visits and placement at another higher education institution. Fellows are included in the highest level of decision making while participating in administrative activities.
A scholar of the Russian empire and the Soviet Union, Blitstein has focused his recent research on Russia's ethnic diversity and Stalinism. He currently is assisting on the Stalin Digital Archive, a cooperative effort between Yale University Press and the Russian State Archive of Socio-Political History, home to many of Stalin's papers.
For the past three years, Blitstein has served as director of Lawrence's Senior Experience program.
He earned his bachelor's degree in political science at Johns Hopkins University and his master's and doctoral degrees from the University of California, Berkeley in political science and history, respectively.
Blitstein is the second Lawrence faculty member since 2009 to be chosen for an ACE Fellowship. Former art history professor Michael Orr spent the 2009-10 academic year as an ACE Fellow at Macalester College. He is currently provost and the dean of the faculty at Lake Forest College.
Founded in 1918, ACE is the major coordinating body for all the nation's higher education institutions, representing more than 1,600 college and university presidents, and more than 200 related associations, nationwide. It seeks to provide leadership and a unifying voice on key higher education issues and influence public policy through advocacy, research, and program initiatives.
About Lawrence University
Founded in 1847, Lawrence University uniquely integrates a college of liberal arts and sciences with a nationally recognized conservatory of music, both devoted exclusively to undergraduate education. It was selected for inclusion in the Fiske Guide to Colleges 2013 and the book "Colleges That Change Lives: 40 Schools That Will Change the Way You Think About College." Individualized learning, the development of multiple interests and community engagement are central to the Lawrence experience. Lawrence draws its 1,500 students from nearly every state and more than 50 countries. Follow Lawrence on Facebook.