While it doesn't come with a trophy, Lawrence University choir director Phillip Swan likens the honor to winning a Grammy, an Oscar or an NCAA national sports title.
For the third time in the past eight years, Lawrence University's women's choir — Cantala — under Swan's direction, will be a featured performer at the American Choral Directors Association's conference. Since its founding in 2000, Cantala has been selected to perform at five ACDA events, including the 2011 national ACDA conference.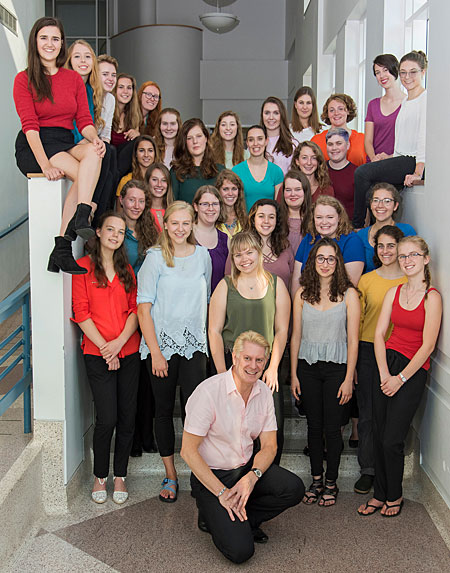 The 35-member ensemble, one of only two collegiate choirs in the country invited to the combined Central and North Central regional conference, showcases its talent at 2 p.m. Friday, Feb. 16 at the Harris Theater in Chicago. The two ACDA districts represent colleges and universities in 10 states.
"It's an extreme honor to be invited to perform at an ACDA event," said Swan, who joined the Lawrence conservatory of music as a choral director in 2002. "These conferences are attended by the peers in our profession, fellow conductors who meticulously strive for musical quality in their own program, each and every day. These are some of our toughest critics, because they understand the challenges and joys of what is required to present a high-caliber performance for a critical mass."

Cantala was invited to perform at the 2018 ACDA conference based on three submitted recordings — one from each of the previous three years — that are reviewed by a peer jury of highly respected conductors from the Central and North Central regions of the ACDA.
"These performances have placed Lawrence's choral program on the national map. We are recognized for the quality of our singing and the consistent strength of our program."
"We're requited to submit three recordings to show program consistency over a three-year period," said Swan. "You can't just have one good year and then be accepted for this kind of major performance event.  You must show consistent quality in your performances over an extended period of time."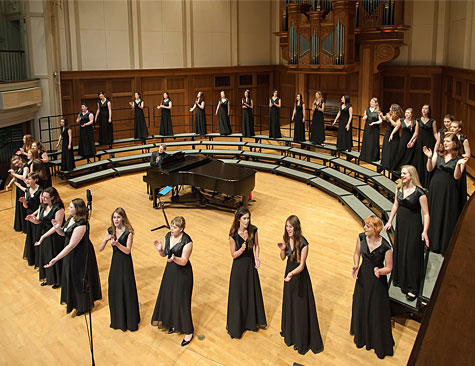 As part of a three-choir, 90-minute performance, Cantala's 25-minute set — titled "Awe and Wonder"— features eight pieces, only two of which the ensemble has ever performed prior to this conference. The all-contemporary repertoire will include works performed in five different languages, highlighted by the U.S. premiere of the Slovenian composition "Ta Na Solbici (And So We Dance in Resia)."
"Each of the conference's choirs were selected to provide an inspirational example of what it means to perform at the highest musical level, both in quality of sound and variety of repertoire," said Swan. "Lawrence's selection reflects a strong consistency in our choral program and provides a spotlight for student recruitment, as well as regional and national PR. These performances have placed Lawrence's choral program on the national map. We are recognized for the quality of our singing and the consistent strength of our program."
In addition to Cantala, Swan also co-conducts Lawrence's Concert Choir and serves as musical director for Lawrence theatre arts department musical productions. Outside of Lawrence, he is the artistic director and conductor for the community-based choir newVoices and is choir director at Appleton Alliance Church.
About Lawrence University
Founded in 1847, Lawrence University uniquely integrates a college of liberal arts and sciences with a nationally recognized conservatory of music, both devoted exclusively to undergraduate education. It was selected for inclusion in the book "Colleges That Change Lives: 40 Schools That Will Change the Way You Think About College." Engaged learning, the development of multiple interests and community outreach are central to the Lawrence experience. Lawrence draws its 1,500 students from nearly every state and more than 50 countries.