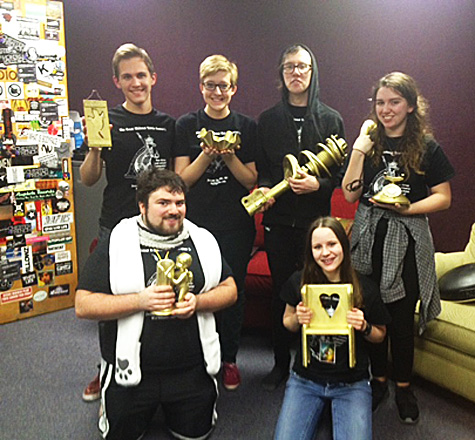 After placing second in 2013 and third in 2014, Hobgoblin of Little Minds claimed first-place honors with 1,236 points among 65 off-campus teams in Lawrence University's 50th annual Great Midwest Trivia contest held over the weekend. 50 Shades of Trivia (1,225 points) finished second while Je suis Iowans, last year's runner-up, placed third (1,217).
Bucky's Brood of Burgeoning Butt Brigadiers' Bizarre Belligerants Bird-Bondage-Base Burlesque Bonanza moved up from last year's second-place finish to win the on-campus title (1,374 points), while Shrek/10 3: We Bought a Sherk, last year's champion, settled for second place this year (1,347). Taking the Hobbits to #Octopunks is not Death placed third among 29 on-campus teams (1,141.5).
Hobgoblin of Little Minds was awarded a bowl spray painted gold for its first-place prize, while 50 Shades of Trivia received a gold-painted ghost wall décor and Je Suis Iowans earned a gold-painted mini wooden chair.
Bucky's was presented a gold-painted old phone for winning the off-campus title while Shrek received a large, gold-painted car part and Taking the Hobbits to #Octopunks is not Death earned a gold-painted angel candle holder.
Once again, the contest's final question, the Super Garruda, proved to be a stumper. No team was able to answer this ultimate brain tester:  Near property previously owned by Rockwell Lime Company is a manhole built in 1921 with an 8 inch diameter pipe leading downstream 226 feet. What is the Manhole Label and what is written on the cover of the manhole?
Make a note for next year since this will be the first question of the 2016 contest. The answer is "15-47" "Richards Iron Wks" (works).
About Lawrence University
Founded in 1847, Lawrence University uniquely integrates a college of liberal arts and sciences with a nationally recognized conservatory of music, both devoted exclusively to undergraduate education. It was selected for inclusion in the Fiske Guide to Colleges 2015 and the book "Colleges That Change Lives: 40 Schools That Will Change the Way You Think About College." Engaged learning, the development of multiple interests and community outreach are central to the Lawrence experience. Lawrence draws its 1,500 students from nearly every state and more than 50 countries.