Pianist Simone Dinnerstein, hailed as "a phenomenon in the world of classical music" by The Washington Post, performs Friday, April 30 at 8 p.m. in the Lawrence University Memorial Chapel as part of the college's annual Artist Series.
The concert will include works by Bach, Copland, Lasser, Schubert and Webern. Tickets, at $20-22 for adults, $17-19 for seniors and $15-17 for students, are available through the Lawrence Box Office, 920-832-6749.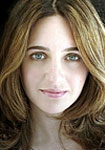 Best known for her intelligent but emotive performances of Bach, Dinnerstein jumped into the international spotlight with her acclaimed 2007 recording of Bach's challenging "Goldberg Variations."
Since a triumphant recital debut at Carnegie Hall in 2005, she has earned widespread acclaim, including consecutive Classical Recording Foundation Awards in 2006 and 2007 for her recording of Beethoven's complete works for piano and cello with Zuill Bailey.  She recently signed an exclusive recording agreement with Sony Classical, which will release an all-Bach disc this fall.
Dinnerstein has performed solo and with symphonies at renowned concert halls and festivals across the U.S. and Europe.  The New Yorker described her as "the pianists' pianist of Generation X."
Pianist Catherine Kautsky, professor of music at Lawrence, says it is Dinnerstein's individual voice that places her among the best pianists of her time.
"Simone has a dreamy lyricism that makes you feel she's communing very personally and privately with her audience, whether she's playing a slow movement of Bach, a Schubert Impromptu or a difficult 20th-century work," said Kautsky.  "Her sound is unfailingly lush and beautiful.  She's not afraid to take time to make a musical line, to establish her own space and make her own statements. She draws you in to her universe."
A graduate of The Juilliard School, Dinnerstein performs regularly for the Piatigorsky Foundation, an organization that brings classical music to non-traditional venues such as nursing homes, schools, community centers and correctional institutions.
She also founded P.S. 321 Neighborhood Concerts, an evening concert series at the Brooklyn elementary school where her husband teaches. The concerts raise funds for the school's Parent Teacher Association and features musicians Dinnerstein has admired and collaborated with during her career.