World-renowned Mnozil Brass and the impeccable Children of the Light Trio headline a diversely talented array of artists Lawrence University's 2016-17 Performing Arts Series.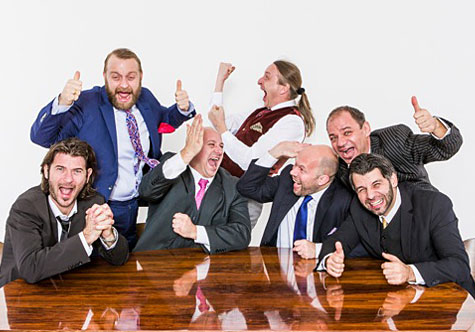 Subscriptions for both the Artist and Jazz series are on sale now. Subscribers may choose from either series or a "Favorite 4" package, with discounts available to senior citizens and students. Single-concert tickets go on sale Sept. 16. For more information, contact the Lawrence Box Office, 920-832-6749 or boxoffice@lawrence.edu.
All concerts are held in the Lawrence Memorial Chapel.
Mnozil Brass visits Lawrence March 29, 2017. Since it's founding in 1992, the Austrian brass septet has established itself as one of the world's premiere brass ensembles, captivating audiences with its blend of virtuosity and theatrical wit. With more than 130 performances a year, they have sold out concert halls around the world.
"I know this is an incredibly overused phrase, but the Mnozil Brass concert is an absolute 'must-see' event," said Marty Erickson, an instructor of tuba and euphonium in the Lawrence conservatory. "They play everything from Bach to Zappa, from the classics to new movie music and it is all surrounded with choreographed theater and dance moves and a massive dose of humor.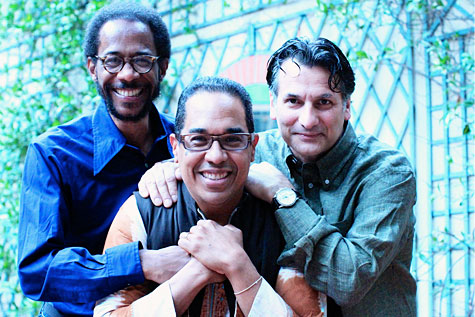 "Not only are they considered the finest brass ensemble of its kind in the world, they do it all seemingly effortlessly with great fun," Erickson added. "Imagine hearing Debussy and then Queen's "Bohemian Rhapsody" or an opera excerpt followed by Stevie Wonder's "Superstition." While most of the members have classical-based backgrounds, they also are versatile in jazz, pop and more. They are a hoot!"
The members first met at the Vienna Conservatory as young brass musicians. In the ensuring years, they have embraced repertoire from classical and folk to jazz and pop, all executed with the same fearlessness and immense technical skill.
"Not only are they considered the finest brass ensemble of its kind in the world, they do it all seemingly effortlessly with great fun."
— Marty Erickson on Mnozil Brass
Children of the Light, featuring three members of the Wayne Shorter Quartet, performs Nov. 5 as part of the Fred Sturm Jazz Celebration Weekend.
The three multiple Grammy Award winners — keyboardist Danilo Perez, cellist John Patitucci and percussionist Brian Blade — celebrate Shorter's old and new compositions. Their three-way conversations produce a collective improvisation, unfolding and constructing music like a rhythmic and smoldering chamber recital. As they apply their considerable individual talents to the trio, each member maintains his own distinct personality.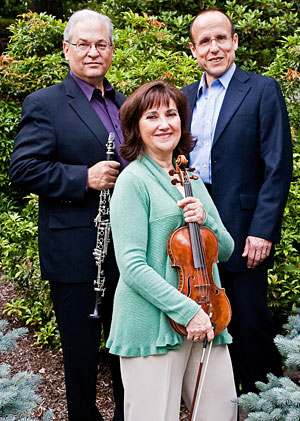 "When these three virtuosos come together, they bring layers of intricate melodies, rhythm and textures, which is explosive," said José Encarnación, director of Lawrence's jazz studies program. "Just as light naturally stimulates sights and makes things visible, so does this trio. They bring enlightenment and illumination to all their audiences."
While Children of the Light is partially defined by the absence of Shorter, they add new influences, particularly of Latin and jazz, that are uniquely their own.
The Kavafian–Schub–Shifrin Trio opens the Artist Series Oct. 7. Friends for 25 years, violinist Ani Kavafian, pianist Andre-Michel Schub and clarinetist David Shifrin form a trio with palpable chemistry. Each is a member of the Chamber Music Society of Lincoln Center.
Kavafian is one of the most sought after chamber musicians in the country as well as a frequent soloist. Shifrin has appeared in critically acclaimed recitals across the country and is a frequent major orchestra soloist. As a piano recitalist, orchestra soloist and chamber musician, Schub has earned critic and audience acclaim since launching his career more than 30 years ago.
The trio's programs include themes of dance, folk and French connections, highlighting a diverse range of 19th- and 20th-century works.
"Just as light naturally stimulates sights and makes things visible, so does this trio. They bring enlightenment and illumination to all their audiences."
— José Encarnación on Children of Light Trio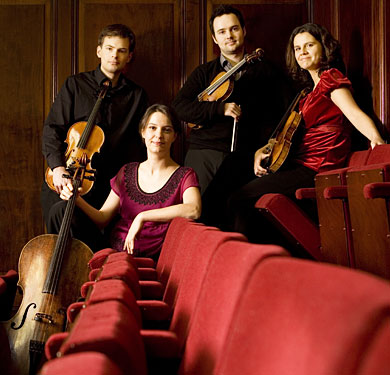 The Elias String Quartet, internationally acclaimed as one of the leading ensembles of its generation, performs Feb. 3, 2017. Known for its intense and vibrant performances, the quartet has traveled the globe collaborating with some of the finest musicians and playing in the world's great venues.
In 2015, the quartet completed their ground-breaking Beethoven Project, performing and recording the complete string quartets of Beethoven. The project was broadcast by BBC Radio 3 and performed in 11 major venues in the UK.
The quartet has been recognized with the 2010 BBC Music Magazine's Newcomer of the Year Award and a 2013 Mentoring Scholarship from the Beethoven-Haus in Bonn.
Closing out the Artist Series, Roomful of Teeth makes a return visit April 7, 2017. The ensemble performed at Lawrence in 2014 as part of the college's New Music Series.
Classically trained vocalists, RoT performs an eclectic repertoire commissioned specifically for the group, branching into everything from Tuvan throat singing, yodeling, Korean P'ansori and Hindustani music.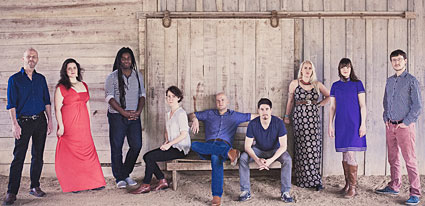 The New York Times has described their distinct style as "voices and percussion meshed to a colorful effect, the story propelled by a high-energy blend of stylistic influences including reggae, hip hop and rock."
In March 2015, RoT performed the world premiere of "Drone Mass" by Icelandic composer Johann Johannsson, whose score for the film "The Theory of Everything" was nominated for an Academy Award.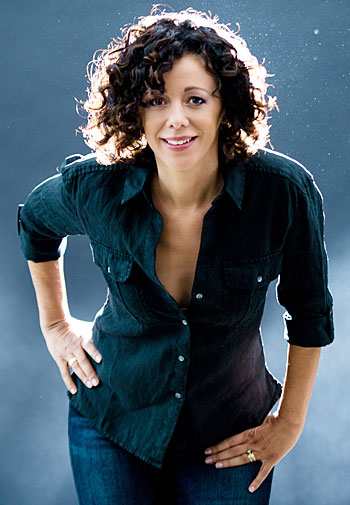 The Luciana Souza Trio opens the Jazz Series Nov. 4, kicking of the Fred Sturm Jazz Celebration weekend.
Grammy Award-winner Luciana Souza is one of jazz's leading singers and interpreters. A native of São Paulo, Brazil, Souza's work transcends traditional boundaries with a musical style rooted in jazz, winding through world music and incorporating an enlightened approach to new music.
Souza has been releasing acclaimed recordings since 2002, including six discs that earned Grammy nomination. She has performed and recorded with such high-profile artists as Herbie Hancock, Paul Simon, James Taylor and Bobby McFerrin as well as the New York Philharmonic and the Los Angeles Chamber Orchestra.
Joining Souza will be Brazilian jazz guitarist Romero Lubambo and Brazilian percussionist Cyro Baptista.
Gerald Clayton, one of the foremost pianists of his generation, performs Feb. 24, 2017. Schooled in hard-swinging, melodic jazz by his father, John Clayton, uncle Jeff Clayton and mentors Billy Childs and Kenny Barron, he also has collaborated with contemporary jazz innovators Ambrose Akinmusire and Kendrick Scott. In his long-standing trio with drummer Justin Brown and bassist Joe Sanders, Clayton blends those styles into a musical language all his own.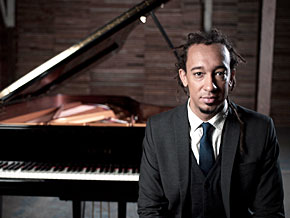 A 2006 runner-up in the prestigious Thelonius Monk Institute of Jazz Piano Competition, Clayton garnered Grammy nominations in 2010, 2011 and 2012.
Delfeayo Marsalis, one of the top trombonists, composers and producers in jazz today, comes to campus May 13, 2017. In January 2011, Delfeayo and the Marsalis family — father Ellis and brothers Branford, Wynton and Jason — received the National Endowment for the Arts Jazz Masters Award, the nation's highest jazz honor.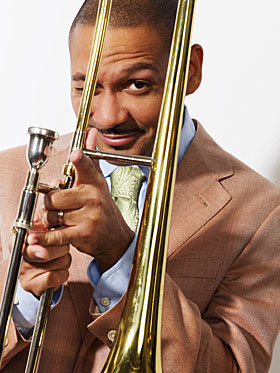 Marsalis has toured internationally with Art Blakey, Slide Hampton and Max Roach as well as leading his own groups. In 2005 Marsalis released "Minions Dominion," a tribute to legendary jazz drummer Elvin Jones followed by a reorchestrated verson of the classic Ellington suite "Sweet Thunder."
Marsalis' most recent album, "The Last Southern Gentlemen," displays his technical expertise and frequent touches of humor, such as his playful rendition of "Can you tell me how to get to Sesame Street?"
About Lawrence University
Founded in 1847, Lawrence University uniquely integrates a college of liberal arts and sciences with a nationally recognized conservatory of music, both devoted exclusively to undergraduate education. It was selected for inclusion in the book "Colleges That Change Lives: 40 Schools That Will Change the Way You Think About College" and Fiske's Guide to Colleges 2016. Engaged learning, the development of multiple interests and community outreach are central to the Lawrence experience. Lawrence draws its 1,500 students from nearly every state and more than 50 countries.