Lawrence University Provost David Burrows has announced the appointment of Professor of Music Steven Jordheim as project director of a new initiative designed to substantially increase the college's retention and graduation rates, especially among at-risk student groups.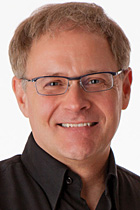 Jordheim will coordinate the implementation of an integrated network of academic support systems designed to help each student overcome obstacles and achieve their educational goals.
The program will be supported by a five-year, $2.1 million grant Lawrence has received from the U.S. Department of Education's Title III Strengthening Institutions Program (SIP).
"I am thrilled that Professor Jordheim has agreed to serve as the director of this program," said Burrows. "The work of helping all of our students successfully complete a Lawrence education is extremely important to us, and Steve will do a wonderful job with the program's initiatives. He has a passion for helping students succeed, experience in retention programs and great organizational skills. We were fortunate to have several well-qualified applicants for this position; Steve's combination of qualities made him a fine choice to lead these initiatives."
A Broad Support Plan
Over the next five years, the SIP grant will support:
• Additional staff positions for the Center for Teaching & Learning and Student Academic Services that will substantially increase the hours of each term of one-on-one and small group academic skills development, as well as ESL services.
• A retention management system will be launched with new software to coordinate faster, more targeted connections to students who would benefit from supportive, individualized outreach by a network of faculty and staff.
• New bridge programs will develop core skills and better prepare incoming students for college.
•  New and advanced training for faculty advisors to equip them with tools to provide better, more culturally competent academic advising and mentoring.
•  The CORE peer mentoring program launched in the fall of 2013, will be expanded to serve all freshmen, matching each Freshman Studies section with two upper-division peer mentors. The CORE mentors will help first-year students make Connections, receive ongoing Orientation, identify and utilize campus Resources and develop realistic Expectations about academics and student life.
"This is an important moment for Lawrence. The Title III grant enables us to launch a comprehensive set of initiatives to foster success of our students throughout their years of study at Lawrence and through the completion of their degrees," said Jordheim, who has taught saxophone and music pedagogy in the Lawrence Conservatory of Music since 1981.  "The many and complex issues affecting student retention figure prominently in my work as a studio teacher each year. The new programs and positions created and the enhancements to existing programs and services will ensure greater numbers of our students fulfill their potential in their undergraduate study.
"I welcome the opportunity to collaborate with faculty, staff and students in the effort to increase student success and degree completion at Lawrence," Jordheim added.
Nancy Truesdell, vice president for student affairs and dean of students cited Jordheim's service over the years on numerous committees and task forces focused on issues of retention, graduation rate and support for students both in and outside the classroom, lab and studio that make him a great fit to direct the SIP initiative.
"Steve is a passionate spokesperson for doing all we can to ensure that Lawrence students can set and reach their goals," said Truesdell. "I feel certain he will do an excellent job working closely with faculty and staff to shed new light on an important set of issues that many colleges face. His leadership will allow us to take full advantage of the grant to assist students as they thrive at Lawrence."
The DOE grant includes up to $427,000 in endowment funds for ongoing support of the program, contingent upon Lawrence matching those funds through gifts and grants from other sources. Lawrence is seeking $575,000 in matching funds from private donors to create a $1 million fund to sustain the program.
About Lawrence University
Founded in 1847, Lawrence University uniquely integrates a college of liberal arts and sciences with a nationally recognized conservatory of music, both devoted exclusively to undergraduate education. It was selected for inclusion in the Fiske Guide to Colleges 2014 and the book "Colleges That Change Lives: 40 Schools That Will Change the Way You Think About College." Individualized learning, the development of multiple interests and community engagement are central to the Lawrence experience. Lawrence draws its 1,500 students from nearly every state and more than 50 countries.