Late January in Appleton is not only stocking cap time, it's thinking cap time.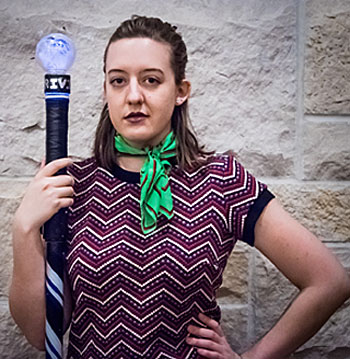 Hundreds — thousands? — of minutiae aficionados near and far will don their best thinking caps Jan. 26-28 for the 53rd edition of Lawrence University's Great Midwest Trivia Contest, the nation's longest-running tribute to all things unimportant, insignificant and inconsequential.
A year older than the Super Bowl, the 50-hour contest returns with its world-wide webcast Friday at its traditionally quirky 10:00.37 p.m. start time and runs non-stop until midnight Sunday. Featuring nearly 400 of the most difficult questions imaginable, all written by Lawrence student trivia masters, the contest originates from the studio of wlfmradio. Team registration begins at 8 p.m. Friday.
Overseeing this year's contest fittingly is senior Jenny Hanrahan, a nugget of trivia herself as the younger sister of Jon Hanrahan, the head trivia master of the 2016 contest. Together they are believed to be the only siblings ever to direct the contest, which began in 1966. Jenny also holds the distinction of becoming a trivia master without ever having played the contest herself as a Lawrence student.
"I played trivia as a senior in high school, my brother's first year as a trivia master. That's how I knew about it," said Hanrahan, an anthropology and theatre arts major from Johnsburg, Ill. "I came to Appleton to visit that year. The friend I stayed with was worried because the team I was joining was very intense and she didn't know if I would like it. But it was the type of zone that I was super into. They were so committed and it was so much fun.
"I came to Lawrence as a student the next year and became a trivia master immediately," added Hanrahan, a rare four-year trivia master. "I only actually played trivia during high school. Sometimes, when I'm on a break, I'll sneak into a team's room and play a few questions just to see if I'm any good at it. I'm usually not."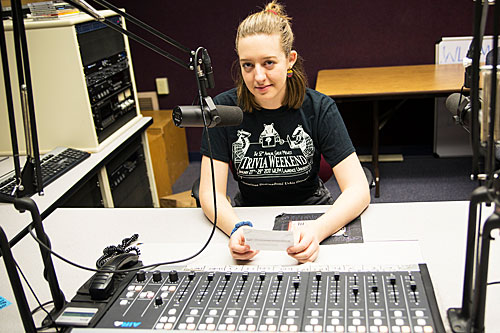 Nearly 100 teams — 80 off-campus and 18 on-campus — competed in last year's cerebral scrum with Madison-based Holy Broman Literary Society. Led by 2013 Lawrence graduate Andrew Kraemer, the team won its first ever off-campus title, finishing 18 points ahead of two-time defending champion Hobgoblins of Little Minds from North Carolina.
Moving the team's home base to Minneapolis this year, Kraemer said they have players coming from five states in defense of their title. Kraemer himself will be flying in from Austin, Texas, to join his teammates.
As for becoming back-to-back champions, Kraemer conceded, "There are a lot of really good people out there, a lot of good teams. But we are going to try our best. We've picked up a couple of incredible people who fell in love with the game and have a real passion for it."
"It's so stupidly fun in the most irrational way. I can never explain it because I don't even know why I love it so much."
— Jenny Hanrahan 2018 trivia head master
When the final results were announced last year and Holy Broman Literary Society was declared the off-campus champions, Kraemer said the team was nothing short of ecstatic.
"We all jumped up at two in the morning shouting in my Madison and screamed so loud that a dog in the apartment actually got scared and threw up."
While off-campus participation has remained strong through the years, one of Hanrahan's goals for this year's contest is to engage more students on campus and have at least one team in every residence hall.
"There's always been a culture of stress at Lawrence; I don't have time for anything," said Hanrahan. "It's not necessarily a negative reaction, but often the response is 'I don't have time for it,' because trivia can be time consuming. But the great thing about playing trivia is that you can dedicate as much or as little time to it as you want. We hope the RLAs (residence life advisors) can make sure there is a space for people to play if they want to play."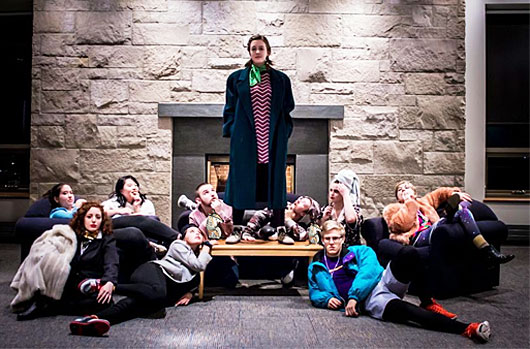 For more than five decades, Lawrence's Great Midwest Trivia contest has been intoxicating sleep-deprived players of all ages with its mix of ridiculously difficult questions, eclectic music and completely useless prizes. Like a Super Garruda, the impossible question is "Why?"
"It's so stupidly fun in the most irrational way," said Hanrahan. "I can never explain it because I don't even know why I love it so much. But when I played it the first time, I was immediately hooked. It's just the weekend for forgetting everything else."
"Once I became a trivia master, it's still stupidly fun in a different way," she added. "There is that excitement and pride in helping to run the contest. It's especially exciting talking to alumni that this has meant the world to for decades. I've heard some describe it as their 'homecoming.'"
According to Kraemer, the trivia contest's attraction is all about the chance to the outside world on pause for a while.
"For the other 363 days of the year, you have to be another person, so for the two days of the contest, you get to devote yourself to something that's totally fun."
For any trivia novices contemplating a toe dip into the contest, Hanrahan offers some practical advice from the head master's chair.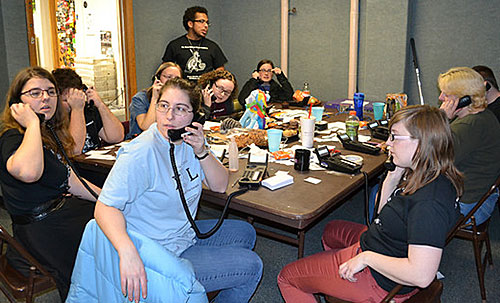 "First thing is it's worth it to play, whether you're with a super committed team or you just want to hang out and see what it's all about. Know that it's a marathon, not a sprint. It's 50 hours! You need to allocate your time and resources accordingly. Make sure you schedule someone to answer questions during that 2 a.m. to 6 a.m. time period. Most importantly, you have to have an open mind to be able to enjoy it, otherwise it's so overwhelming and daunting. If you come in, ready for strange things and different things, you'll have an amazing time."
Following trivia tradition, Lawrence President Mark Burstein kicks off the contest by asking the first question, which by tradition is always the final — and virtually unanswerable 100-point "Super Garruda" — question from the previous year's contest.
Any trivia team worth their laptop will start the 2018 contest by knowing the answer to this opening whopper: A number of Lawrentians have taken trips to China to study sustainability. In the third city visited on their 2015 trip, there is a bar on the 10th floor of a building near the intersection of Minquan Road and Fushui North Road. In the fifth issue of a magazine they distributed last July, which features a pink robot on the cover, what artist is shown on page 8? (Dickid).
Bring on the madness.
About Lawrence University
Founded in 1847, Lawrence University uniquely integrates a college of liberal arts and sciences with a nationally recognized conservatory of music, both devoted exclusively to undergraduate education. It was selected for inclusion in the book "Colleges That Change Lives: 40 Schools That Will Change the Way You Think About College." Engaged learning, the development of multiple interests and community outreach are central to the Lawrence experience. Lawrence draws its 1,500 students from nearly every state and more than 50 countries.